Today's post is for anyone looking to know where to stay in Paris. I have already written a post with a selection of cheap hotels in Paris, and now I will talk about another possibility of accommodation in the City of Light, Airbnb in Paris.
With more than 2 million properties registered, there will always be some that you should avoid. Whether for the value or the state the place is in. Plus, choosing the right place to stay in Paris makes all the difference. So for you not to have a headache, I researched and set up a super list with the best options for Airbnb Paris apartments, with good locations and reasonable prices.
At the end of the article, there are some essential tips when making a reservation. I also share my personal experience using Airbnb. ?
Airbnb in Paris for up to two people
I have selected for you Airbnb suggestions that are located within Paris and in a good location, of course! This counts a lot when we are in an unfamiliar city. There are both whole apartments and private rooms. By the way, if you like meeting new people, renting only a private room in a person's house can be a good one. I've done it a few times and always had good experiences. ?
(88€ per night)
Passionate about decorating with this studio. Brick walls, furniture, and matching objects, plus a cute bathroom.
To top it off, this Paris Airbnb is in an area close to Galeries Lafayette's most charming Paris neighborhood, as well as being close to several bars and restaurants.
Capacity: 2 guests
(80€ per night)
Near the Arc de Triomphe, it accommodates up to two people for a minimum stay of one day.
With a mega clean, modern, and light decor, it has a double bed, a mini-kitchen, and a bathroom with a shower. The studio's location is close to many modes of transportation, including subway and RER.
Capacity: 2 guests
(34€ per night)
Renting a room instead of an entire apartment is an economical alternative for those who don't mind staying with strangers.
I have done this myself several times, and it was tranquil. In addition to being cheaper, you end up meeting new people and learning a little more about another culture.
In the case of this suggestion, another advantage is its location. It is between two central and lively neighborhoods – Le Marais and République. Both are well served by bus and subway lines.
Capacity: 2 guests
(70€ per night)
Close to Paris' most famous avenue – Avenue des Champs-Élysées – and the chic Faubourg Saint Honoré street, it's a real bargain.
Plus, the studio is well-equipped with everything you might need while traveling, including ironing. On the second floor of a building with an elevator, the apartment sleeps up to two people.
Capacity: 2 guests
(64€ per night)
With a delightful sweep and a super modern shower, this apartment sleeps up to three people.
Even situated on the outskirts of a bustling region, it can be a calm and perfect place to spend a whole day kicking around Paris.
Capacity: 2 guests
(57€ per night)
Small studio, 18 m2, but bright and located in the Latin Quarter.
Close to the bustling Rue Mouffetard and the Luxembourg Gardens are perfect for hosting one or two people. It has a double bed and a mini kitchen equipped for cooking if you want to save money with a meal.
Capacity: 2 guests
Flats for three or more people
For more than two people, I'd say Airbnb is the best option. Not necessarily because of the price – of course, it influences, but because of the convenience and the fact that everyone can be together without losing privacy. It is much more enjoyable to sit in a room to talk about the day out while having a bath, for example. If it's in a hotel, each one has their own room and just got more isolated.
So take a look at the Airbnbs I selected for your stay in Paris.
(115€ per night)
Close to the beautiful Sacré-Coeur Basilica in Montmartre, and with a superb view of Paris.
On the seventh floor (with elevator), this apartment has a double bed, a sofa bed, and the main rooms of a house. What I liked most, you have a considerable balcony perfect for sipping a wine watching the sunset.
Capacity: 3 guests
(135€ per night)
All modern and super well located, this apartment is excellent for families or a small group of people.
With two beds, one sofa bed is ready to receive up to four people. It also has an equipped kitchen, bathroom with bathtub, and a small living room.
Oh, if you choose this one, be sure to eat a crepe at the Droguerie du Marais, which is just down the street and delicious.
Capacity: 4 guests
(234€ per night)
If you come to Paris as a group, my suggestion is this loft located in the first arrondissement.
There are two bedrooms with a double bed and a sofa bed in the living room to host up to six people.
The kitchen is spacious – you can shop at the market and prepare dinner or breakfast. However, the bathroom is tiny. It is near Opera Garnier, the metro station and bus stop.
Capacity: 6 guests
How about an Airbnb near the Eiffel Tower ?!
Being the Iron Lady's neighbor for a few days? There is also! I selected some very cool options and are a few meters from the Eiffel Tower. First of all, I need to warn you that the demand is very high and we need to book well in advance.
(163€ per night)
Close to the main postcard of Paris, this studio is a charm. You get a tasteful, contemporary decor with all the basics for a pleasant stay. Besides, you have some great amenities like a coffee machine and a jacuzzi to give you that relaxed after a day of sightseeing.
I found it lovely and perfect for couples who are coming to spend a honeymoon in Paris!
Capacity: 2 guests
(150€ per night)
A spacious and bright apartment that accommodates up to two people. Besides having a super view, this typically Parisian apartment has everything to make you feel at home.
All the rooms are well divided and with enough space for you to be comfortable.
It is situated in the 15th arrondissement of Paris, near metro stations and bus stops.
Capacity: 2 guests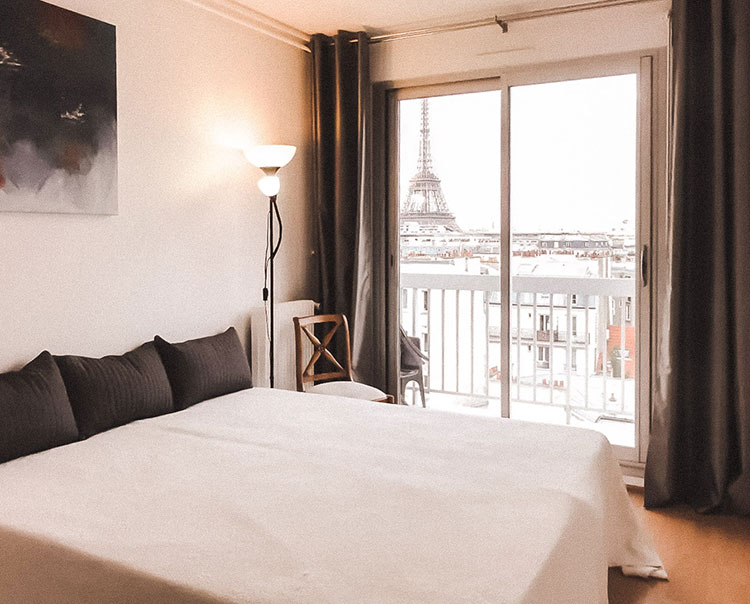 (101€ per night)
Neighboring the Eiffel Tower, 5 minutes' walk away, this apartment sleeps up to four guests. The decoration of the place is simple, but the view from the balcony is really a sharp point.
Imagine waking up, opening the window, and bumping into the Eiffel Tower… a real dream in this apê!
The rooms are equipped with a minibar, a microwave, a stove, kitchenware, and basic amenities. Another beautiful detail of this Airbnb is the independent check-in. That is, you do not need to arrange a time with the owner to pick up and hand over the keys. This is great, especially for those who will arrive at night or even at dawn.
Capacity: 4 guests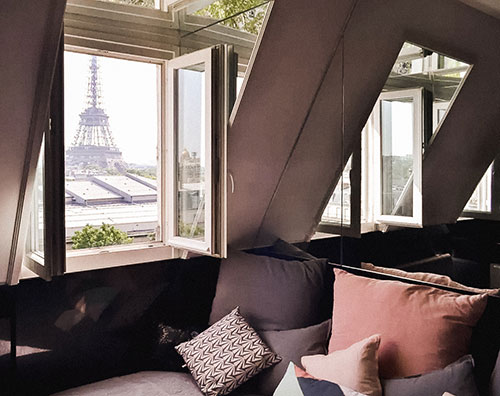 (122€ per night)
This small apartment overlooking the Eiffel Tower accommodates up to two people. Located at 8ème, near the Arc de Triomphe, it has a modern décor of more sober tones. The studio has a sofa bed, TV, bathroom, and cooking space.
An important detail is on the sixth floor, and the building has no elevator. So if you want to see the Eiffel Tower from your bedroom window, prepare your breath?
Capacity: 2 guests
(170€ per night)
You just wake up, open the window and bump into the Iron Lady. Dream, right ?! Not so much … renting a room in this apartment, this is possible.
The hosts also offer breakfast included in the room rate and all the necessary amenities for an enjoyable stay.
The only problem is the strong demand. To be able to sleep in this room, you must make a reservation well in advance. But it's worth the try!
Capacity: 2 guests
Tips for using Airbnb Paris
♦ Careful selection – Look for apartments with good, well-rated photos. See what the property is talking about and the host's response rate – you can know the percentage and average response time. Watch out for extra fees like cleaning and city tax, for example.
♦ Get to know the neighborhoods of Paris – sometimes, the apartment looks perfect. Still, it is in a region that is not very good – either for distance, security, too residential – or not easily accessible to public transportation. So don't book anything before looking at the location on Google Maps – Street View and getting information about the property's surroundings.
♦ Talk to the owner – Airbnb makes this conversation more natural, so don't waste it. It is essential for you to answer any questions and to arrange arrival and departure times. Some homeowners are very flexible with schedules, but it's always good to check.
♦ Use Airbnb Discount – If you have not used Airbnb yet, you earn a credit of $ 70 on your first booking by referring a friend who uses the site. As I already used, I got a link for you to get this credit. >> Airbnb Travel Credit Paris. =)

MY EXPERIENCE USING AIRBNB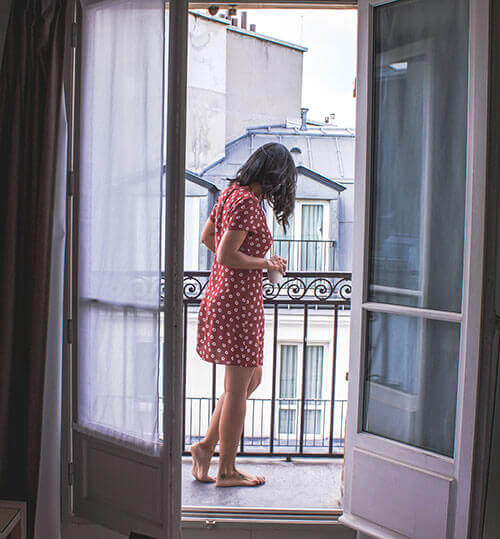 When I travel, I usually rent apartments through Airbnb. I always had good experiences.
Even if the price is more affordable than a hotel room, I feel freer and that I belong to the place, like a resident. Apart from that, if you rent only one room, you have the chance to meet new people and their cultures.
Of course, not everything is flowers, and there are disadvantages as well. For example, you don't have room service to tidy up while you're sightseeing, let a breakfast waiting for you (some only offer, but are no exceptions). However, adding the pros and cons, I still get Airbnb hehe
Have you tried using the Airbnb website? What do you think?
Bisous!