First time in Paris? Then you need to know Montmartre and get lost in the quiet streets with houses full of charm, history, and art. Ideally, you should set aside at least half a day for a leisurely stroll and enjoyment.
Montmartre's central tourist spot is the Sacré-Cœur Basilica, which is right on the top of the hill. However, there are several other places for you to discover while walking.
To help you out, I have a few suggestions on what you will need in the neighborhood. What to do, how to get there, where to eat, and where to stay. But for starters, I think it's worth telling you a bit more about the neighborhood that was the scene of the movie "The Fabulous Destiny of Amélie Poulain."
Montmartre neighborhood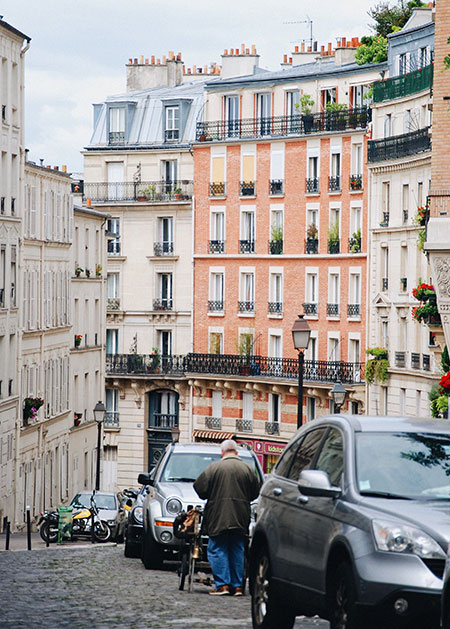 One of my favorite neighborhoods in Paris, Montmartre, is considered one of the most bohemian regions of the City of Light. The main reason for this title is that it was many artists' meeting place and residence.
At a very festive time, called Belle Époque, it was typical to cross the streets (and cabarets) of Montmartre renowned painters such as Picasso, Salvador Dali, Monet, as well as several well-known names.
Situated in the north of Paris, in the 18th arrondissement, on a hill. With its many tree-lined streets, preserved old buildings, its street artists and its cafes, it's a place of contrasts, in my opinion.
At the same time, we find busy streets full of tourists and bucolic and quiet ones. Which is why I find it one of the most charming and romantic regions of Paris.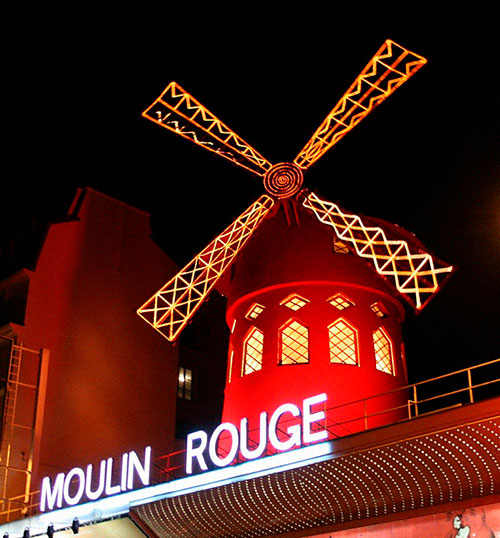 Things to do in Montmartre
You can start your tour by getting off at the Blanche metro station (line 2), close to the most famous cabarets in Paris: the Moulin Rouge. A place that was once frequented by many famous people and is present in various works of Toulouse-Lautrec.
In addition to taking pictures of its striking red façade, you can go back at night and watch a cabaret show with plenty of cam-cam. Important to say that the shows happen at night, twice a day, and you must book in advance. Prices range from 87 € to 420 € – will depend on whether it is with dinner included or not.
Continuing the tour, you can head towards Café des Deux Moulins (15 rue Lepic), where Amélie worked in the movie "Amélie Poulain's Fabulous Destiny." Since the film, the location is popular with tourists. It is worth having a coffee to take photos, but I do not recommend to have a meal – prices are high for the quality of the menu and service.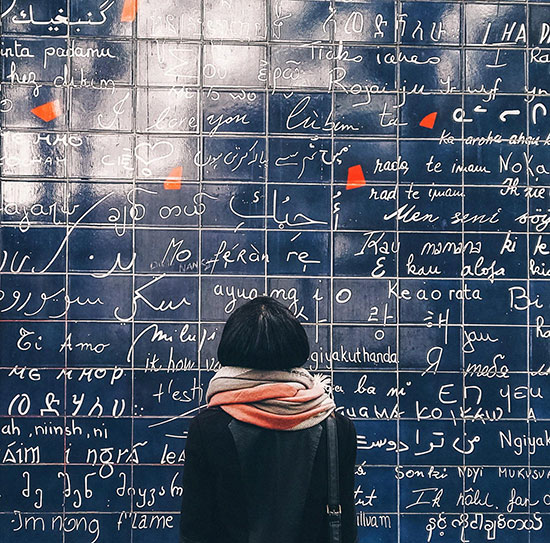 Next stop is in a very romantic place: Le mur des je t' aime or Wall of I love you (rue des Abbesses). It is a wall with the phrase "I love you," written in over 200 languages. If you have your love, this is the time to declare yourself.
In the street behind the wall is the rue des Trois Frères, where there is a little shop that also appears in Amélie Poulain's film, called Au Marché de la Butte. In the same area is Place Émile-Goudeau square – where Picasso kept his studio for a while.
The place itself is nothing much, but the nearby cafe called Le Relais de la Butte has a beautiful view of the city. You take a break to drink something, even a typically French breakfast.
Following the walk, you go to Le Moulin de la Galette, a former restaurant that was once frequented by famous painters.
With a French menu, it can be an option for lunch or dinner. Speaking of food, just down the street is Le Coq Rico (98 Rue Lepic), a French restaurant specializing in poultry dishes.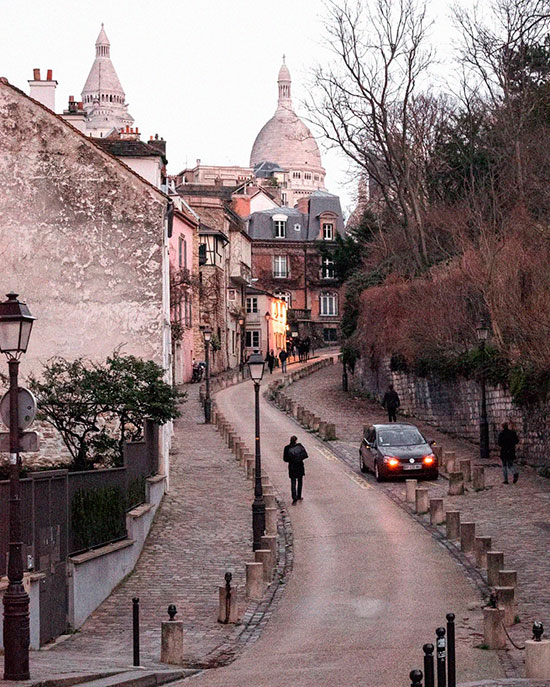 Not far away, you will find Le Passe-Muraille, a sculpture of a man who appears to be sticking out of the wall. Deserves some pictures!
Then walk towards Place Dalida – a square dedicated to a famous French singer. From there you have a beautiful angle of the Sacré-Cœur Basilica, following a small winding and very charming street (it is one of my favorite places to take photos).
From this point, you have two options to go your way. Going down the stairs to the photogenic Lamarck station – Caulaincourt – also appears in the Amélie Poulain and Bastille Day movie. Or head straight down Rue de l'Abreuvoir past Maison Rose – the cafe and restaurant that Instagrammers and grooms love to photograph.
Walking a few meters, you can visit the Musée de Montmartre, a museum dedicated to the history of the neighborhood.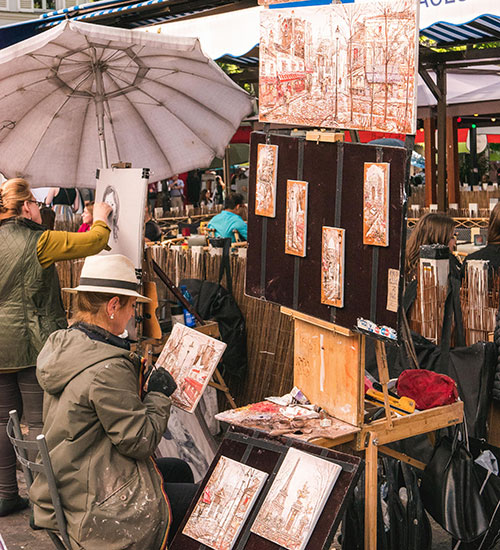 In addition to a collection of inspiring images and facts, there is a small garden cafe that inspired the painter Renoir. Even the balance that he replicated in his work "La Balanceire" ("The Balance") was maintained. This place is a delight!
From here, you will enter the most touristic area of ​​the neighborhood, situated on the outskirts of place du Tertre. The streets here are full of souvenir shops and paintings, but there are also several bars and restaurants. Not to mention the street artists and musicians that make up the whole picturesque vibe of Montmartre.
Oh, I can't stop talking about Le Consulat bar and restaurant, a neighborhood classic. Despite being the darling of photographers, it is not the best place to drink or eat something. Due to its location, prices are inflated, and service is ok. At the end of the post, I give some tips about the best places 😉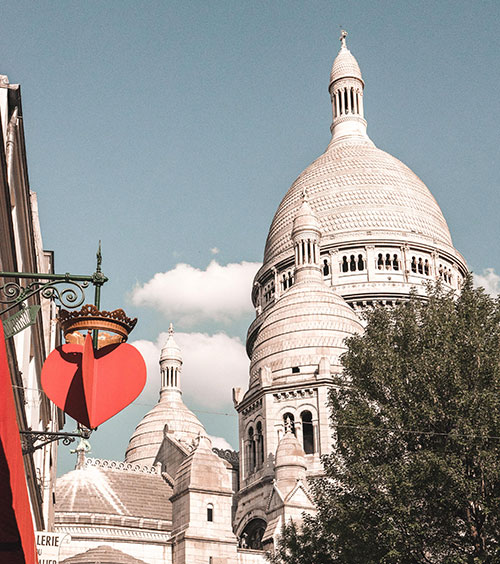 Not far away is the long-awaited Sacré-Coeur Basilica, all white and beautiful! Take a tour inside the basilica and end your visit by relaxing on the staircases just in front.
Being at the highest point of Montmartre, you have a magnificent view of Paris. If it is late afternoon, you can catch the sunset.
⇒ It is worth mentioning that on the weekends, these streets get very crowded. If you want more tranquility, try to go in the morning.
Abaixo, um mapa que você pode salvar no seu Google Maps, com os endereços citados no post.
Other things to do in Montmartre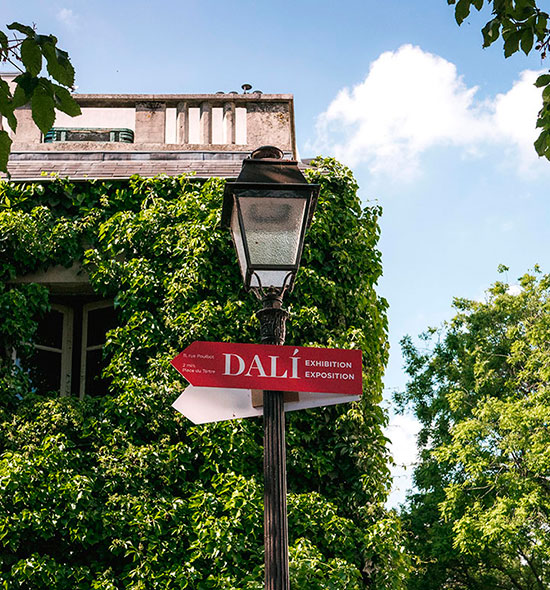 ♦ Basilica Dome: I confess that I lacked the courage to climb the 300 steps. But if you have the breath, you can go to the summit and enjoy the City of Light from above.
The summit opens daily from 8.30 am to 8 pm (between May and September) and from 9 am to 5 pm (October to April). As for the value, you need to check on the official site, as it changes often. To access the site, click here> Le Dôme.
♦ Cabaret Restaurant Au Lapin Agile: It is the oldest cabaret in Paris and still functions as a restaurant and concert hall. The place was once frequented by Belle Époque artists -Renoir and Picasso are some names.
♦ Musée Dali Paris: Small museum dedicated to the Spanish artist Salvador Dali. The permanent collection consists of paintings, prints, objects, sculptures, and furniture in a surrealist style. Along with the museum, there is a gallery with replicas of various Dali objects and paintings.
♦ Marché Saint Pierre: With almost half a century, the market is the paradise for those seeking fabrics, trims, and costumes.
♦ Belle de Jour: A store specializing in perfume bottles. You can find old bottles and some very expensive, made of crystal. For those who are a fan of perfumes, just like me, it is worth the trip to the store.
Bars and restaurants in Montmartre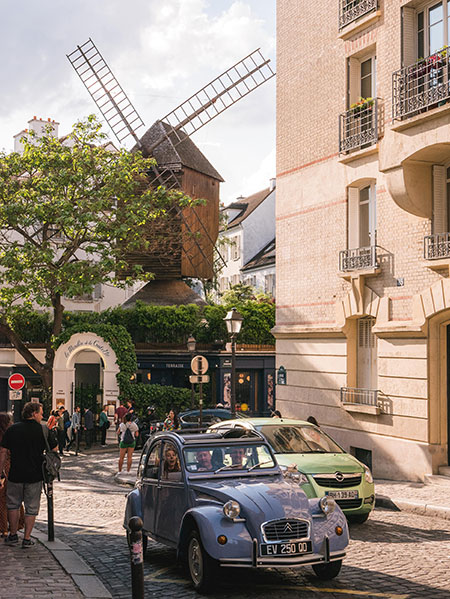 ♦ Le Moulin de la Galette – French cuisine restaurant, has even received Michelin star. It is an excellent place, present in the works of Van Gogh, and with dishes costing around 22€. [83 Rue Lepic, 75018]
♦ La Taverne de Montmartre – With a rustic style and warm ambiance, this restaurant serves French cuisine. If you go to Montmartre in winter, I suggest you go there to taste a raclette – a typical French dish in the cold. [25 Rue Gabrielle, 75018]
♦ Le Coq Rico – Commanded by star chef Antoine Westermann, this French restaurant specializing in poultry dishes. Dish prices range from 30 € to 80 €, but at lunchtime, there is a special price. The meal of the day leaves 15 € and a glass of wine 5€. For dinner, I suggest booking in advance. [98 Rue Lepic]
♦ Terrass" Hotel – this hotel's bar and restaurant has a great view and good drinks. My tip is to go at the end of the day and watch the sunset from there. I guarantee you won't regret it! [12-14 Rue Joseph de Maistre]
Where to stay in Montmartre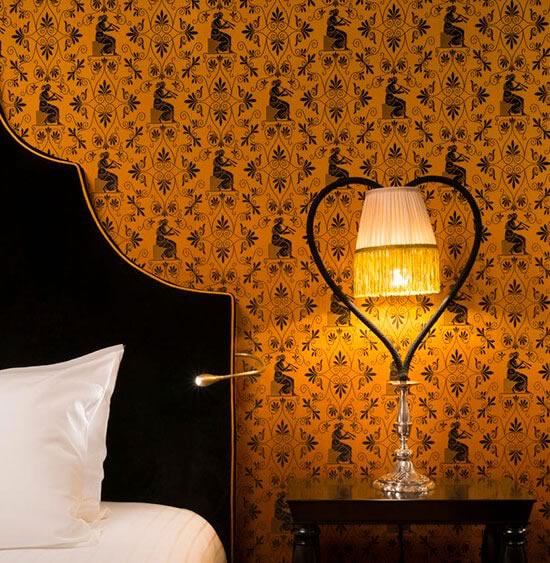 Maison Souquet: Tastefully decorated for you to relive the Belle Époque of Paris, this hotel offers cozy rooms, a spa, a swimming pool and a bar that has been a hit with Parisians. The cocktails are great!
Splendid terrace magnificent view: With a double bed and a balcony to admire the beautiful view of the city, this Paris' Airbnb apartment is perfect for two.
Plug Inn: Located near Sacré-Cœur Basilica, this hostel offers dormitories and private rooms. Each room has a bathroom equipped with a shower, toilet, and a hairdryer.
Tell me what you think about the Montmartre guide? Was it helpful? I want to know!
Bisous!!