Today I will talk about a region that I LOVE! Le Marais (pronounced "marré") is the hippest neighborhood in Paris and one of the most active areas, with day and nightlife. Situated between the 3rd and 4th arrondissement, it is an area where you will find everything and a super cool population. I love it so much that I set up a guide for you to spend an entire afternoon kicking around the delightful neighborhood.
Le Marais
As it is between two arrondissements, we usually say Le Marais for the region in the 3rd and Haut Marais for the 4th.
The neighborhood is historical and was once inhabited by the nobility until the 19th century. After this period, it was occupied by the Jewish community, present even today.
Transformed into a tourist region, it has also become a favorite place for young people and the gay community (even has flags spread across the street). There is even a very lively street dedicated to gays, but full of supporters.
In the Le Marais district, you can see everything from old 17th-18th-century buildings on the outskirts of place des Vosges to concept stores with the most contemporary. Not to mention the many cafes, bars, and restaurants that leave you unsure which one to choose.
What to do in Le Marais neighborhood
My suggestion is to start at the Pompidou Center, a mega modern and pipe-filled building. It houses the Musée National d'Art Moderne, the public library, a music center, and at the top has a large terrace with A water mirror. From there, you will have a beautiful view of Paris. Admission costs 14 €. However, every first Sunday of the month has free access.
Then you can head towards Fleux and BHV Marais stores. BHV Marais is a department store where you can buy everything from home remodeling materials to luxury brands, books, and kitchenware. Fleux concept store is a design and decoration fan's paradise – When I go there, I want to buy everything. Swear! – In the four shops, located on rue Saint-Croix de la Bretonnerie, you will find creative and stylish objects.
In the vicinity of the two shops, there are several others with cute showcases and exciting products. I suggest stopping by the La Maison du Savon de Marseille (17 Rue de la Verrerie.) Where you can get to know the famous handmade and very fragrant soaps of Marseille, France.
In the street considered gay (rue Saint-Croix de la Bretonnerie): enter the Pierre Hermé store and eat one of the best macarons in Paris. You can visit Pylones, but it can be a great option to buy original souvenirs. And you can visit the Passage du Désir store, a boutique concept sex shop.
During the tour, you can take a break at the charming Le Pick Clops bar (16 Rue Vieille du Temple) and order a French beer called La Parisienne. Or enjoy one of the many types of coffee from the cozy La Caféothèque shop (52 rue de l'Hôtel de Ville). And if you're a sandwich fan, you can't stop by L'As du Fallafel (34 Rue des Rosiers) for the giant falafel sandwich. There is always a queue, but the service is fast so you won't be waiting long.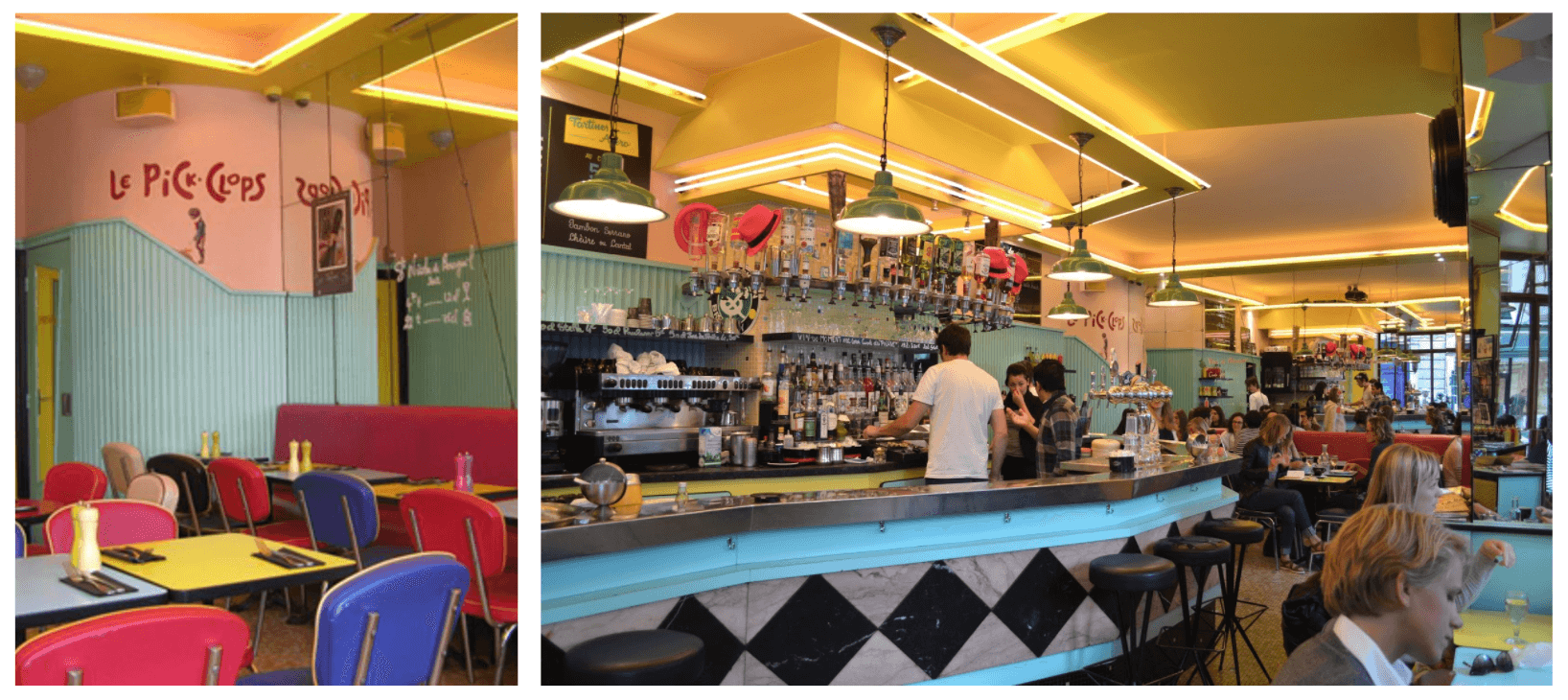 After this walk, coming across many modern things, it's time to see a more classic side of the Le Marais district. The area where are the old mansions, called private hotels, which were inhabited by members of the nobility and famous artists of the past centuries.
A highlight is a house where the writer Victor Hugo lived for 16 years. The place has been conserved and turned into a museum about the writer's life. Some items of the house were reconstituted. And personal effects were donated by the family of the author of the work "Les Miserables." Today, you can visit Victor Hugo's House for free and see the desk with the feather he used to write his classics.
Enjoy walking through the mansion's arcades, where there are several art galleries and excellent restaurants. The luxurious L'Ambroisie restaurant, installed at number 9 since 1986, has already been awarded 3 Michelin stars.
Then grab a flower-shaped ice cream from the Amorino store – near a gorgeous hat stand – and rest your legs in Paris's oldest square. The first square to be planned, Place des Vosges, is set right in the middle of private hotels and has free wifi. This place is off the route of most tourists but much frequented by those who live in the region. I like this corner so much that I talked about the story and curiosities for the series "My Paris." I'll leave the video at the end of the post, but it's worth stopping by the Paris Showcase channel to watch all the videos in the series. Alright cool! =)
Depending on the excitement, you can head towards Haut Marais, the less touristy part of the Le Marais district. In this region, you can visit the Picasso Museum and its more than 5,000 works. They include the painting "Woman Sitting" – Picasso's tribute to Françoise Gilot, who was pregnant with her daughter Paloma. Next up, you have the Breizh Café, with the best crepes in Paris. Do yourself a favor and eat a crepe with a hand cider. I guarantee you will not regret it!
WARNING: In the region, there is also the Carnavalet museum, dedicated to the history of France. But unfortunately, it is closed, and the reopening forecast is scheduled for 2019.
If you want a little more…
♦ Marché des Enfants-Rouges – Paris's oldest street-fair market is a great place to sample the cuisine of other countries. Filled with fruits, vegetables, and food stalls, it is Parisians' favorite weekend getaway. Ps .: There is an Italian restaurant that serves beautiful truffle pasta. (9 Rue de Beauce)
♦ Square du Temple – once a prison in the French Revolution, convent and even barracks. But today is a quiet playground with a mini lake and various plants. It is charming and an excellent place for children to play. (64 Rue de Bretagne)
♦ Saint Paul's Church – For those who are religious or architectural fans, this church is lovely, both inside and out. (7 Passage Saint-Paul)
Restaurants in Le Marais neighborhood
Benedict – Self-explanatory, the place specializes in eggs benedict. The menu offers variations of the typical American dish. One suggestion is to order the traditional dish, with eggs benedict, turkey bacon, spinach, and hollandaise sauce. It's delicious and costs 13 euros. (19 Rue Sainte-Croix de la Bretonnerie)
Chez Janou – I've talked about this restaurant in other posts, but as it is next to the Place des Vosges, it is a suggestion for those who want to eat some French recipe. (2 Rue Roger Verlomme)
Hanoi – This restaurant is the option to go out of the ordinary and taste typical Vietnamese cuisine. The place is not very big, but it is cozy and with friendly service. (41 rue Ste Croix de la Bretonnerie)
Robert et Louise – If you beat that urge to eat a roast beef of the gods, this is the perfect place. With a rustic décor, the restaurant offers its customers roast meat on the woodstove. A plate for two people comes to about 42 euros. (64 rue Veille du Temple)
ACCOMMODATION IN LE MARAIS

♦ Le Relais du Marais – With a 24-hour multilingual reception, it facilitates communication with guests. The hotel also offers free wifi, family rooms, and pets allowed. Daily rates from 94 euros.
♦ Hotel du Petit Moulin – Boutique hotel fully decorated by French designer Christian Lacroix, each room has a unique style. The hotel has parking, free wifi, bathroom with bathrobe, and various other amenities. Daily rates from 170 euros.
So, did you like the guide? Suggestion from some other fantastic place? Tell me in the comments! =)
Bisous!