As I mentioned in a previous post, a picnic in Paris is a great program to do during spring and summer. Outside it is easy to organize and super blends with Paris. I say it combines because, in addition to the architecture that enchants, the French capital has beautiful parks, squares, and gardens. Easy to organize because you just have to go to any market and buy food that suits you, without forgetting a French wine. 😉
Oh, just remembering that the picnic can also be adapted for a honeymoon – French appetizer at the end of the day for drinks/wine and nibbles before dinner. Now let's get down to business: I've made a selection of the best places to picnic, whether it's family, friends or couples, pretty romantic.
Places to have picnic in Paris
PARC DES BUTTES-CHAUMONT
It is a GORGEOUS park! Best of all, it runs away from the tourist route, so it gets quieter and with more local people. Moreover, it is not like the other parks in Paris.
For starters, it is not a natural park. It was entirely created by engineer Jean-Charles Alphand and landscaper Jean-Pierre Barillet on top of an old deactivated quarry.
The project included a 32 meters waterfall, caves, a suspension bridge, and even the creation of a temple, and lots of vegetation. Other than that, the park is on a hill, so you have a privileged view of the city. Want a more delicious place to have a picnic in Paris? Hehe.
Address: 1 Rue Botzaris, 75019
PARC RIVES DE SEINE
Parc Rives de Seine is the newest park in Paris, opened in early April. It is located on the banks of the Seine river, in an area that was intended for automobiles. The park is 3.3 km long, has a lawn with fruit trees (apples, pears, among others) and various types of plants. The goal of the park is to reestablish the fauna and flora that is so important to the river. Cool idea is it not ?!
Also, there is space for recreation and sports, with soccer and basketball courts, exercise bikes, and a playground for children. Throughout the park, you will also find a restaurant, bar, and a sustainable gift shop.
In short, it's not just a picnic spot in Paris, it's a trendy place that promises to rock in spring and summer.
JARDIN DES TUILERIES
On the outskirts of the Louvre Museum, the Jardin des Tuileries was created in the 16th century. The Italian style was chosen to enhance the Tuileries Palace, where Catherine de Medicis spent her free time. With lots of greenery, two central lakes, kiosks, and many chairs, it is a place frequented by both tourists and Parisians.
As crowded as it is, it is still a quiet place. In fact, it is widespread to see people relaxing by the lakeside. I recommend a picnic in this place because besides having good infrastructure, it is in a central area, and the sunset seen from there is sensational.
Address: Tuileries Garden, 113 Rue de Rivoli, 75001
PLACE DES VOSGES
Located in a vivacious district of Paris, Place des Vosges was the first square to be planned and as a result, a very symmetrical and very charming place.
The place is a small square frequented by locals, but it goes unnoticed by tourists. Around the square, you can admire the architecture of the private hotels that were once the homes of famous people.
And before the picnic, my tip is a walk to get to know the Le Marais neighborhood.
Address: Place des Vosges, 75004
⇒ Le Marais: Tour of Paris' hippest neighborhood
PARC DE BELLEVILLE
Option for those who want to have a picnic in mega quiet Paris. Parc de Belleville is in a less touristy region and is the highest point in the City of Light, about 30 meters high.
Created in 1988, it is a small but beautiful park with beautiful views, lots of greenery – over 1,200 trees and shrubs, benches, a climbing wall for children, and beautiful flowers.
I highly recommend the park and a bar/restaurant across from the highest called Moncoeur Belleville. It is a pleasant environment with coffee crème (generously served) for € 3.80 and dishes costing an average of € 15.
Address: 47 Rue des Couronnes, 75020
MARS CHAMP (EIFFEL TOWER)
Picnicking in Paris in front of the Eiffel Tower can look beautiful, romantic, a dream, etc. However, I need to say that it may not be as beautiful as it sounds. On sunny and hot days, the lawn is usually crowded with people (you might even get lucky and get emptier).
Honestly, I don't think it's the right place for a nice picnic, but if you like clichés and agitation, just go! But beware: for safety and public order, alcohol consumption is prohibited on-site between 4PM and 7AM. For offenders, the fine is 38 €.
Address: Avenue Anatole France, 75007
SEINE RIVER BANKS
One of my favorite places, I have even commented before, to have a picnic or appetizer in the late afternoon. As the river Seine is long and cuts through the city, I suggest near Pont Alexandre III, but the other areas are as good.
A suggestion is to buy the food before, in a market, then purchase wine in one of the riverside kiosks. It will be more expensive, but it will be more refreshing and perfect for those hot days. Once you buy things, just choose whether you prefer to sit right by the river or on the sidewalk.
And if there is entertainment after the picnic, you can continue there, as well as having ballad (Faust and The Bridge Club) right under the bridge, the kiosks and bars put music to cheer. Oh, and the sunset is delightful!
Address: Pont Alexandre III, 75008
PARC ANDRÉ CITROËN
Located in the space of a former car factory, Parc André Citroën is a modern park. It has a plus: a balloon that rises up to 150 meters inside the park. The balloon rides last 10 minutes and the ticket costs € 11 for adults and € 5.50 for children. This is a great place to picnic and still see the city from another angle. Worth the experience! 😉
Address: 2 Rue Cauchy, 75015
JARDIN DU LUXEMBOURG
In addition to being one of the must-see sights of Paris, it is a place with good infrastructure for all audiences. Where the French Senate houses, the garden has a reserved lawn for picnic, chairs, kiosks, and bathroom.
Address: 75006
CANAL SAINT-MARTIN
The darling of Parisians, Canal Saint-Martin, can maintain a bucolic air even though it is in the middle of the city. It is a place frequented by younger people, as there are many bars in the vicinity – which is good for replenishing the picnic drinks.
Close by is the Pink Flamingo pizzeria, located at (67, Rue Bichat), where you can order your pizza and sit by the canal. When you place your order, you will receive a pink balloon, which will serve as identification for the delivery. So with nearby bars and this pizza place, you can easily improvise a picnic. 😉
Address: Metrô linha 4, 5 e 7, estação Gare de l'Est
JARDIN DES ROSIERS
The Jardin des Rosiers is a small, but an (almost) secret place that makes you feel in another Paris. The area was created from the union of several 17th-century Parisian palace gardens and very well maintained even today.
It is perfect for those seeking a quiet corner without many tourists. It can also be a good option for those who are going to have a picnic in Paris with children, as in this garden they can play freely.
Address: 35-37 rue des Francs-Bourgeois 75004
PARC MONTSOURIS
A large, English-style park with pond, lawns, shrubs, flower beds, and 1400 planted trees. Away from the center of Paris, it is a pretty place, with several statues, monuments, a restaurant, and various species of animals.
Durante os meses de maio e setembro, dá pra curtir concertos musicais gratuitos apresentados no quiosque de música.
By the way, this park is a curiosity because it was created to, according to Alphand, "bringing life and movement to the center of a neighborhood previously left in isolation and abandonment." A great idea, in my opinion !!
Address: 2 Rue Gazan, 75014
JARDIN CATHERINE LABOURÉ
Raised in an old convent garden, it is a small, modest, and very charming garden. With a rural atmosphere, it suits couples looking for a more reserved place for a romantic picnic.
However, the garden has a good structure, with toilets and a playground for the children. My tip for this garden is to enjoy being close to the Grande Epicérie – a food lovers paradise – to buy some gourmet food and make your Paris picnic even more enjoyable. 😉
Address: 29, rue de Babylone, 75007
PARC FLORAL DE PARIS
Close to the Bois de Vincennes, it is one of the most beautiful and manicured parks in Paris. The park has a beautiful bonsai pavilion, a butterfly garden, and thousands of plant species. In April, you can be enchanted by tulips, camellias, magnolias, and a hundred other flowers.
In addition to picnic lawns, there is an amphitheater in the middle of the park for outdoor concerts – between August and September, free music shows take place on weekends.
Address: Route de la Pyramide, 75012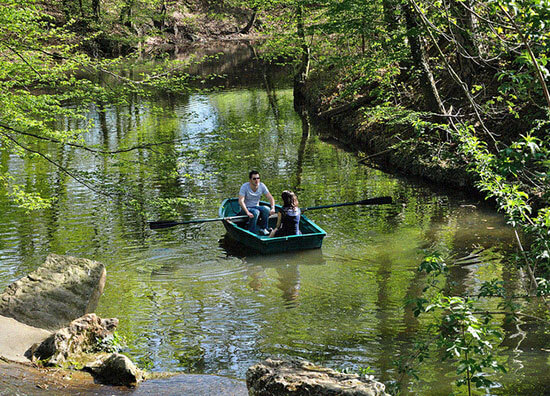 BOIS DE VINCENNES
It is a stunning and huge park, situated on the outskirts of the city of Paris. It is almost 10 square kilometers big, has four lakes, two islands, lots of grass to picnic and beautiful peacocks walking freely. There are also bikes for hire.
My tip to do something different is to rent a rowing boat for a ride on one of the park's lakes. Anyway, it's a super complete place to go and enjoy a relaxed afternoon.
Address: 293 Avenue Daumesnil, 75012 Paris
Tips for organizing a picnic in Paris
1) Weather forecast – Picnic in the rain does not roll. It is always good to check the weather forecast before marking something outdoors. Especially in Paris, which usually rains in the spring.
2) Time – Try to choose a time that is good for everyone, of course. I suggest going from 4PM when the sun no longer burns so much, and you can enjoy it better.
3) Choose the destination – As you have seen, seating options are not lacking for a Paris picnic. Ideally, choose a place you identify with and is easily accessible.
4) Bring a sarong and/or tablecloth – Sitting straight on the grass is pleasant and delicate, but staying for a few hours can be annoying. Also, it is crucial to have something where you can put picnic food and drinks.
5) What to bring – Make your life easier and bring disposable objects (glasses, plates, and cutlery). A sunscreen, thermal bag, toothpicks, speaker and bottle opener or corkscrew, are also important.
6) Food and Drink – To eat and drink does not have much error. I suggest taking light and easy to consume foods. For instance, baguette, cheese, cold cuts, "easy" fruits (strawberry, grape, cherry, raspberry, etc.), chips, salami. And anything else you can imagine. And to drink, a French wine, right ?! Enjoy that you will be in Paris to drink an excellent French wine that you would pay dearly in Brazil and that will be cheap here. 😉
7) Take care of your trash – Be sure to bring a trash bag or plastic bags to keep the place as clean and conserved as you found it. Parisians and tourists going for picnic forget their trash, and the city is ongoing a rat invasion…
This is it! Have you had a picnic in Paris? Do you have any other places to recommend? Tell me in the comments.
Bisous!