When it comes to museums in Paris, the first thing we think of is the Louvre, but there are more than 100 museums in Paris. There are all styles and tastes: Museum of Classical and Contemporary Art, Natural History, History of France, and even Museum of Arms.
As they are so many, I have gathered some museums that I find fascinating to visit. Besides the unbeatable Louvre Museum, of course, which is one of the main sights of Paris and a must stop.
Do you already know the Louvre? Then it's time to visit the other museums in Paris
I have selected six museums worth a visit if you know the Louvre. Among them is Orsay, with beautiful Impressionist works, Pompidou. The Louis Vuitton Foundation for those who enjoy contemporary art, Picasso – needs no further comment ❤️, among other museums you discover below. 😉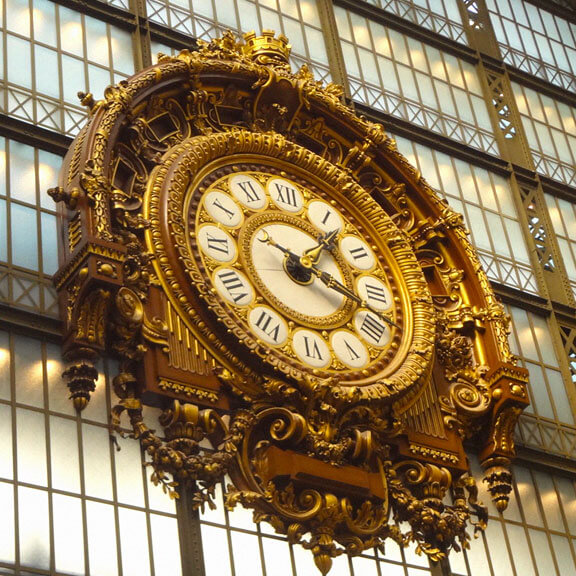 Orsay Museum is housed in a former Gare d'Orsay train station, which also served as a post office during the Second World War. Localized on the outskirts of the Louvre Museum and on the banks of the Seine River.
Space has been refurbished to become a museum. Still, the beautiful wall clocks have been retained, and today are Orsay symbols, just as the pyramids are for the Louvre. Tip: These watches make beautiful pictures!
Today, the museum houses an extensive collection of paintings and sculptures, mainly impressionists and post-impressionists. Among the permanent collection are works by Van Gogh, Susana, Degas, Maurice Denis, and Odilon Redon. Also, it often receives very cool temporary exhibitions.
Address: Musée d'Orsay – 1 Rue de la Legion d'Honneur, 75007
Opening hours: Open daily except Thursday from 9:30 to 18:00. On Thursdays from 9:30 am to 9:45 pm.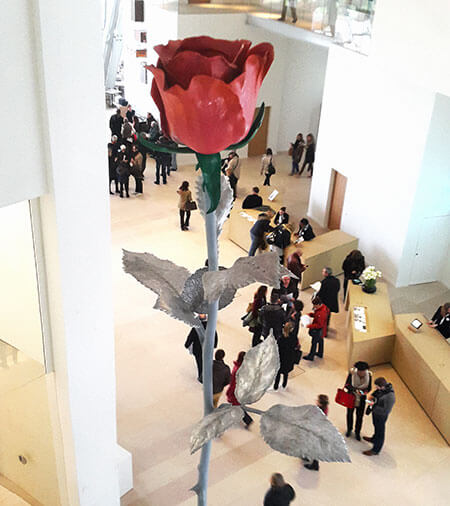 FONDATION LOUIS VUITTON
One of the newest museums in Paris, the Louis Vuitton Foundation, opened in 2014 and impresses with its contemporary architecture.
The glass-paneled building was designed by Frank Gehry in a very green area and away from the tourist route at Bois de Boulogne.
In addition to the Foundation having a beautiful building on the outside, it has an extensive collection of modern art, Le Frank restaurant, and an auditorium for music and dance.
Address: Fondation Louis Vuitton – 8th Avenue du Mahatma Gandhi, 75116
Opening hours: Open daily from 9am to 9pm
Right in the heart of the lively Le Marais district, Hôtel Salé is a museum dedicated to the works of Pablo Picasso, one of the creators of cubism. Although the artist is Spanish, it was in France that he lived much of his life. So it is fair to have space in Paris with his works.
The museum's collection brings together over 5,000 works, including paintings and sculptures. Most of the collection is from lesser-known works, as the most famous are in other more significant museums.
But all is not lost, and it is possible to see some well-known works, such as the portrait of Pablo Picasso and the painting "Woman sitting." It is Picasso's tribute to Françoise Gilot, who was pregnant with her daughter, Paloma.
⇒ Tip: Every first Sunday of the month, the museum has free admission.
Address: Musée Picasso – 5 Rue de Thorigny 75003
Opening hours: Open Tuesday to Friday, 10am – 6pm • Weekends 9am – 6pm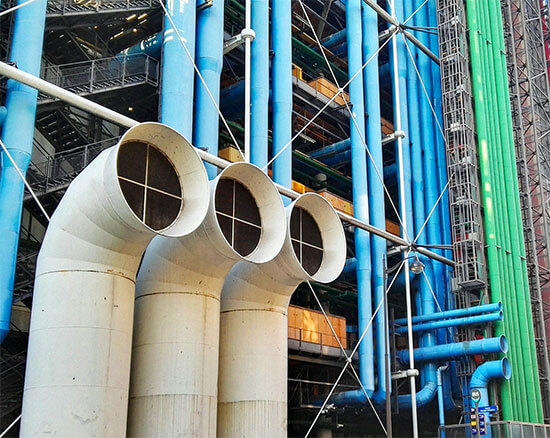 CENTER POMPIDOU
Also known as Beaubourg, Georges Pompidou Center is actually a large area where the National Museum of Modern Art is housed. There are over 60,000 works, including paintings, photographic and audiovisuals, the Public Information Library, and a center for music and music acoustic surveys.
The super-modern building, with many pipes and apparent pipes, was designed by Italian architect Renzo Piano and British architect Richard Rogers. Since it was built, it is controversial because it was modern. To this day, many Parisians do not like the building because the architecture is totally out of the "Parisian style."
Honestly, I love modern things and stuff, but I didn't enjoy that pile of pipes, all shuffled. But what matters is the fascinating inside and the terrace with a bar. It is perfect for happy-hour in summer and a beautiful view of Paris.
Address: Center Pompidou, Place Georges-Pompidou, 75004
Opening hours: Open daily from 11am to 10pm
MUSEUM OF L'ORANGERIE
Hidden museum in the middle of the Jardin des Tuileries, it houses incredible works by impressionist and post-impressionist painters such as Paul Cezanne, Henri Matisse, Amedeo Modigliani, Claude Monet, Pierre-Auguste Renoir, Henri Rousseau, Chaim Soutine, Alfred Sisley, and Maurice Utrillo among others.
The highlight of this tiny museum is the giant canvases that form Claude Monet's Les Nymphéas (photo above). Inspired by the beautiful gardens of Giverny, where Monet lived, the whole work was created primarily to be a gift to France.
Monet's desire was for the screens to be exposed in a way that could impress people. And it really impresses! It's so amazing that you can spend hours watching the details of the screens. I just loved it!
Address: L'Orangerie Museum, Jardin Tuileries, 75001
Opening hours: Open daily except Tuesday, 9am – 6pm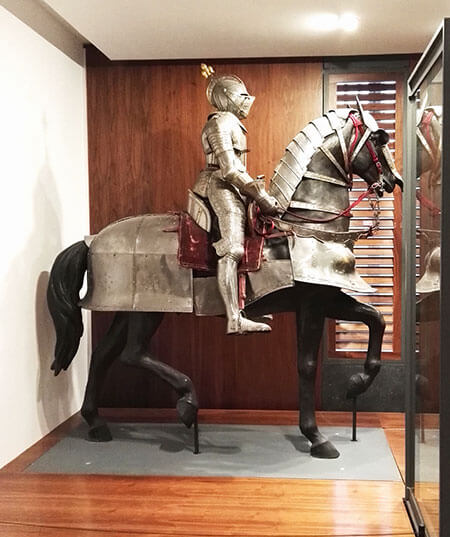 MUSEUM OF L'ARMÉE – INVALIDES
This museum may seem a little bland to girls, especially, but it's not. On the contrary, it is an excellent museum for those who like history in general and epic/medieval movies.
I was fascinated to see the armor and weapons that were used during the wars. Everything I had studied and seen in movies became more real.
In addition to this war-related part, you can see objects from the Napoleonic era, as well as visit the tomb of Napoleon Bonaparte and several other military personnel.
⇒ A curiosity: the museum is housed in the Hôtel des Invalides, a place built at the request of King Louis XIV to provide shelter for the invalid soldiers. The idea was to have a place of peace for those who fought during the wars.
Address: Musée de l'Armée, 129 Rue de Grenelle, 75007
Opening hours: Open daily from 10am to 6pm (winter until 5pm)
Essential Tips for Your Museum Visit
◊ To avoid queues at museums in Paris, try to buy your ticket in advance on the internet, at each museum's official website.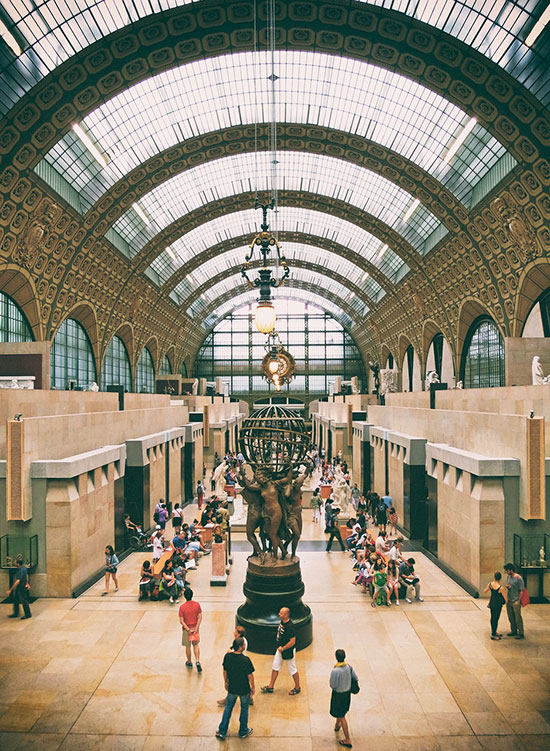 ◊ Several museums in Paris have free admission on the first Sunday of the month. On this day, there is no way you will have to take a queue, but you will not pay anything to visit the following museums:
Musée l'Orangerie • Musée des Arts et Métiers • Musée du Louvre (October to March) • Center Pompidou • Musée Picasso • Musée du Moyen Âge – Thermes de Cluny • Musée d'Orsay • Musée du Quai Branly • Musée of the Chasse and the Nature • Cité of the Architecture and the Patrimoine • Musée Guimet
◊ If you are thinking of making a trip to various museums, the Paris Museum Pass may be the option to save money. Besides, you get several advantages, such as not queuing and even getting discounts in some places.
So what do you think about this selection of museums in Paris? Do you have any others to suggest? Tell me in the comments. =)
Bisous!