Many people ask me what winter is like in Paris, what to do, and especially what you need to pack. This concern was also mine the first time I set foot in Paris. So I prepared this post telling you about Paris in winter and what to do at that time. I also put together a list of items that you should pack in order not to feel cold. 😉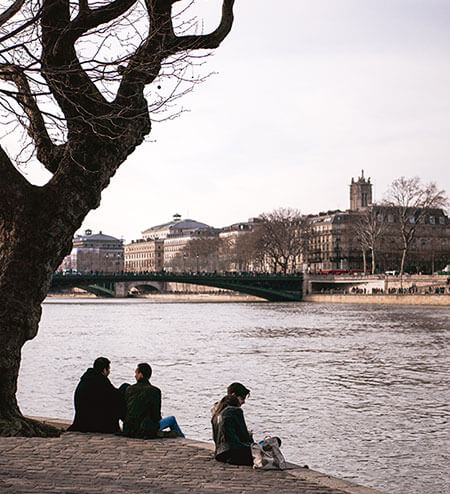 What is winter like in Paris
Winter in Paris officially begins in December, but the low temperatures are already in the fall. At this time, the days get shorter (the sun goes down around 5:30 pm), the leaves have fallen from the trees, and the city "changes the scenery." Also, temperatures might drop below freezing, it may rain and even snow.
♦ The average temperatures during winter:
December: between 2°C and 7 ° C with 50mm of rain
January: between 1°C and 6°C with 56mm of rain
February: between 1°C and 7°C with 46mm of rain
Things to do in Paris in winter
I've never been a fan of the cold, but I must confess that in Paris you have a lot of cool things to do during the winter. Now I will share with you what I like to do and some tips.
As winter has much fewer queues at the sightseeings, an alternative to enjoying Paris and not getting cold is to take a tour of the museums.
Some museum suggestions
1) Musée d'Orsay – former train station that today houses artworks by Van Gogh, Susana, Degas, Maurice Denis, Odilon Redon, and temporary exhibitions. [1 Rue de la Légion d'Honneur, 75007]
2) Fondation Louis Vuitton – A little further from the center of Paris, but with a beautiful and modern building, the foundation welcomes beautiful exhibitions. Worth a visit! [8 Avenue du Mahatma Gandhi, 75116]
3) Gustave Moreau – one of the many secret museums in Paris worth visiting. In addition to knowing this painter's former residence, you will be enchanted by the stairs inside the house. Instagrammers love it here hehe.
Between strolls, you can escape the cold in one of Paris' teahouses. You can warm up by having a tea from Nina's (29 Rue Danielle Casanova) or a delicious hot chocolate from Angelina (226 Rue de Rivoli).
In addition to the museums, you can visit the numerous cathedrals of the City of Light. For example, Notre Dame de Paris Cathedral, Eglise de la Madeleine, and Basilique du Sacré Cœur.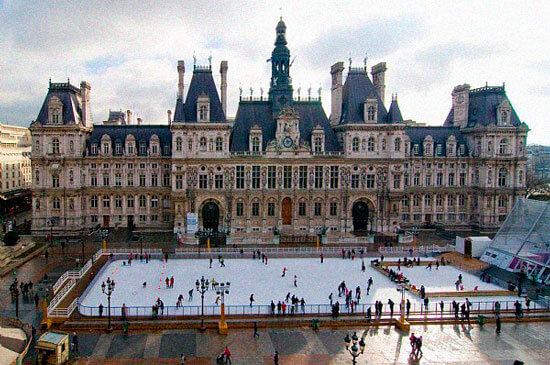 Enjoy something that you will only find in Paris in winter, the ice skating rides scattered throughout the city. The Avenue des Champs-Élysées runway is open from December 13 to January 3.
The entrance fee includes 7 € for children and 10 € for adults. In this region, you still have the Christmas Fair to go even if you don't buy anything.
Cold as it is, you can stroll through the streets of Paris to see the Christmas decorations. You will be enchanted by the whole decorated and brighter city than usual.
Walk mainly on Champs-Élysées, Avenue Montaigne, and Boulevard Haussmann – to see the incredible Christmas decorations of the Galeries Lafayette.
Also, use the winter in Paris to enjoy the typical dishes of the season. Eating fondue (sweet and salty) and raclette (melted cheese that you put on potatoes, mushrooms, cold cuts, and whatever you want) are just a few suggestions. Try a vin chaud from those you find in street kiosks, or you can go to a bar with a fireplace for a glass of good French wine (or a bottle).
♦ Places to eat fondue: Pain, vin, fromages (3 Rue Geoffroy-l'Angevin) • The Refuge des Fondus (17 Rue des 3 Frères) • The Chalet Savoyard (58 Rue de Charonne).
♦ Fireplace options: Atelier Maître Albert (1 rue Maître-Albert) • Le Coupe-Chou (9 and 11 rue de Lanneau) • Le Flamboire (54 rue Blanche). Winter-in-paris-bar-fireplace
In January, winter sales take place in Paris. If you come back then and want to do some shopping, the tip is to go to the Boulevard Haussmann region, where you will find the department stores Galerias Lafayette and Printemps – with luxury brands, and several stores like H&M, Zara, Mango, etc…
⇒ Suggestions for winter bars: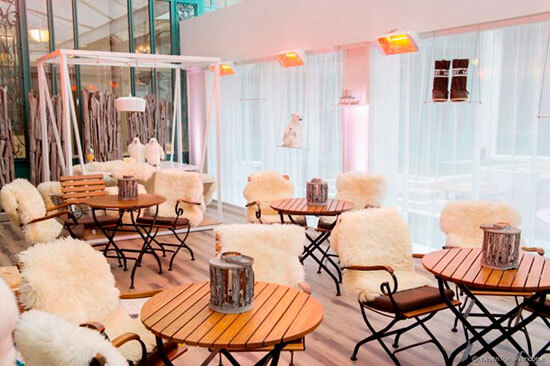 ◊ Ice Cube Bar, located on the rooftop of the Galeries Lafayette, this bar features two transparent igloo-shaped domes, plenty of cold-weather blankets, a beautiful view of Paris, and a varied menu of hot drinks, cocktails, and tapas. [Boulevard Haussmann, 75009]
◊ Terrasse Bulle d'Hiver of Westin Paris-Vendôme offers a super cozy space during the winter. On the outskirts of the chic Place Vendôme, it's an excellent place for a cocktail or a traditional Moët & Chandon champagne afternoon tea. [3 rue de Castiglione, 75001]
> Super Paris tips to get you on your way
> New Year's Eve in Paris: See the best options for the night of the turn
What to wear in Paris for the winter and what to pack
Here in Paris, I joke that we dress in "onion mode," i.e., layers of clothing. This is because cold even feel only in the street, indoors, including shops and subway, there are heaters. So when you arrive at a restaurant, for example, you can take off your coat, gloves, and scarf. This makes it more comfortable without feeling cold.
So you don't have to bring two suitcases full of clothes. What you need to do is put in some essential parts to withstand the cold. The items below are vital for both women and men (even those who say they don't feel cold lol).
To enjoy the winter of Paris, you will really need: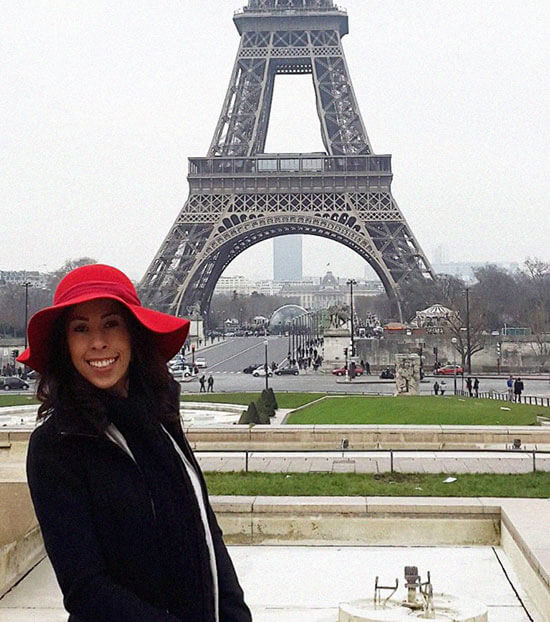 ♦ Thick/lined coat
♦ A wool sweater or other warm material
♦ Scarf
♦ Gloves
♦ Thick socks
♦ TCap, beret or hat
♦ Sneakers or boot
Important to note that the above list is all you will use in one day. So the number of garments depends on how many days you stay in Paris. Remembering that a thick coat is enough because you do not need to change every day unless you want to vary in photos lol.
For women: 60 or 80 thread tights can be an option if you want to wear skirts and dresses. Or even feel very cold and want to put under your pants. 😉
Other items that may help in the European winter
In addition to warm clothes and comfortable shoes, it is good to have in your pocket a lip balm because, with the wind, your lips can become dry. Also, try to have facial and body moisturizers. This also goes for men!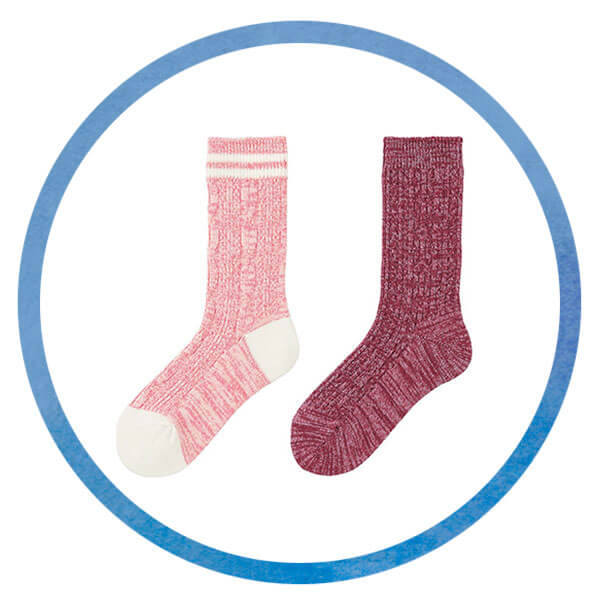 Ah, for those who want to keep their feet warm, here in Paris, there are some sheepskin insoles. They cost € 5.50 and can be found at the BHV store or at any shoe repair shop.
A second option would be the HEATTECH collection socks. They are lightweight and have a technology that "creates" heat. The package with two pairs of socks costs around € 9.90, and you can find it at Uniqlo store (there are several stores in Paris).
Still, about the HEATTECH collection, it really delivers what it promises. In addition to socks, you will find tops, jeans and leggings, pantyhose, and various other non-freezing items.
WHERE TO BUY CLOTHES FOR COLD IN PARIS
If you want to buy winter clothes when you arrive in Paris, here are some good-priced, easy-to-find shops around the city: Zara // Mango // H&M // Uniqlo. For those willing to spend a little more, the options are department stores: Galeries Lafayette // Printemps // Le Bon Marché
It is! I hope you don't get cold and that you enjoy Paris a lot in winter!
Bisous!!