If Montmartre is considered one of Paris's most bohemian neighborhoods, the Quartier Latin, is one of the most intellectual. The main reason is that it is a region with several recognized universities and schools, such as Sorbonne for example. To this day it is a neighborhood very frequented by students, besides tourists.
In addition to the old schools and universities, the Quartier Latin houses medieval buildings and little villages with many exciting stories. No wonder it's so popular with tourists and locals.
A fun fact, the neighborhood's name came from teaching done in Latin in the middle-age.
WHAT TO SEE IN QUARTIER LATIN
I prepared this post with suggestions of places to include in your Paris itinerary, dining, and lodging options. Before you get started, it's worth knowing that the Quartier Latin district is located on the rive gauche (left side of the Seine), between the 5th and 6th arrondissement of Paris.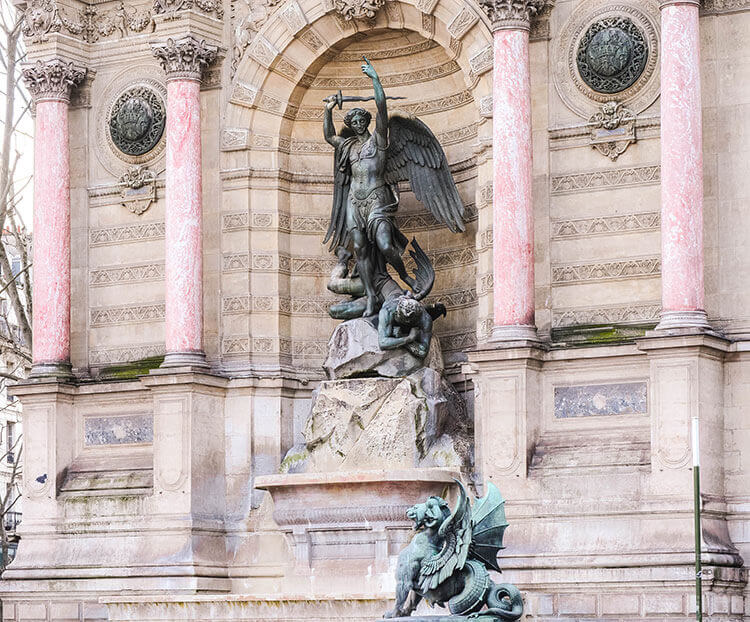 FONTAINE SAINT-MICHEL
At the very beginning of the Latin Quarter, next to the Saint-Germain-des-Prés district, we have the square with one of Paris's most famous fountain, Fontaine Saint-Michel. Several personalities have lived in the same region, including Brazilian composer Heitor Villa-Lobos.
The fountain was part of Georges Haussmann's designs at the time of Emperor Napoleon III. It was a somewhat controversial project that included expropriation and demolition of a part of the neighborhood. Today, it is another work that adorns and beautifies the French capital.
Address: Place Saint-André des Arts, 75006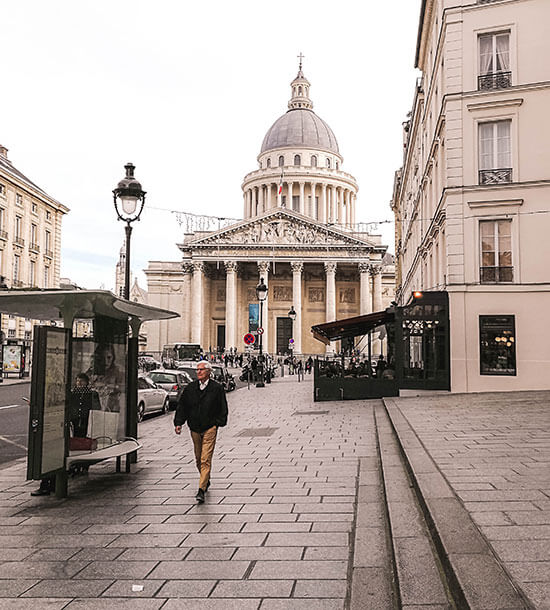 PANTHÉON
The first monument of Paris, the Panthéon, or Pantheon, was designed at the request of Louis XV. In its crypt are buried famous personalities of French history, such as writers, scientists, generals, and politicians. Alexandre Dumas, Victor Hugo, and Voltaire are just a few names.
The Pantheon was built in a neoclassical style, and is open for visitors and impresses with its 22 columns and wall paintings. The Foucault Pendulum is also a reason for visitation. Result of a scientific experiment, the pendulum is a suspended sphere used to demonstrate the rotation of the earth around its own axis.
Tip: In Soufflot street, you get a nice angle to photograph the Panthéon
Open daily from 10AM to 6PM
Address: Place du Panthéon, 75005 Paris
Ticket: 9 €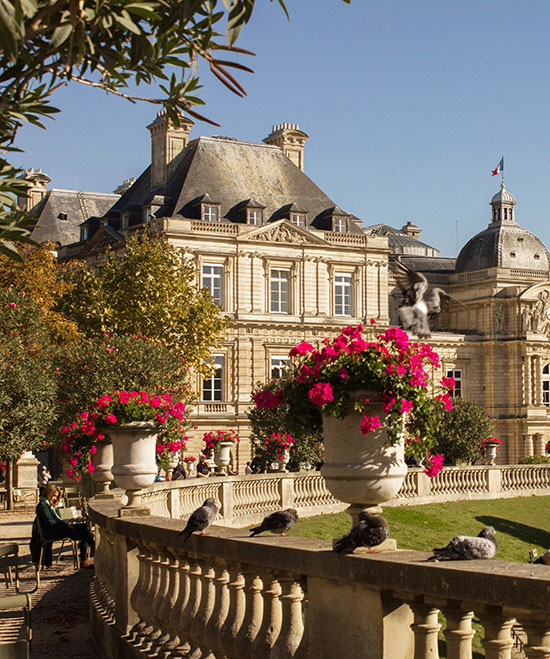 LUXEMBOURG GARDEN
Situated between the Saint-Germain-des-Prés and Latin Quarter neighborhoods, it is one of the most charming gardens in the city. In addition to being one of the main sights of Paris, the park has an excellent infrastructure for leisure moments of Parisians.
There are sports courts, pony rides for the kids, restrooms and places to eat, high chairs everywhere and lawn for a picnic on sunny days.
You can also visit the Luxembourg Museum, the Luxembourg Palace – which always has art exhibitions. If you enjoy sweets and hot chocolate, take a break at the Angelina tea house (they are lovely).
Address: 15 Rue de Vaugirard, 75291 Paris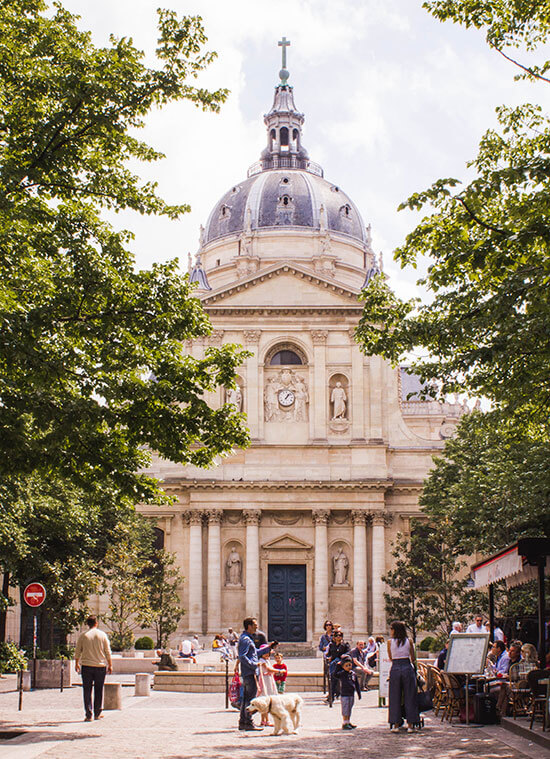 SORBONNE UNIVERSITY
The most famous university in France, Sorbonne was created to teach theology to the needy and providing shelter for them.
It later became France's first college of letters and humanities. Today, in addition to still working as a unit, it offers several other activities, such as French classes.
Although it is a famous monument for Paris to visit it is necessary to schedule in advance, as the visit is guided (in French). To book the tour, send an email to visites.sorbonne@ac-paris.fr.
CLUNY MUSEUM
The Cluny museum is dedicated to incredible medieval history, you can still spot the traces of Roman times. During the visit, you will discover various objects from the Middle Ages. You will also see the hot springs, where the Romans did their bathing. This ritual started with warm water and ended with cold water.
You can also see the stained glass windows of Saint Chapelle and Basilique de Saint-Denis and the incredible tapestry set called "La Dame à la Licorne."
Open Wednesday to Monday from 9:15AM to 5:45PM
Address: 6 Place Paul Painleve, 75005
Tickets: 5 € + 4 € (when there is exhibition)
Bookshop Tour
The Latin Quarter is the perfect neighborhood for book lovers, as you will walk through the streets to find bookstores of various types and nationalities.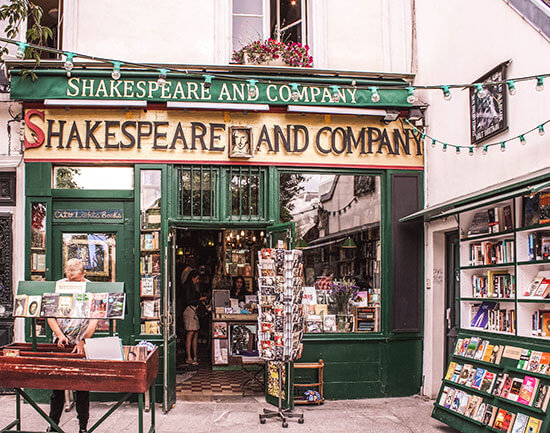 ◊ Shakespeare and Company: English bookstore that has served as the setting for several films, such as "Before Sunset." Next door is a bookstore café right on the terrace overlooking Notre-Dame Cathedral. [37 Rue de la Bûcherie, 75005]
◊ Gibert Jeune: A bookstore that is a hit with Parisians, with several units scattered around the neighborhood. It has an extensive collection, with books ranging from Paris guides to language books, for example. [Boulevard Saint-Germain, 75005]
◊ The Abbey Bookshop: Installed since 1989, this Canadian bookstore looks like it came out of a movie so charming that it is. If you are not in the mood to buy books, take the time to take some pictures. [29 Rue de la Parcheminerie, 75005]
GARDEN OF PLANTS
To visit the plant garden, I suggest booking half a day (morning or afternoon) as there are many things to see. And a super program, especially for those with children.
Once inside the garden, it is possible to discover: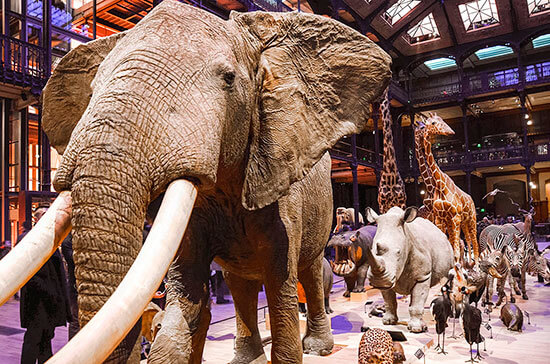 ◊ Garden of Plants
◊ The Gallery of Evolution
◊ Mineralogy and Geology Gallery
◊ Paleontology Gallery
◊ Museum of Man
◊ The Zoo
The garden is open from Wednesday to Monday from 7:30AM to 8PM. However, the galleries may have different times. I suggest visiting the official website for more details on times and ticket prices which is also variable.
Address: 57 Rue Cuvier, 75005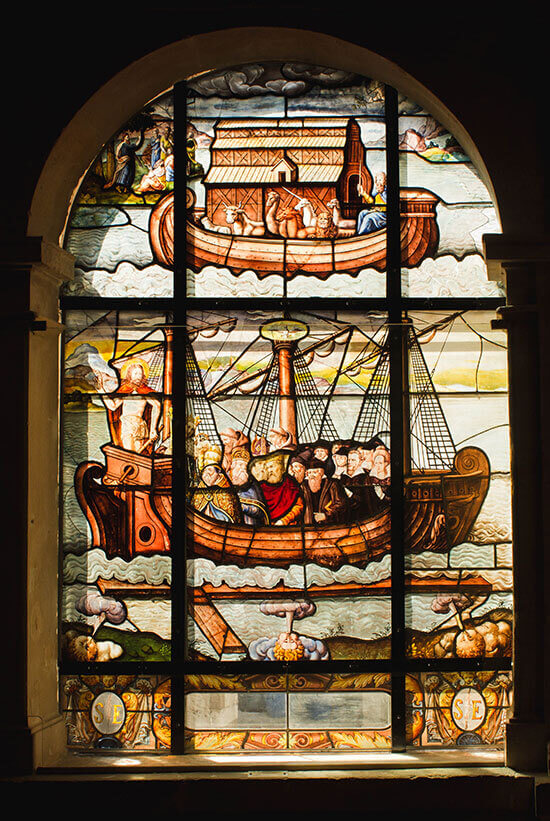 QUARTIER LATIN CHURCHES
There are several churches in the Latin Quarter, but I would like to mention two that deserve a visit.
◊ Sainte Sainte-Etienne-du-Mont Eglise: Located behind the Panthéon, this church goes unnoticed by most tourists, but has beautiful stained glass windows. They are amazing, the perfection of the painting done on the glass. It is also in this church where is the tomb and remains of the patron saint of Paris, Saint Genoveva. [Place Sainte-Genevieve, 75005]
◊ Eglise of Saint-Nicolas-du-Chardonnet: not striking because of its beauty, but because it is an Orthodox Catholic church, where the Mass is still said in Latin and follows some old rules. For example, women cannot wear short skirts and dresses, nor should they show shoulders. To attend masses, they must wear headscarves. [23 Rue des Bernardins, 75005]
STREETS YOU CANNOT MISS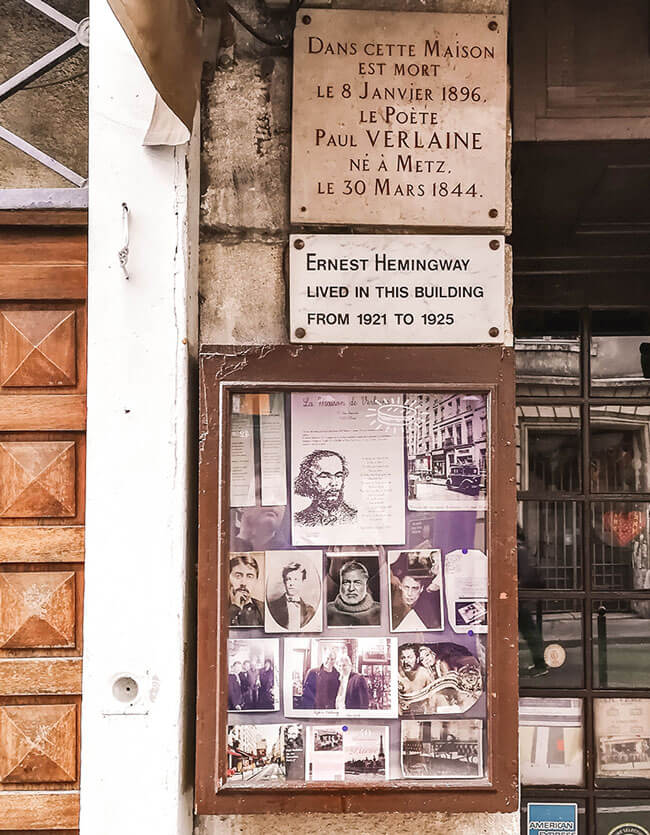 Difficult to choose the main streets in a neighborhood that is so rich with history. However, I have selected just a few that I find interesting for a first visit to the region. However, there are several others, so don't limit yourself to them. 😉
◊ Rue Mouffetard: one of the oldest streets in Paris, once had a bad name and today is more successful. One of the main reasons is the variety of shops and restaurants. And in it is located one of the most generous crepes in Paris (I can't handle eating everything), at P'tit Grec. Be sure to stop by Place de la Contrescarpe, either for a drink in the bars or to sit down for your crepe.
→ P'tit Grec: 68 Rue Mouffetard, 75005
◊ Rue Descartes: A charming street for walking and once the address of many intellectuals. There is even a restaurant where was the former residence of Ernest Hemingway and Paul Verlaine, at different times of course, which displays photos of the past era and various personalities.
→La Maison de Verlaine: 39 Rue Descartes, 75005
◊ Rue Galande, Rue Maître-Albert, and Rue Bièvre: narrow streets that still hold old buildings from past centuries. Some, even from the time Paris was called and Lutetia.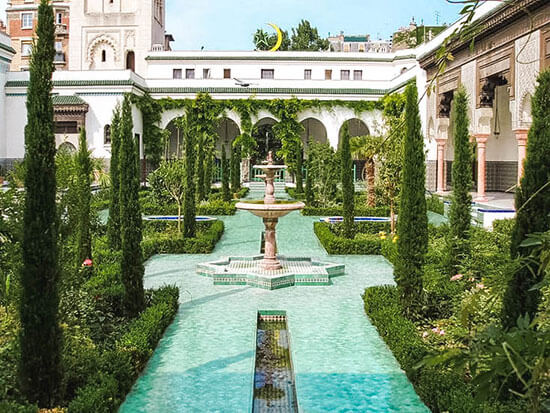 Close to the Jardin des Plantes, the Grand Mosque of Paris is open for visitation, with the possibility to try the hammam. Inside you will see the beautiful tiled mosaics and learn a little more about Muslim history and civilization.
If you don't want to visit the mosque, I suggest you take a break at the garden cafe for a delicious mint tea with a sweet cake (I like the pistachio cake).
Open daily except Friday from 9AM to 12PM and 2PM to 6PM
Address: 39 rue Saint-Hilaire, 75005
Tickets: 3 € (value to visit inside the mosque)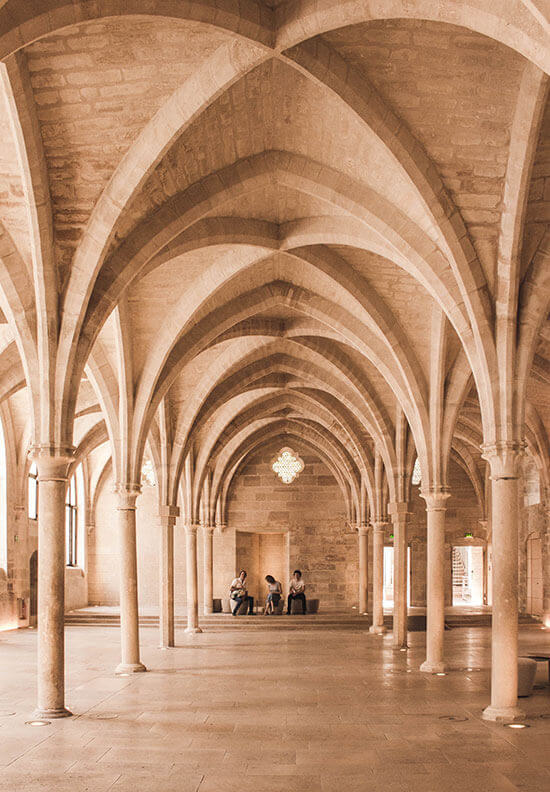 COLLEGE DES BERNARDINS
The Collège des Bernardins is a former college where theology was taught. It served as a monk's students' residence from the University of Paris, a prison during the French Revolution, and even a fire station.
It underwent a renovation and today is a space dedicated to conferences and workshops. However, it has a public free space that includes the Roman style pillared entrance and ceiling, small garden, and a modest chapel.
Open Monday to Saturday from 10AM to 6PM
Address: 20 Rue de Poissy, 75005
ARENES DE LUTECE
Just think that only Rome has arenas, so does Paris! Not as big and not as famous as it is, but it is a quiet place and open to the public. Still, with remnants of Roman times, the location is used by neighborhood residents for games such as football and petanque. During the year there are also small festivals and fairs inside the arena.
Address: 49 Rue Monge, 75005
BARS AND RESTAURANTS
As it is a mega tourist neighborhood, I suggest booking a table in the restaurants that have this alternative. This way, you avoid waiting in line or missing the trip.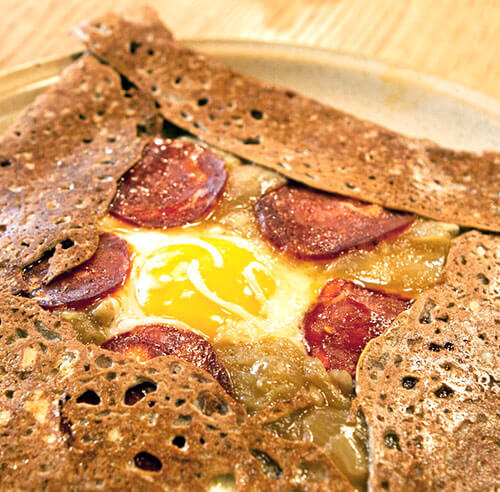 ⇒ La Petite Bretonne: Decorated in the Brittany region, this creperie serves large handcrafted crepes. Crepe prices range from 5 to 12 euros. [48 Rue Mouffetard, 75005]
⇒ Le Comptoir du Relais: to taste French cuisine classics. The restaurant has an art deco style of the old brasseries of Paris. For lunch, mere dishes are served, while for dinner, meals are more elaborate. [9 Carrefour de l'Odéon, 75006]
⇒ Castor Club: Bar with a discreet facade, but with an intimate interior and tasty cocktails. It is an excellent option to hide from the cold. [14 Rue Hautefeuille, 75006]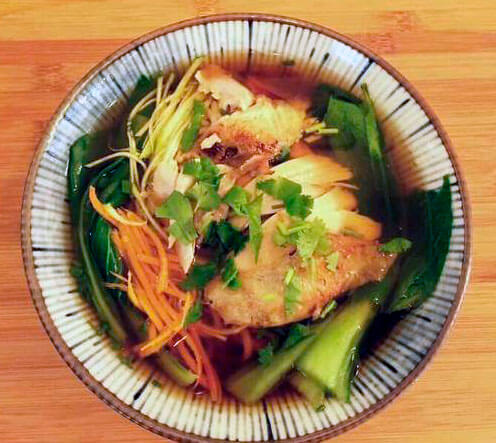 ⇒ Chez Ann Sisters: Asian food restaurant with a relatively simple but tasty and fresh menu – the noodles are handcrafted. It offers meat dishes and vegan options. ONLINE RESERVATION [36 Rue Mouffetard, 75005]
⇒ Indonesia: Ideal rest for those who like to taste other gastronomy and more spicy dishes. A suggestion is the dish "Rendang Padang (Sumatra)" – considered a cultural heritage by UNESCO, with meat cooked in coconut milk, citronella, and turmeric. ONLINE RESERVATION [12 Rue de Vaugirard, 75006]
WHERE TO STAY IN QUARTIER LATIN
Five Boutique Hotel Paris Latin Quarter (from 132 €): Boutique hotel with rooms for two people and families. In addition to basic amenities, the hotel offers L'Occitane products and whirlpool bathrooms for some rooms.
Abbatial St Germain Hotel (from € 119): Well located hotel, close to subway stations and bus stops. It is rated Great on Booking with a rating of 8.3.
Cozy studio close to the Latin Quarter (57 € per night): Small studio for up to two people with double bed and a mini kitchen equipped for cooking.
For more accommodation suggestions, have a look at the posts about cheap Paris hotels and Airbnb apartments in Paris with options starting at € 34.
Bisou!