Spending Christmas in Paris is magical. The city is brighter than it usually is. Big stores use and abuse creativity to decorate their windows. There are typical dishes at this time. And if it is the dream, it may happen to snow then. It will not be all white as we see in the movies, it is possible. In 2017, it snowed a little in early December.
Many things happen at this time in the French capital and region. In this post, you will find the information you need to have a super Christmas in Paris.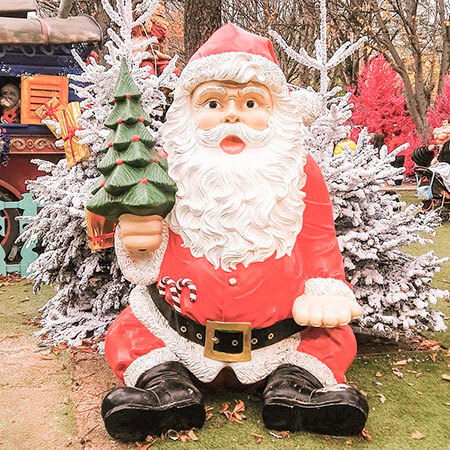 How is Paris in December
In Europe, we have the winter that arrives around December 21st. Before that, it is cold, and temperatures can range from 2 to 7 degrees Celcius.
The weather in Paris in winter is usually dry and with little rain compared to spring. The leaves have all fallen, and the trees are just branches, giving a certain charm to the season.
We have many days of beautiful blue sky, but with a freezing wind. So you always need to get dressed up very well, with a coat, warm shoes, gloves, a scarf and something to protect your head.
What to do in Paris for Christmas
I made a selection of typical holiday programs for children and adults. Also, at the end of the post, you will find suggestions of places for Christmas Eve, including supper and everything.
CHRISTMAS MARKETS
Another attraction that you can not miss is the fair or Christmas market. There are several scattered around Paris in December. The most famous is the Marché de Noël on the avenue Champs-Élysées – every year it receives millions of people.
In addition to it, there are four more, located in other tourist regions. In these Christmas markets, you will find a bit of everything, but mostly handcrafted products and typical food stalls. This is a great place to taste delicious French cuisine. Below are three markets that I like and easy to include in your tour:
♦ Saint-Germain-des-Prés Christmas Market: Situated on the outskirts of Saint-Germain-des-Prés Church, this market is cute. On weekends, there is Santa Claus for the children.
♦ Trocadéro Christmas Market: For those who love clichés, this market is perfect! As you stroll between the stalls, you can enjoy a beautiful view of the Eiffel Tower.
♦ Notre-Dame Christmas Market: Close to Notre-Dame Cathedral and the oldest tree in Paris, it's a smaller market, but with a lot of beautiful crafts. There is also a corner for children to write a letter to Santa Claus.
CHRISTMAS DECORATIONS IN PARIS
By the end of November, we have begun to see Paris with a Christmas decoration. We even have a little ceremony to inaugurate Christmas lighting. The event takes place on Avenue des Champs-Elysées, which also receives special light for this period.
Large stores also decorate their facades and shop windows. Major department stores also decorate everything and look charming. It is hard to know which one is the prettiest. Viewing store windows becomes a program for children and adults.
Some places I recommend:
• Galeries Lafayette
• Printemps
• Bon Marché
• Avenue des Champs-Élysées
• Avenue Montaigne
As it is cold to walk the streets, a tip is to take a city bus tour. The company Paris City Vision proposes a tour "Christmas Lights." Within an hour, you pass the Opéra Garnier, Place Vendome, Place de la Concorde, Avenue Champs-Elysées, Eiffel Tower, the Invalides, the Louvre Museum and the major department stores. The tour includes a hot drink and a blanket, all to stay warm.
ICE SKATING
December is also the ice skating season. The ice skating rinks are a hit in Paris. Every year, skating rinks are installed in various parts of the city. Below are the primary skating rinks.
• Champs-Élysées Christmas Village Skating Rink
• Le Grand Palais Des Glaces
• Eiffel Tower Skating Rink
• Trocadéro On Ice
VISIT THE VAUX LE VICOMTE CASTLE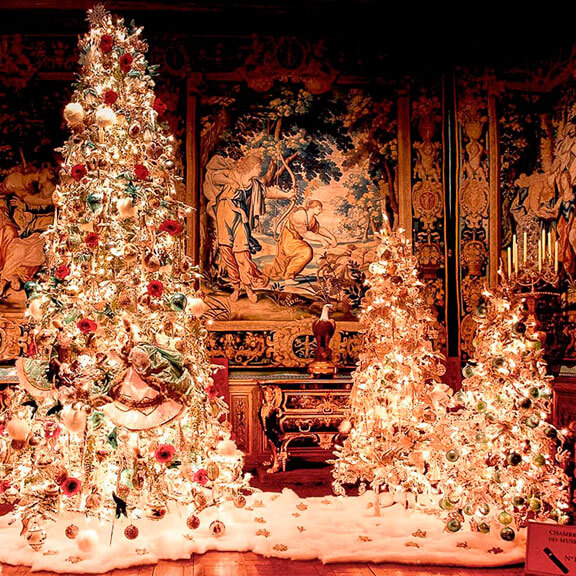 If you come with family, with children, my tip is to visit the castle of Vaux le Vicomte. Why? The place itself is a bounty, but during the period from November 24th to January 1st, it gets even more charming. The castle receives special lighting and ornaments.
To reach the Great Hall, you have to go through the forest, through light trails and full of pleasant surprises, as enchanted characters. To make the experience even more unforgettable, children can dress up – the castle lends the costume at no additional cost.
Tip: I recommend booking late and early evening, as well as buying tickets in advance over the internet. It can be through the site the castle official or by Paris City Vision that organizes a special tour for this season.
Where to have Christmas dinner in Paris
Christmas in Paris, as in Brazil, is a magical moment and more family. The French also have their typical foods of the time and make gift exchanges. During Christmas dinner, it is common to have seafood, foie gras, Noël bûche (a swiss roll cake) and wine and champagne to go with.
For you who wish to celebrate Christmas in Paris in a particular way, I have selected some options that are already accepting reservations for Christmas dinner on December 24th. Once you have more options, update here.
Situated in Montmartre's artist square, this traditional restaurant offers a Christmas dinner including appetizer, starter, main course, cheese, dessert, and drinks (water, wine, and coffee). It will be a typical French dinner in a Belle Époque style setting. Besides, there will be a dance floor to wrap up Christmas Eve. [starting at € 77]
Imagine spending your Christmas in a place that looks more like a movie scene from the Middle Ages ?! That's what happens in this restaurant, located on the outskirts of Notre-Dame Cathedral. With a rustic style reminiscent of the Vikings, it offers its guests a full dinner, wine, champagne, and a lot of entertainment all night long. [starting at € 75]
For those who want a different experience, the suggestion is to have Christmas dinner on a cruise along the Seine, passing the main sights of Paris. Paris en Scène offers 1h30 sightseeing and full dinner with drinks included. For Christmas Eve, there are three options: 18h, 20h, and 22h15. [starting at € 69]
Bisous,
Rafa