I have already commented in another post how satisfying and delicious French cuisine is. Impossible to make a single post about it. Therefore, today's post is to introduce some French sweets, the most common ones we find in a patisserie. Before, a brief explanation of the difference between a patisserie and a boulangerie. There are two kinds of establishments you will find in Paris.
Basically, the patisserie is a confectionery, more focused on cakes. The boulangerie is a bakery with various types of bread. You can find them separately or both in the same place. The explanation made, let's get down to business: FRENCH SWEET! ❤️
French cakes you need to try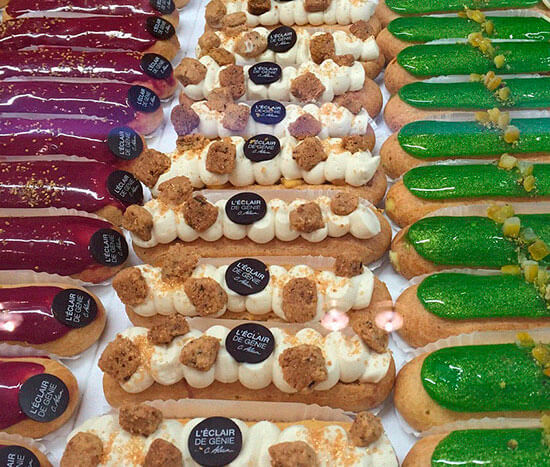 ÉCLAIR
Éclair is nothing more than a puff pastry. It is a flour-based candy, in the longest shape and filled. The most common filling is chocolate, but there are several other flavors, such as coffee, caramel, and various fruits. A curiosity about the name "bomb" refers to the fact that, on the first bite, the sweet's creamy filling "bursts" in your mouth. Ps: I LOVE the one with chocolate flavor!!
The éclair is ubiquitous, and you will find some in almost every patisserie and boulangerie. However, there is L'Eclair de Génie, which is considered one of the best in Paris. To prove it is easy, as there are several addresses around the city. Below I leave an address at Le Marais.
Where to try it: L'Eclair de Genie, 43 rue Sainte Croix de la Bretonnerie – 75004 Paris
FRAISIER
The fraisier is a French sweet made of strawberry, genoise (classic French cake made without yeast) and a crème patîssière à la vanille (vanilla cream).
It was popularized by Lenôtre in the 1960s, but with a different twist, Genoise was green because of the pistachio. It's one of the French pastries that you can find in a pastry shop or in a restaurant on the dessert menu.
CHOUX
Choux is made from the same dough as éclair, it can also be stuffed with different flavors and is still used as a base for other French pastries such as Profiteroles and Saint-Honoré.
MACARON
A French classic has its origin in Italy, where meringue discs were consumed without the stuffing.
It was the Italian Catherine de Medici who presented this delight to France when she moved to marry Duke D'Orleans.
The story goes that the recipe was kept a secret so that only the nobility could enjoy it. But over time, the French nuns began to produce the candy inside the convent, however not as we know it today.
The hugely successful current version, a very light, crunchy meringue cookie on the outside, moist and soft on the inside, was created by Pierre Desfontaines (in the 19th century), the famous Ladurée's pastry chef.
Although Ladurée is the birthplace of the macaron and is super famous for it, she is no longer the owner of the title of "Best Macaron." As time went by, other confectioners learned and improved the recipe. So today, if you want to taste the best macaron in Paris, I suggest Pierre Hermé, because besides the macaron being delicious, it has very different flavors.
Where to try it: Pierre Hermé, 72, rue Bonaparte – 75006 Paris
FLAN
Flan is actually a French pudding. This French sweet came from the time of the Roman Empire, when it was called tyropatina, and became very popular during the Middle Ages when it was enjoyed during Lent. During this time, they would put pepper in place of the burnt sugar that goes over the flan.
In French pastry shops, the flan may be a little different from what we know, as it is made with a dough that sits on the bottom and sides. To me, the shape looks more like a pie than a pudding, but it's just as tasty. The traditional flan has vanilla flavor, but you find some variations, as well.
Where to try it: Giovanni, 49, rue Chardon-Lagache 75016 Paris
SAINT HONORÉ
The name comes from the place of origin of this French candy, in Rue Saint-Honoré in Paris. Invented in the year 1847, Saint Honoré consists of a flaky pastry, several choux forming a crown, and vanilla filling that goes along with whipped cream. In short, wonderful!
Where to try: Pâtisserie des Rêves, 93, rue du Bac – 75007 Paris
PARIS BREST
Still unknown outside France, Paris Brest is on the list of traditional French sweets. It is stuffed with almond cream and decorated with praline almonds, and made with the same dough as the éclair. The story goes that the candy was created in 1981. The confectioner wanted to honor the bicycle race from Paris to Brest, so he made it round to symbolize the wheel of the bike. The competition had its last edition in 1951, but the recipe is still thriving to this day!
BABA AU RHUM
As its name implies, one of the ingredients of this French sweet is rum.
It is a small and very wet cake because of the rum syrup, accompanied, most of the time, with cream on top or whipped cream. Some say that this recipe is not originally French and that it actually came from Poland.
Legend has it that the king of Poland, who was the father-in-law of Luiz XV, found his cake too dry and asked for an alcoholic drink to improve. And so was born Baba au Rhum.
You know that even with the rum in the recipe, there are still some places that the candy gets a little dry. I think they save money. So, I recommend a spot I found and really liked the Fou de Pâtisserie. The store proposes to offer customers the best sweets for a single price. There you will find a delicious, super wet Baba au Rhum.
Where to try it: Fou de Patisserie, 45 rue Montorgueil – 75002 Paris
CANNELÉ
Typical of the Bordeaux region of southwestern France, the Canelé is a small, soft cake inside. The mixture of vanilla with rum and other ingredients gives a unique taste.
A curiosity about Canelé is that it is not known precisely how it came about. But there is a story that says the cupcake was created because of wine.
In the old days, the clarification of the wines was made with egg white, the yolks were donated for nuns to use. Today, it is a consecrated sweet in France.
Where to try it: La boulangerie Thierry Marx, 17 bis, bld Haussmann 75009 Paris
MILLE FEUILLE
Sweet that deserves respect, the Mille-Feuille takes a long time to prepare. Composed of many layers of puff pastry – it takes work and care to make them very thin, just like a sheet of paper.
Actually, not a thousand leaves, but respected pastry chef Antoine Carême rounded the number of leaves to a thousand and created a dessert that intersperses three crispy layers and two layers of vanilla cream.
According to the newspaper Le Figaro, the best mille-feuille in Paris, in 2016, was one of the patisserie Carl Marletti.
Where to try it: Carl Marletti, 51 Rue Censier, 75005 Paris
TARTE AU CITRON (LEMON PIE)
Served to kings in the early nineteenth century, the Tarte au Citron, or lemon tart, was a symbol of wealth and abundance. A classic French confectionery, it has a sweet pastry, a traditional one which has a higher proportion of sugar and a lemon cream that can be made in many ways. Pie cream is usually a mixture of eggs, sugar, lemon juice, and lemon zest but may receive variations such as basil, mint, and so on.
Where to try it: Pierre Hermé, 39 Avenue de l'Opéra, 75002 Paris
So what did you think of this list of the French pastries?
Bisous!