Planning to spend a few days in Queen's Land? Do you already know what to eat in London? Well, remember that despite the unfortunate fame, English cuisine can be tasty. Not to mention that she's been modernizing and improving with renowned chefs like Jamie Oliver, you may have heard or even tried one of his restaurants over the world.
For me, knowing a different country goes far beyond visiting historical monuments or tourist places. I always try to taste the local cuisine, because I believe it speaks a lot about the local culture. For example, English cuisine has a strong influence from other cultures, due to various historical facts of the country, such as postwar immigration.
Generally speaking, English dishes are simple and well served in quantity. Many of them have the potato as an ingredient and a slice of meat to accompany. These dishes are easily found in London pubs.
See what to eat in London
I made a shortlist of the main dishes typical of England, those that I consider obligatory and that deserve to be tasted at least once in a lifetime. =)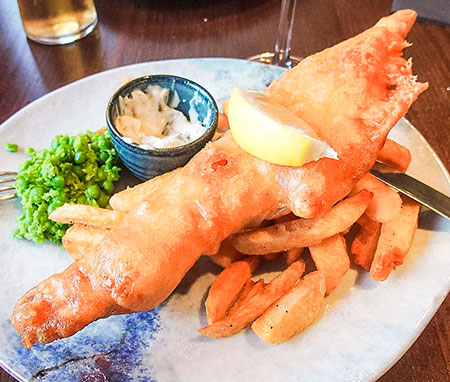 1) Fish and Chips
My darling in London, fish, and chip is one of the typical main dishes of England. Composed of breaded and fried fish, chips and peas (you can find it in puree form).
You won't have a hard time tasting it, as virtually every pub serves fish and chips. There are also several restaurants specializing in this English delicacy. My suggestion is Poppy's. With several units across London and vintage décor, they serve fish-and-chips and still give you the option to pick the fish (I usually get Haddock).
Fun fact: fish and chips are mostly served on a plate, but in the old days, it came on a sheet of newspaper. That's right, you read it! It was considered ordinary and working-class food.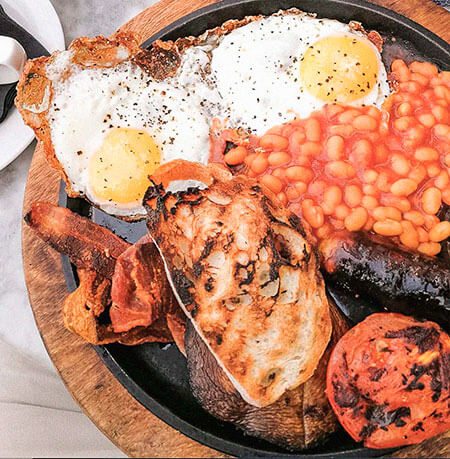 2) Full English Breakfast
Beans for breakfast? Yes, the English breakfast has beans, bacon, eggs, sausage, mushrooms, tomatoes, and some toast to go with it. You can still have that black sausage and jam. And practically, lunch!
I confess that when I saw the English breakfast, I was impressed by this combination, but experimenting, it is not bad at all! Not my favorite, but I think it's worth a try at least once. My husband loves it and has to eat every time we go to London.
A beautiful place to try English Breakfast is the Coppa Club restaurant. Located in a prime region, it has tables overlooking one of London's postcards: Tower Bridge. Tip: As it is a trendy place, I advise you to book in advance over the internet.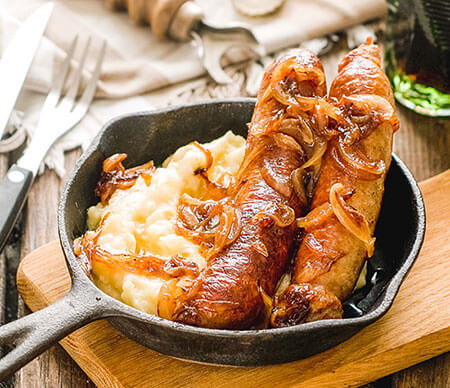 3) Bangers and mash
Another classic London pub dish, the banger and mash, is made up of sausage, mashed potatoes, and a sauce. The type of sausage used may vary, but the main ones are made from pork. Not much to say but the fact that it is a "staple" everyday food.
4) Steak and Ale Pie
Simple but tasty! A puff pastry pie, stuffed with ale-like meat, mushrooms, and spices. It usually comes with mashed potatoes and peas.
An excellent dish to give that energy and kick around London all day. I don't have a special place for this dish, but in the Covent Garden area, there are several friendly pubs serving Steak and Ale Pie. Just choose one that pleases you the most! 😉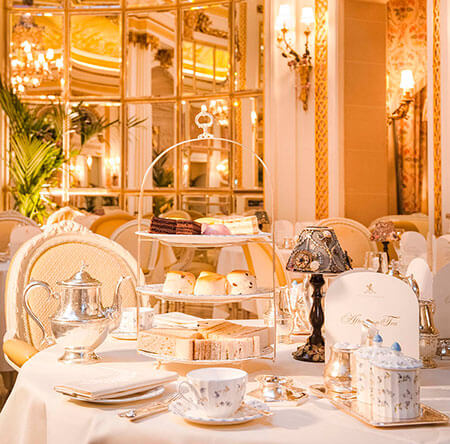 5) English Afternoon Tea
I couldn't leave out the classic Afternoon Tea. But before I talk about that, I need to tell you what the typical English tea is like. It is basically black tea with milk. This is very traditional, and the English drink daily, just like we drink coffee with milk.
Now back to the main subject, in a classic afternoon tea you can have cakes, mini salmon sandwiches, and other flavors, scones and tartlets, plus black tea and other drinks.
I have two perfect places to taste this classic from England: 1) Fortnum & Mason, a luxury department store and one of the oldest; 2) The Ritz, opened since 1906 proposes a super afternoon tea. Both offer options, including a glass of champagne.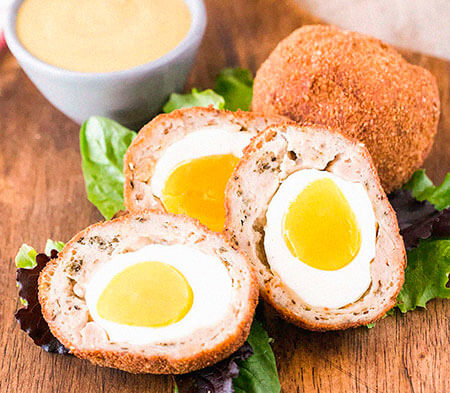 6) Scotch Eggs
We have in Brazil a very similar version of scotch eggs. Did you know it? If you have never heard, I explain.
It is nothing more than a fried ground beef dumpling stuffed with a whole boiled egg. This dish can come with nothing more or accompanied by a salad.
According to Fortnum & Mason, the recipe is their invention. True or not, it may be an excellent place to try this dish.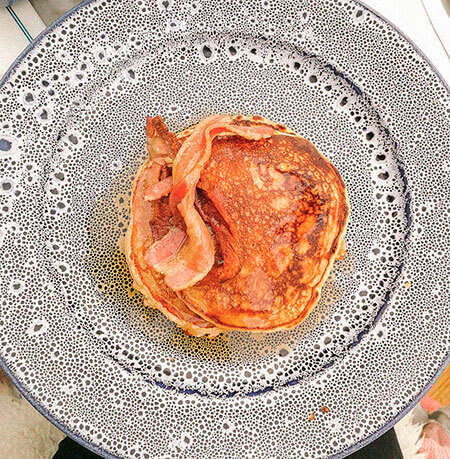 7) Pancakes
It may not be a typical English dish, but the fact is that you find pancakes everywhere (and I love it). So I found it valid to put on the list of what to eat in London. It is nothing more than pancakes – those with the thickest dough we see in American movies – with various accompaniment options, mostly sweet.
At Coppa Club (the place I recommended to try the English Breakfast) you are served a very different taste, with honey and bacon. Speaking like that may seem strange, but I found it quite delicious. With red fruits also looks good. Anyway, options are what will not be lacking in the English capital.
That's it for now! When you taste any of these dishes, come back and tell me what you think! If you have any suggestions, tell me in the comments 😉
See u soon!
Rafa