One of the questions I get most often is about the weather in Paris. I confess that I also have this doubt when I travel, especially if I go to a destination with very different temperatures than I'm used to. I understand the doubts I get, and so I decided to write this post.
To make your life easier, I explain to you what the weather is like in Paris during each season. Also, I give you some tips on what to wear each season and not have frills. Even more so if we face the European winter, which is entirely different from what you can have in other countries.
What is the temperature in Paris?
For starters, the climate in Paris is classified as a semi-continental ocean, i.e., temperate climate, with well-defined winter and summer. However, it is worth mentioning that the climate is not the same throughout France. Depending on the region, you may be warmer and drier or colder and rainier.
It's not just the temperature that changes, the "scenery" of the city as well. For example, in the fall, the leaves become dry and brown, yellow and red, giving Paris another color. While in winter, the trees are bare and leafless.

Only flowers in spring
I want to start with my favorite season. Spring can make Paris even more beautiful. Oh really! The city is all colored by the flowers, and the weather is also much better to walk.
The feeling I have is that, in addition to everything being more beautiful, people's mood changes, and they seem more lively. It is also during this time that Parisians begin to frequent the parks, and everything comes to life.
The days start to get longer and sunnier. But it can have dull days, oscillating between sun/heat and rain/cold all day. It's always a good idea to leave the house warned, with sunglasses and an umbrella, because spring is one of the rainiest seasons.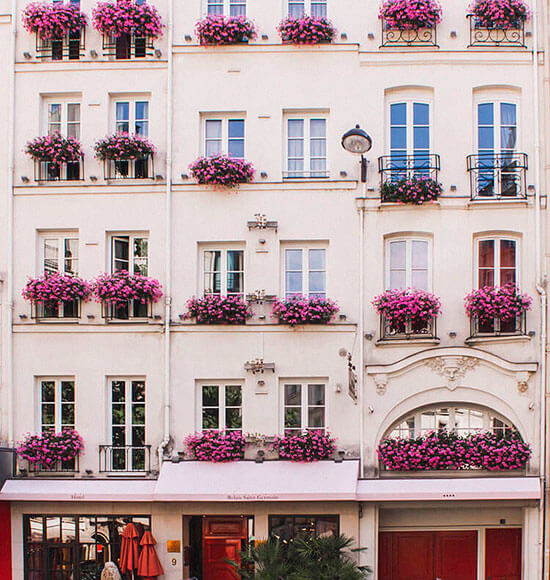 As I commented, the weather is getting better, but you can't forget the jacket yet. Early in the spring, the days can still be quite cold, just like winter.
In the middle of the season, the temperature fluctuations are significant, and it can be cold (10°C) in the morning and night, and heat (25°C) in the afternoon. So you keep dressing in layers, but with lighter fabric clothes.
Average spring temperature
March → between 4,5°C and 12°C, with 52mm of rain
April → between 6°C and 16°C, with 49mm of rain
May → between 10°C and 20°C, with 62mm of rain
In the spring, you can risk a few legs out but in exaggeration. You can also set your boots aside to start wearing lighter shoes such as sneakers, sneakers, and espadrilles. Just be sure to have a thinner jacket or a jacket. To make it easier, I made you some looks' ideas that match the weather in Paris during the spring.
PARISIAN SUMMER VIBES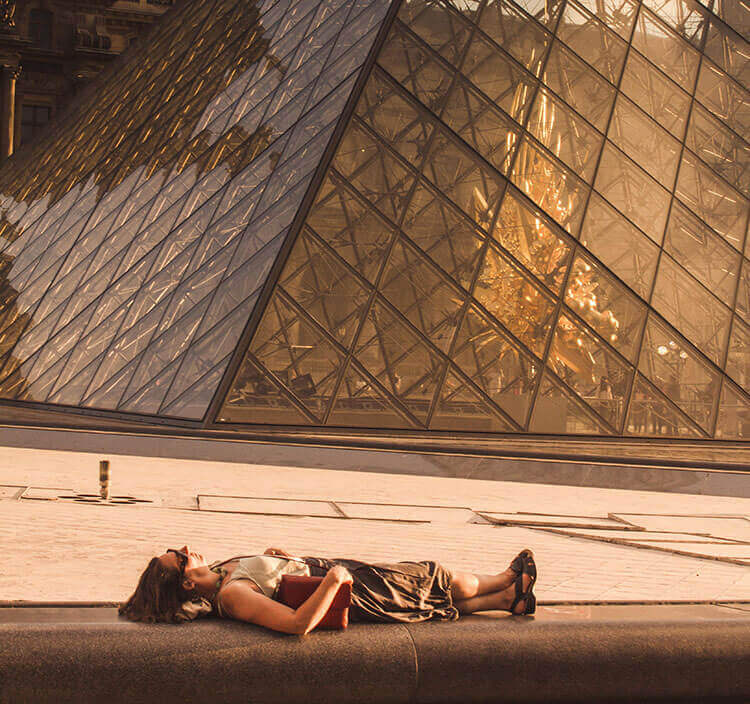 Ahh, the summer !! Paris is even brighter and sunnier. In addition to the heat, the days get longer (the sun goes down around 9 pm), and everyone goes out into the street. At this time, the parks are full of people sunbathing and having a very Parisian picnic.
Bar terraces are also full of people sipping a white or rosé wine and refreshing drinks. It is worth mentioning that it is not difficult to have hotter days, above 35°C, as happened this year.
It is also during the summer that artificial beaches are set up on the banks of the Seine, with sand, chairs, parasol, and even toys for children. I confess that I don't do much of my style because I like the sea, but the makeshift beach is crowded, and the crowd will sunbathe with beach clothes and everything (yes, bikini rs).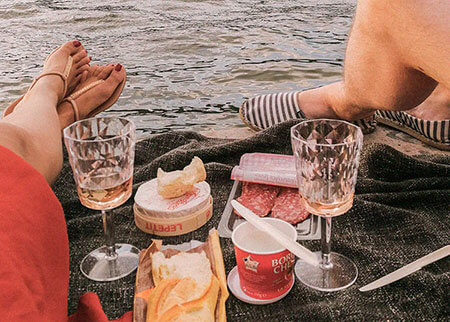 Average summer temperature
June → 13°C and 23°C, with 53mm of rain
July → 15.2°C and 25°C, with 58mm of rain
August → 15°C and 23.5°C, with 46mm of rain
How to dress in Paris in the summer
To dress in the Parisian summer you cannot make mistakes. It's pretty much the same thing you wear in your country: shorts, dresses, skirts, lightweight blouses, ballet flats, and sandals. I still use very much my sandals. 🙂
⇒Read also: Places to picnic in Paris (and tips for organizing)
Paris in the autumn is pure charm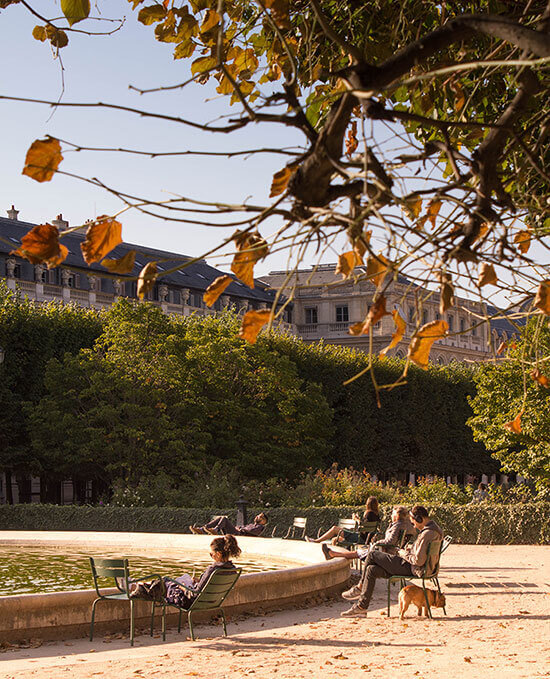 After long, hot days, the weather in Paris is getting milder and more like the spring weather. At the beginning of the season, you still have long days, but with warmer temperatures, not too hot and not too cold.
The great advantage of autumn is that the city is quieter and without that tourist world, just like in summer. So the tourist places have fewer queues, and you can enjoy it better. Besides, the city gets a charm with autumn colors – the leaves get colors in shades of yellow, orange, brown, and even red.
The average temperature in the fall
September → between 12°C and 21°C, with 52mm of rain
October → between 9°C and 16°C, with 54mm of rain
November → between 5°C and 10°C, with 57mm of rain
How to dress in the fall in Paris
Just like in spring, you can't put aside your coat or a warmer blouse. During this time, you can have both pleasant days, where a cardigan is enough, and cold and rainy days that you will need a boot and a trench coach coat. Balancing, we can say that you will wear clothes that you would wear in winter (not so strict) in your country.
Winter in Paris, movie scene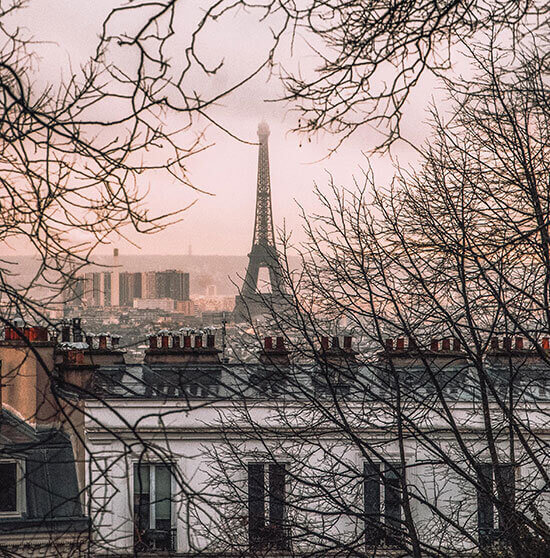 The winter in Paris is usually cold, and it can even snow. However, rainfall is less frequent than in spring. Another important detail is that the days are much shorter at this time. Dawn later and it gets dark earlier – five in the evening is already dark. A little sad because you have less time to enjoy the city during the day.
As I mentioned at this time, the trees are dry and leafless. Amazingly, it gives a certain charm to the city, a new scenario. In winter, we have super gray days, those that do not want to leave home. But it also has beautiful days, with blue sky and no clouds.
Warning: These sunny days deceive you! They make you believe that it's not so cold when it's really super cold days. So always keep an eye on the weather forecast so as not to go off guard. 😉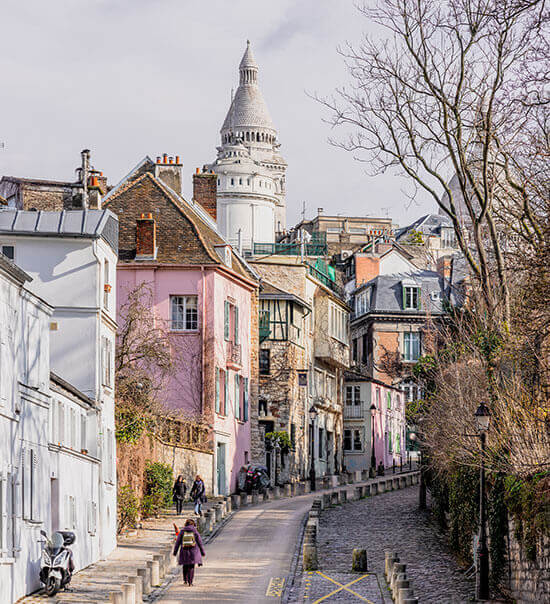 It's a time when many bars and restaurants close their terraces with glass and use heaters – some even offer a blanket for guests not to feel cold. A perfect environment to enjoy the typical French winter cuisine and, of course, a bottle of good red wine or hot chocolate to warm inside. Want to know more about French gastronomy? Check my post about what to eat in Paris during your stay.
Average winter temperature
December → between 2°C and 7°C, with 50mm of rain
January → between 1°C and 6°C, with 56mm of rain
February → between 1°C and 7°C, with 46mm of rain
How to dress in winter in Paris
In winter, it's time to dress well to protect yourself from the real cold. You can't leave without a thick, warm coat, wool shirt, scarf, gloves, and something to protect your head (hat, hat or beret). Boots and thick socks are very welcome too.
The ideal is to dress in layers. Like this, you do not get cold in the street nor hot inside the heated places. In some cases, a snowshoe may be helpful. Only in case of snow forecast. Therefore it is always good to keep an eye on the weather forecast.
See also ⇒ 9 indispensable clothes to face the European winter.
Tips for tracking the temperature
In addition to seeing the tips of Vem Comigo ;), you should monitor the weather about a fortnight before the trip. This way, you know if you have significant temperature variations or not. Paris, for example, the forecast always changes. You can't see it once and think the whole week is guaranteed.
To do this, I have two suggestions: on most cellphones, you automatically have the weather forecast. 1) Just go to the settings and add a second city! 2) If you want more details, there is an app that I really like: The Weather Channel. It is free and available for iOS and Android. It is great!
So, did you find what you were looking for about the weather in Paris? Got something to share? Tell me in the comments! 😉
Bisous!