From March, the cold days are decreasing, and the plants begin to sprout, giving more color and installing spring in Paris. It's time to pack the heavy coats, pick up the lighter blouses, and enjoy this delightful season!
I get super excited and full of plans to enjoy the most flowery season of the year. And since I've been receiving messages from people coming to Paris at this time, I've decided to share some ideas you can include in your tour.
Remember, I already wrote a weather information post for each season and what to wear tips. 😉
Ideas of things to do in Paris for spring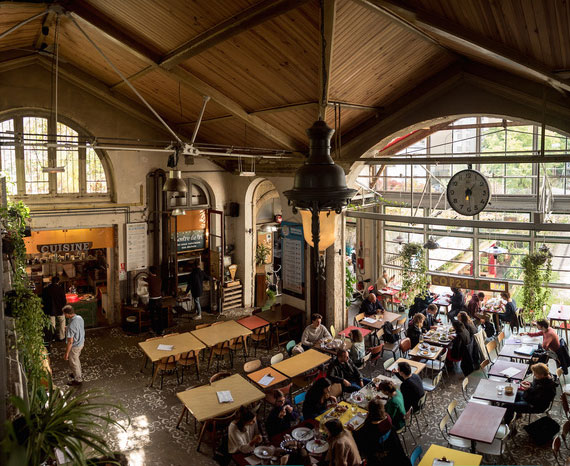 Discover the Recyclerie concept
If you have a greener style and care about environmental conservation, or simply like trendy, hype-like places, I would highly recommend discovering "la Recyclerie." But what is this? Well, it's an old train station, far from the center of Paris. It has been transformed to be a place dedicated to eco-responsibility, with a restaurant, café, and ateliers for repairing objects and DIY.
The part where the platform of the train was used to be used as a "little farm" with chickens, vegetable garden, and spices. In the same area, there is also a super cool bar with sofas scattered throughout this space. Perfect spot for sunny days and spring break in Paris.
Oh, let me warn you. Before you get there (and get scared), the Recyclerie is not located in the nicest of Paris, but the metro is close so you won't have to walk much. Still, it's good to watch your purse because you never know. Apart from this detail, it is an exciting place worth visiting. 🙂
Address: 83 Boulevard Ornano, 75018 Paris (Metrô Porte de Clignancourt)
Picnic in the park
As spring arrives in Paris, the season begins for one of Parisians' favorite shows, the picnic.
During this time, the weather gets warmer and the days are longer, and ideal for a romantic date, gathering friends and even for the fun of children.
Besides being tasty, it is super easy to organize a Parisian picnic: just go to some market (Franpix, Carrefour, Monoprix, etc.) and buy a baguette, cheese, cold cuts and a bottle of wine. Ready! Then pick your little piece of grass to enjoy the evening.
I confess that it may be a little challenging to choose where to picnic with so many options in Paris. So my recommendation is the Parc des Buttes Chaumont which runs away from the tourist route – so it's quieter – and also has a beautiful view of the city. Other suggestions are the Jardin des Tuileries, near the Louvre, and the Place des Vosges, in the hip Le Marais district.
⇒ Tip 1: If you like clichés, you can choose the Champs de Mars lawn in front of the Eiffel Tower. But go prepared to find a crowded place of tourists and perhaps just get a tiny patch of grass.
⇒ Tip 2: If you do not want to worry about organizing the picnic, I advise the company Gastronomos. They take care of everything and still select the best French products for you to have an authentic gastronomic experience.
⇒ Read also: Places to picnic in Paris (and tips for organizing)
Binking in the streets of Paris
Paris has geography that makes cycling much more accessible, it is a quite flat city.
The French often use it to evade public transport, and the city has increasingly invested in bike lanes, which reduces the risk of accidents.
Besides, there is Vélib 'Métropole, a public bicycle system, which allows you to rent (and return) a bike at one of several stations around the city. It is worth mentioning that the company responsible for this service was replaced by another company and now there are two options for bicycles: conventional and electric.
Warning: Be sure to pay attention to traffic and, for safety, try to ride the bike lanes.
Watch a horse race in Chantilly
A city less than an hour from Paris, it is known for horse racing and a castle that looks like it came out of a movie with kings and queens.
Set in the luxurious wedding between Ronaldo and Cicarelli (remember this ?!), the castle is enchanted by its architecture, its collection of ancient art, and its vast and beautiful garden. Despite the name, it was not in this city that whipped cream arose, but you can still taste it in one of the restaurants in the castle garden.
However, if you can, I recommend going to Chantilly when a traditional horse race happens. Just like the style we see in the movies, with women wearing hats and all, Diane's Prix race takes place in June, on the 17th, and can be a unique experience.
Watch the sunset on the banks of Seine river
There are actually several places that you can enjoy a beautiful evening. However, I recommend on the banks of the Seine because it is an area that gets a lot of excitement during spring and summer. Because with the deactivation of the street for cars, it made room for bars, kiosks with music, and even those lounge chairs. Now, bomb among the Parisians!
My tip is to do something that I always do and love: Get off at Invalides station, lines 8 and 13. Then you can walk to the beautiful Alexandre III Bridge, go down the stairs to the banks of the Seine, buy a white or rosé wine in one of the kiosks there, and sit right on the riverbank itself. That way, you'll be able to see a fantastic sunset, start an apéro (aperitif) and enjoy this Parisian vibe.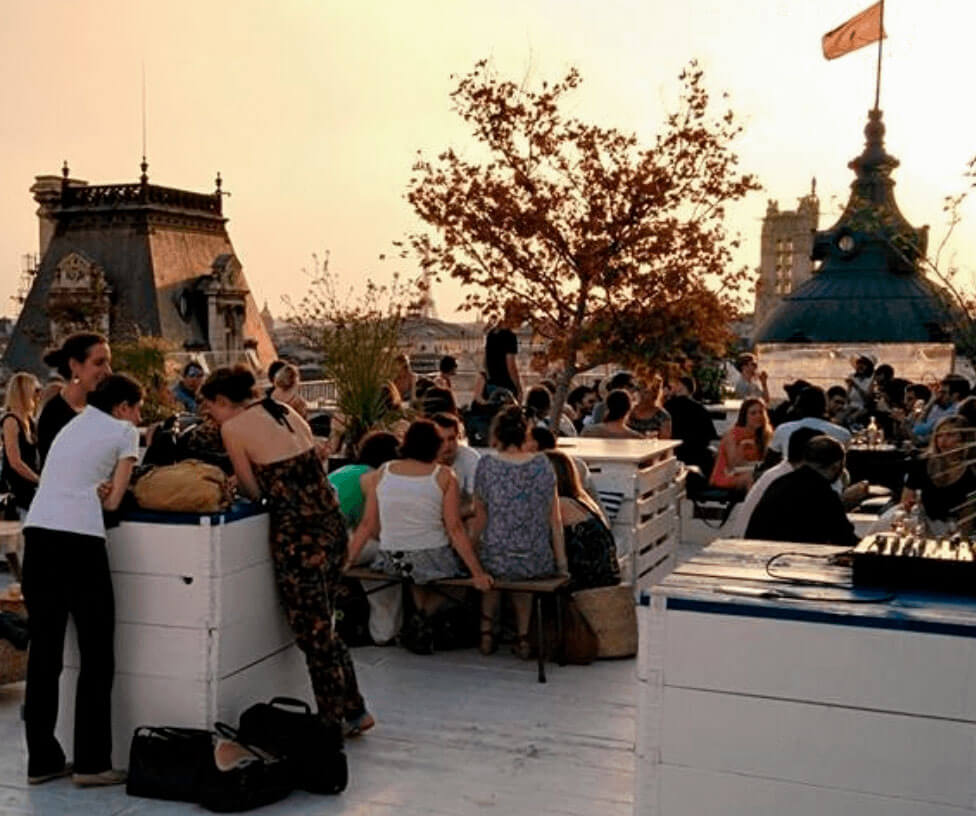 Have a drink on a rooftop
During spring in Paris, rooftops, forgotten in winter, are once again a hit among Parisians. The reason is straightforward: a fantastic view of the city, beautiful and lively people, music and good drinks. Perfect place to enjoy a late afternoon with friends.
◊ Le Perchoir Marais – Located in the lively Le Marais district, this cozy bar offers its guests an incredible view of Paris and a menu of sensational food and cocktails. But beware! You must arrive early to secure a good seat and avoid queues that can be long and time-consuming. [33 Rue de la Verrerie, 75004]
Also, read Superlist! Restaurants & Bars in Paris with rooftop
Walk the bucolic streets
It's hard to believe that one of the most touristy cities has beautiful corners, almost deserted and without tourists, isn't it ?!
But Paris has several charming streets with lots of green and lots of color. You will also find charming streets for a walk, especially in spring, and thousands of photos.
Some streets that I like a lot are The Rue Crémieux, with colorful buildings reminding me of the Notting Hill neighborhood in London. I also enjoy the Rue de l'Abreuvoir and Rue Cortot. They are narrow streets in Montmartre with houses and vine-covered walls. At the end of the winding Rue de l'Abreuvoir, near Place Dalida, yields a beautiful photo, or several. Finally, Passage l'Homme is a small passage with a cobblestone street, very green, and some little shops.
Take a Retro Tour
Earlier, I talked about the ride and bike, but I know that a particular "little fear" can happen, either by walking in Parisian traffic or even getting lost.
So I have another idea that really fits this time of year and with Paris: a retro motorcycle ride to feel inside an old movie.
The Retro Tour company performs this type of service on bikes that carry up to two passengers, both day and night. With this option, you do not run the risk of getting lost and still enjoy the view like a Parisian, according to your chosen itinerary.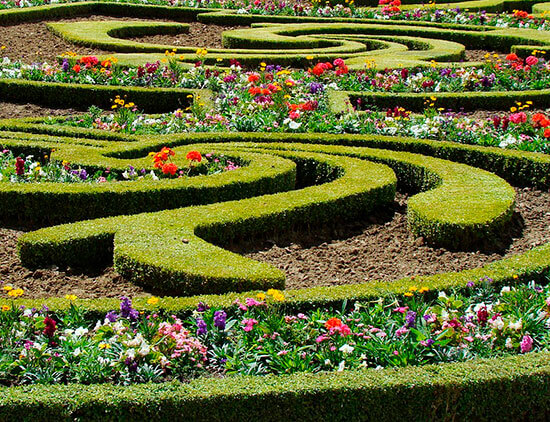 Be amazed by the garden of Versailles Palace
The interior of the Palace of Versailles is beautiful, but the garden is charming during spring and summer. In spring, the protections against the cold are taken from the sculptures, and the garden comes to life with tulips of various colors and other plants.
Have a day trip from Paris
It's not just Paris that looks lovely in the spring. Many French cities also gain a unique charm at this time. I have two beautiful cities to recommend:
The city where Claude Monet lived attracts many tourists, especially in the spring, who seek to see the house and garden of the impressionist artist.
The main reason is the rural landscape, with its many plants and flowers, lakes, and arched bridges, which Monet built and inspired to paint various works. Among them are the famous "The Nymphs" (giant screens can be seen at the Musee de l'Orangerie).
Within an hour, you had arrived in the city of Rouen. Known for her old clock in a central area, Rouen also attracts Joan of Arc fans. It was in this city that she was imprisoned and sentenced to death.
That is why there are several places dedicated to this essential French icon. There is even a memorial that tells the whole story of Joan. Besides, the streets with buildings are very charming for a walk.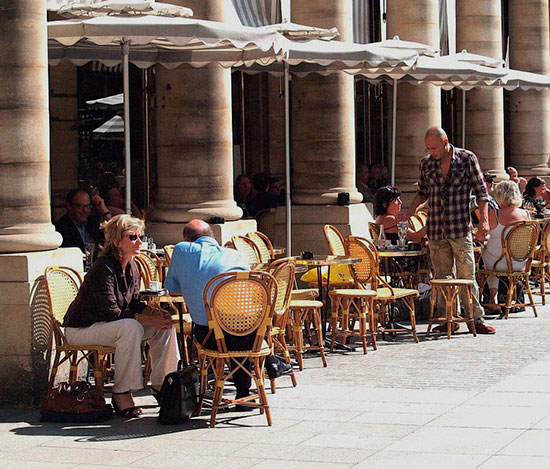 Sit on the terrace of a cafe
Terraces are the trademark of Parisian cafes. Not only because of the style, with small tables very close to each other. It is also because it is a place where you can sit, order a coffee, and stay quiet, whether to read a book, talk, or just watch life go by. It's a year-round program, but it gets even better in the warmer seasons when there is no need for protections and heaters.
Finding a terrace café is not at all problematic, every corner has one. If you want a more intellectual cafe, I suggest the well-known Café de Flore and Les Deux Magots, both on Boulevard Saint-Germain 75006. For a more local feel, there's Le Bistrot des Dames (18 rue des Dames 75017), with a cute terrace in the back of the restaurant and delicious dishes.
⇒ Top 10 Cafes in Paris: From Most Famous to Most Authentic
Did you like the ideas for enjoying spring in Paris? Got any other fresh ideas? Tell me! 😉
Bisous!