Have you scheduled to travel to France from one of the Paris airports, and are you lost even before you arrive? Calm! It's not complicated at all, and I'll explain how to get out of the airport and get to the center of the French capital.
I will introduce you to the primary means of transport. In the end, you just have to choose which option best suits your trip. 😉
WHAT ARE PARIS AIRPORTS?
Basically, you have Charles de Gaulle and Orly as the main airports of Paris. However, there is still a third airport, known as Beauvais, which is further away and is mainly used for low-cost Ryanair flights.
Paris Charles de Gaulle Airport (CDG)
Also known as Roissy Airport, Charles de Gaulle (CDG) is the largest airport in Paris and the second largest airport in Europe after London. Operates flights to national and international destinations. If you take a direct flight from Air France or Latam, you will probably land at this airport.
Despite being remote from the city center, it has easy access, with public transport options and all. But that I'll explain to you later.
And as I said, it's big, so it's essential always to follow the signs, and keep an eye on the departure terminal, as there are several.
Paris Orly Airport (ORY)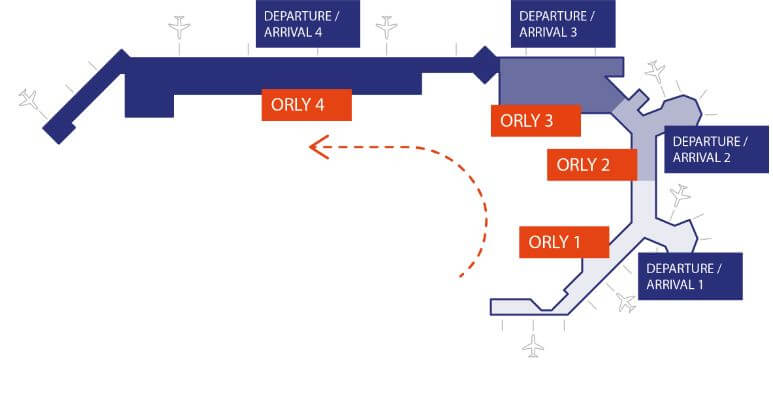 Orly is one of the smallest airports in Paris. Located in the southern region, it operates domestic and international flights.
If your flight stops in another city before arriving in Paris, there is a good chance this airport will be your arrival.
⇒ Orly Terminals:
Until recently, the airport was divided into South Terminal and West Terminal. After renovations in March 2019, it has grown in size and has a single terminal, divided into four: Orly 1-2-3-4 (photo below for a better understanding).
Paris Beauvais Tillé Airport (BVA)
Located near the city of Beauvais, northern France, Beauvais is the furthest airport from Paris (85 km from Paris). And a small airport where low-cost airlines operate, such as Ryanair.
Of all Paris airports, this is the hardest to get to and from. There is no subway and no train that takes you straight. The best alternative is the official airport bus. The bus leaves from Porte Maillot, in the limits of the 16th and 17th arrondissement, and the trip lasts about 1h30.
Faraway, small and without many things to do, it was once on the list of the 10 worst airports in the world…
⇒ Important tip: Ryanair usually makes promotions, with very cheap tickets. However, it is good to compute, the value of the transfer to get to Beauvais, and the time you will spend on everything, commuting, and flight time.
It is often worth paying a bit more and leaving Charle de Gaulle or Orly. I personally avoid this airport for the time lost to reach it. =/
HOW TO GET TO AND EXIT FROM PARIS AIRPORTS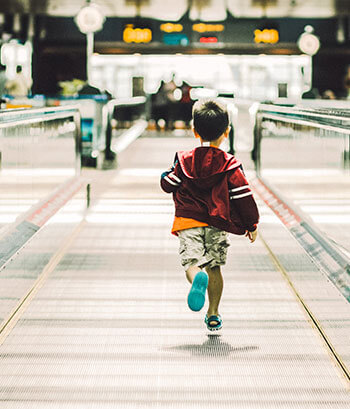 For Paris's two major airports, Charles de Gaulle and Orly, you will be well served by public transport.
You can choose between a taxi, bus, RER train, private driver, and even Uber. For Beauvais airport, the choices are not limited, but easily accessible as well.
Speaking of Uber, the application works here. If you don't have a data package to use abroad, you have free wifi at CDG and ORY.
Notably, it is the option I use when I need to go to the nearest airports in Paris. The idea is to show you the possibilities of getting between Paris' airports and the city. So let's go;)
Ah, important information: If you are thinking of taking public transportation, train, or bus, my tip is to use Google Maps or the RATP website to find out which route is best for you.
Leaving and arriving from CDG
Basically, you have virtually every means of transport to and from Charle de Gaulle, including Uber.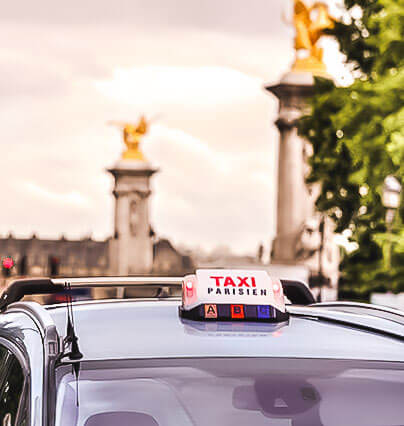 1) "I'm going by taxi."
It may be a good option if you are with a group, tired and/or prioritize comfort. Please note: look for accredited taxi drivers, as the price of the taxi ride from the airport to central Paris is flat and has no additional value to use the trunk.
How does the fixed price taxi race work?
So if you are going to Paris on the right bank (rive droite) in the Marais region, Montmartre, for example, the value of the race will be 50 euros.
Now if it is on the left side of the river (rive gauche), Latin Quarter region and Saint-Germain-des-Prés, you will pay 55 euros.
It seems a bit confusing this story on the right and left bank of the river, but to better understand, my tip is to take a look at the post I made explaining how the city is organized and what are the neighborhoods of Paris.
Summing up:
Rive droite => 50 euros (1, 2, 3, 4, 8, 9, 10, 11, 12, 16, 17, 18 and 19 arrondissement)
Rive gauche => 55 euros (5, 6, 7, 13, 14 and 15 arrondissement)
→ Tip: Just like in other countries, there are those taxis that are not accredited and who are approaching you at the airport door. Try to go to the line of Taxis Parisiens.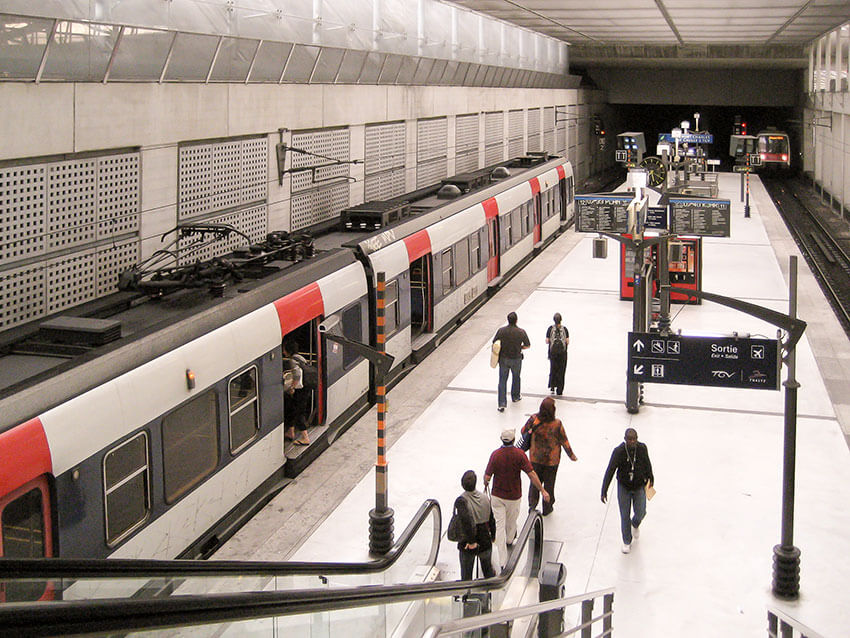 2) By RER train
It is possible to use the intercity train line RER B to travel between Charles de Gaulle airport and central Paris.
The journey takes between 40 and 50 minutes, and the ticket price is 10.30 euros. With this ticket, you can connect to the subway for free.
In central Paris, the line connects to the following stations: Denfert – Rochereau (line 4 and 6), Saint-Michel – Notre-Dame (line 4 and 10), Gare du Nord (2, 4 and 5), Châtelet -Les Halles (lines 1, 4, 7, 11 and 14).
If you do not have many bags, this is a cheaper alternative than the others. The airport offers easy access to RER B. There is also CDGVAL, free trains connecting the terminals to RER B stations. CDGVAL runs 24 hours and takes you from one terminal to another in just 8 minutes.
If you want to know about RER and other means of transportation, I wrote a post about how transport works in Paris. 😉
3) Getting a bus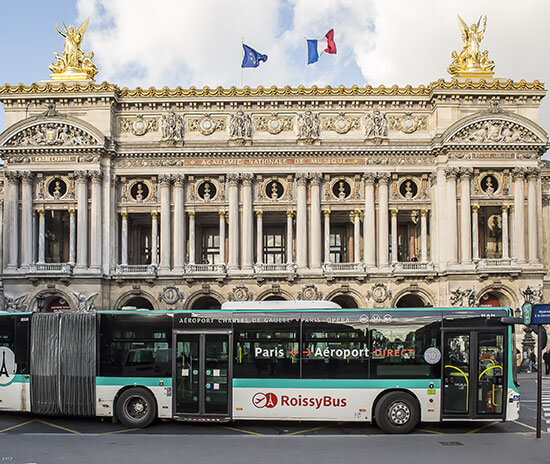 If you prefer to save money and take a bus, it is also possible. You have a few options, from the simplest to the most comfortable, but all cheaper than the taxi or Uber. It is worth saying that the travel time will be sooner.
◊ RoissyBus: Bus without luxury, but with a space in the corridor to put luggage. Serves all terminals at Charles de Gaulle Airport.
The transfer is direct, and the final destination is on Scribe Street, next to Opera Garnier. From there you can take the subway at the Opera station (lines 3, 7 and 8) or another bus to the final destination.
RoissyBus leaves every 15-20 minutes, and your journey takes about 1 hour or so. Each ticket costs 12 euros.
Working hours: Paris Direction from 6 AM to 0:30 AM • Charles de Gaulle direction from 5:15 AM to 0:30 AM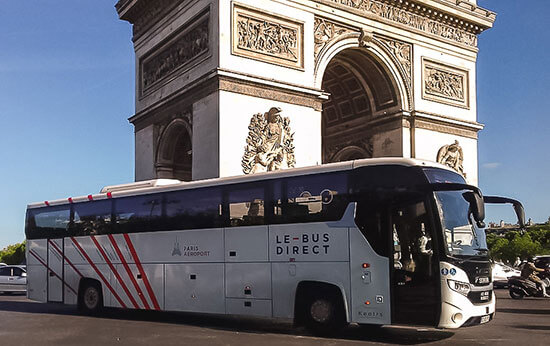 ◊ Le Bus Direct: Unlike the previous one, Le Bus Direct offers luggage storage, comfortable vehicles with reclining seats, wifi, and USB port.
Two lines service all CDG terminals. The ticket costs 18 euros and can be purchased in advance on the Le Bus Direct website.
There are two possible lines for this route:
→ Line 2 (CDG <=> Eiffel Tower): Passes through all terminals and stops at Porte Maillot, Arc de Triomphe / Champs-Elysées, Trocadéro / Eiffel Tower.
→ Line 4 (CDG <=> Gare Montparnasse): The line also runs through all terminals, but goes towards Gare Montparnasse, stopping at Gare de Lyon station.
Working hours: Line 2 from 5:45 AM to 11 PM • Line 4 from 5:30 AM to 10:30 PM
Travel time: Line 2, between 45 to 60 minutes • Line 4, approximately 1h15

◊ A RATP Bus: You can also use public transport buses to get to Charles de Gaulle Airport.
RATP has a bus line that leaves from Paris. Line 351 runs from Place de la Nation and goes in ping-ping mode to the CDG. It takes life to arrive, between 70 and 90 minutes.
Honestly, I do not advise choosing this option. Why? Because traffic in Paris can be chaotic, especially at peak hours, and you risk arriving late.
Price: 6 €
Working hours: Line 351, from 5:30 am to 8:20 pm.
Leaving and arriving at Orly
Orly airport is located in the region and is closer than the other Paris airports.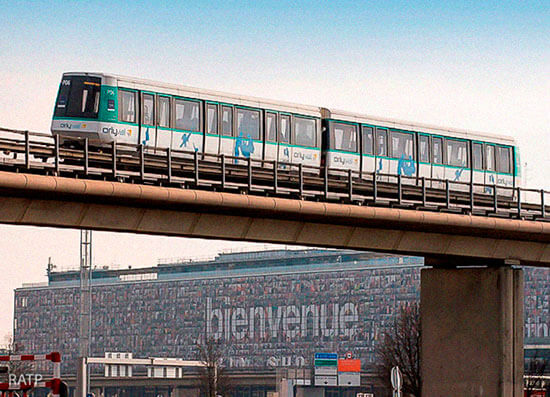 1) Going by train
◊ By RER: To get to RER, you have to take the Orlyval first, then a subway that connects Orly terminals to RER B trains in Antony town.
Travel time from Orlyval is 8 minutes, and from RER B, it varies between 17 and 30 minutes depending on the station (Denfert-Rochereau, Châtelet – Les Halles, Gare du Nord). The price of the Orlyval is 9.30 euros.
◊ By tramway: Like a modern cable car, the tramway train connects Orly Airport to the city of Villejuif-Louis Aragon, where you can take metro line 7 to get inside Paris. The ticket costs € 1.90 and the trip takes around 30 minutes.
2) I'm going by taxi
Same scheme as to go to the CDG, i.e., the price of the race for the Orly-Paris route is fixed. The difference is that it is cheaper because of the distance. Orly airport is closer to the city center.
Rive droite => 35 euros (1, 2, 3, 4, 8, 9, 10, 11, 12, 16, 17, 18 and 19 arrondissement)
Rive gauche => 30 euros (5, 6, 7, 13, 14 and 15 arrondissement)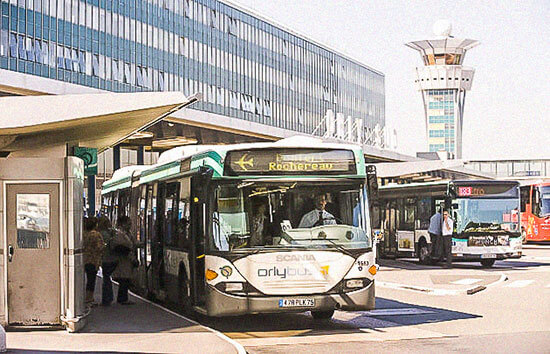 3) Getting a bus
Here are two bus options to get to Orly: Orlybus or Le Bus Direct.
◊ Orlybus: This line runs between Orly and the Denfert-Rochereau metro station (line 4 and 6) in Paris. The bus is direct, and the ticket price is 8.30 euros (you can buy it on time). Journey time is around 30-40 minutes.
◊ Le Bus Direct: Line 1, which costs 12 euros, departs from the airport towards Etoile / Champs-Élysées, making stops at Gare Montparnasse, Motte-Picquet and Eiffel Tower / Trocadéro.
Working hours: daily from 6 AM to 11:40 PM
Travel time: Orly – Gare Montparnasse: 30 to 40 minutes • Orly – Etoile / Champs-Elysées: 50 to 60 minutes
If you prefer, you can buy the ticket directly from the Le Bus Direct website. 😉
Transfers between Paris airports
If you have to travel from one airport to another, Le Bus Direct line 3 connects Paris, Charle de Gaulle, and Orly airports. The value is 22 euros, and the bus leaves every 20 minutes. Travel time is approximately 1h15.
To get from CDG to Beauvais Airport, line 2 of Le Bus Direct leaves you at Porte Maillot, where you take the shuttle to Beauvais. The ticket costs 18 euros.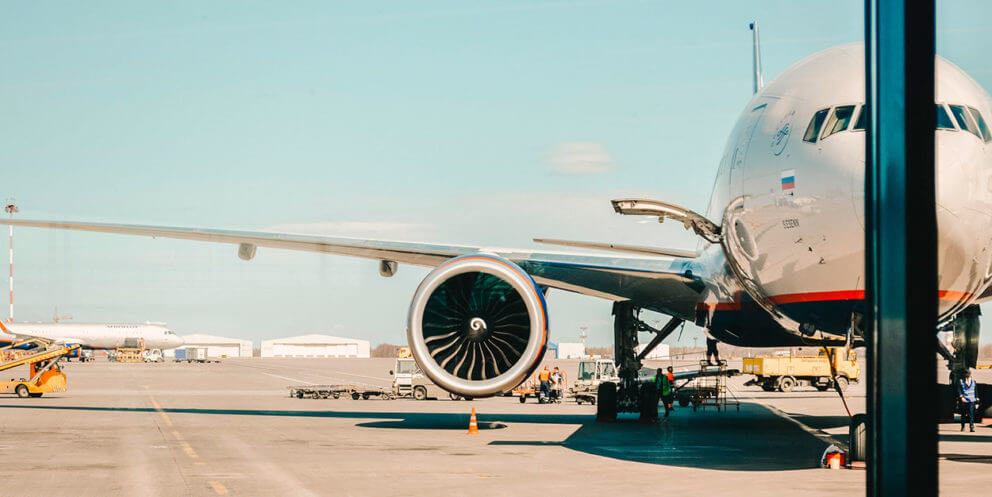 Other means of transport to Paris airports
⇒ Welcome pickups: is a private chauffeur company present in many countries. On the website, you can reserve your driver at your convenience.
The advantage here is the possibility to book, besides a car, a minivan for up to 8 people. Also, you can put the number of bags you have, with a limit of up to 12 pieces.
It is worth mentioning that drivers speak English 😉
⇒ Uber: As I mentioned earlier, one alternative I use a lot to get to or from Paris airports, except for Beauvais, is the Uber app. It works very well within Paris and usually costs less than a taxi.
If you have not purchased 4G to use in Europe, ALL Paris airports have free wifi. If you don't have an Uber account yet, with my wk6mq code, you sign up, and you still get $ 5 to use for your first use.
⇒ Tip: If you are in a group, my suggestion is to take a taxi, transfer, or Uber. Dividing the price of the race will give you almost the same thing as if you were taking public transport, except that you still save time and get tired less. This goes for the major airports of Paris, Orly, and Charles de Gaulle.
I hope Paris airport tips were helpful! =)
Bisous!