As in other cities in Europe, the public transport service in Paris serves not only the French capital but also the metropolitan region. There are 14 subway lines and 300 stations. Not to mention the bus and train lines. Besides, the geography of the city allows the use of alternative transport, such as cycling – an option widely used by the French.
Although the subway is faster, I always prefer (and recommend) taking the bus or walking. I think the ride becomes more enjoyable when you can see and admire the city on the move – even more so for Paris.
Primary means of transport in Paris
Basically, you have the subway, the bus, the tramway, the trains and night buses. All methods of public transport are run by the French company RATP and have different values ​​if purchased separately – I will explain this later. To make no mistake and you do not get lost below, I explain how each means of transport from Paris works:
SUBWAY
There are 14 lines and 300 stations to serve the whole city, from one end to the other. You will always be near some station. The lines are identified by numbers and colors – making life easier for non-French speakers. On all platforms, there is a panel indicating the line, with the waiting time of the next train.
My first time in Paris, I didn't speak French at all, so I found the names of mega stations complicated. So I kept the number and color of "my line," and it came out quite because I knew if I lost it, I just found a line that connected to mine.
⇒ Important: During the week, the subway runs from 5:30 am until 1:15 am. On weekends it closes at 2 am.
RER
The RER network, the regional express network, is nothing more than trains connecting Paris and surrounding cities. In all, there are four lines, indicated by letters (A, B, C, D, and E). To visit Versailles Palace and Disney, for example, you will use this means of transportation.
It also runs daily. However, there are fewer trains during the weekend. Ideally, check train schedules in advance. It can be on the RATP website itself or on Google Maps.
Important: There are specific tickets to make Versailles and Disney. At the time of purchase, choose this option with round trip included. For details and rates, please check the RATP website.
BUS
Bus lines run throughout the city and are identified by a number and name. There are bus stops throughout the city, which can be covered or just a sign telling the line that stops there, besides the route, map and times.
At covered stops, there is usually a panel indicating the time for the next bus. At these marked points, there is also a USB port to charge the phone. Not sure if it's at all, but I know you find it in most.
Inside the buses, there is a static dashboard indicating the route and an electronic one that tells you where the next stop is. It is worth mentioning that even with all this information is useful to be concentrated. It often happens that the driver changes or shortens the route, according to traffic on the streets.
⇒ Tip: Buses can be a great option for seeing the city rather than paying more for just a city tour.
BICYCLE
The city of Paris offers the bike rental system called Vélib '. It is practical and economical. Throughout the city, there are rental points, and you can choose between a regular or electric bike.
There are several rental plans that you can consult on and purchase online from the official Vélib website. The most interesting for tourists are, in my opinion:
◊ V-LIBRE: You pay 1 euro (standard bike) if the rental lasts from 0 to 30 minutes
◊ V-DÉCOUVERTE: A 24-hour pass that costs 5 euros. With this option, you can rent the vélib as many times as you like and use it for up to 30 minutes (each time) at no additional cost.
◊ Jump Uber : To complement transportation in Paris, Uber recently launched the bike and scooter rental service. To rent just use the same application used for a car with a driver. It makes life super easy! If you have never used Uber services, you can use my WK6MQ code, and earn $ 5 to apply for the first three races.
TRAMWAY
Perhaps the means of transport in Paris that you will least use. Myself, I hardly ever use it. A kind of modern cable car, the tramway has eight lines connecting the center of Paris with the most remote areas of the city.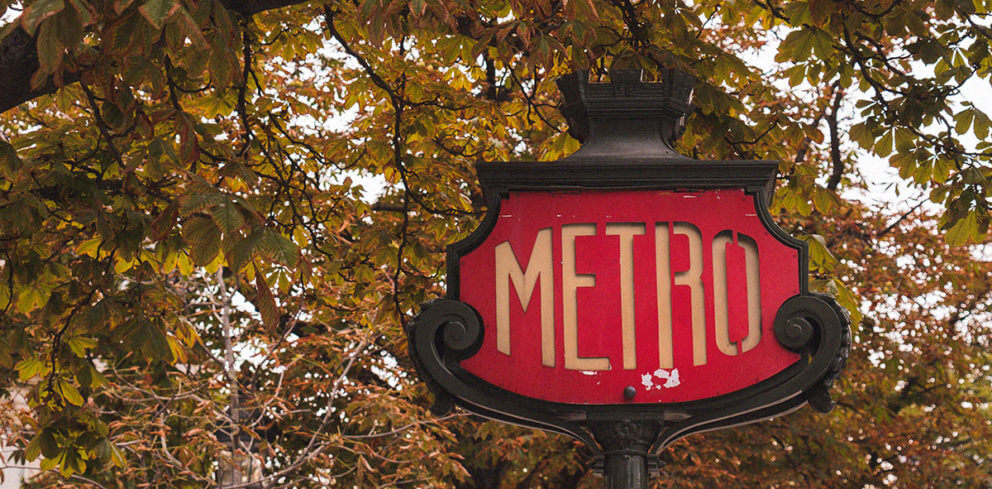 Tariffs for Parisian means of transport
All tickets can be purchased at self-service machines or at ticket counters from subway and train stations. Below you will find the best tickets for tourists:
♦ Ticket t+: This is an individual ticket that can be used on all Metro, bus, RER (within Paris), tramway and funicular lines in Montmartre. The single ticket costs € 1.90 and a carnet (pack of 10 tickets) leaves € 14.10. You have a small saving if you buy the ten pack.
A tip: Avoid buying tickets directly on the bus, as it costs € 2.00 and is not valid for other public transport.
♦ Paris Visit: You can buy a ticket valid for 1, 2, 3, or 5 days. Rates vary depending on the days you choose and the zones you wish to transit.
→ Zones 1 to 3: 1 day, € 11.65 – 2 days, € 18.95 – 3 days, € 25.85 – 5 days, € 37.25
→ Zones 1 to 5: 1 day, € 24.50 – 2 days, € 37.25 – 3 days, € 52.20 – 5 days, € 63.90
♦ Navigo Découverte: This card costs 5 € and can be recharged per month, week or day. The monthly and weekly option allows unlimited use of transport within and around Paris (zones 1 and 5) including Versailles and Disney. It may be a good option for those who want to stay in Paris for a week or more.
It is worth mentioning that the weekly card always starts on Monday and ends on Sunday. Do not try to start using on a Tuesday, hoping it will count seven calendar days because it will not roll. For monthly use, it begins on the first day of the month.
The Navigo Decouverte price per day varies according to the chosen areas. I don't think it's a good idea for tourists, as the cheapest fare – which covers only central Paris – costs € 7.5 for just one day.
♦ Navigo Easy Pass: To eliminate paper tickets, RATP has (finally) launched a card that can be used on all transports (bus, subway, and RER). The card costs 2 € and can be recharged to replace t + tickets, airport ticket and Paris Visite. You can buy the card at the ticket counters at the subway and train stations.
Tips for using transportation in Paris
♦ RATP has created an app, especially for tourists: Next Stop Paris. Available in more than 10 languages ​​(including Portuguese), it provides itineraries, transfers to Paris airports, and other practical transport information in Paris.
One thing I LOVED is that the app works in offline mode, meaning you don't have to be using 3G or wifi to use it.
♦ Do not throw away your ticket. Finding tax at subway stations is more common than you might think. And if you no longer have the ticket, you will have to pay a fine.
♦ As everywhere, try to stay on the right side of the escalator. Leave the left side for people in a hurry.
♦ If you are not sure if you are at the right station, outside will always have a map of the region and the lines for you to locate.
♦ Take care of your bag. There are pickpockets in Paris, mostly in the subways just waiting for someone to make a fool of themselves. Try to leave your purse or backpack in a place where you can keep an eye on it.
So, have you ever used any of these means of transport in Paris? What was your experience? Tell me!