Today's post is really mouthwatering. Make you want to come to Paris and taste everything! Well, I will tell you some of the characteristics of French cuisine and tell you what the typical dishes that you can not fail to eat in your first time in France are.
You know that one of the things I like most about living in Paris is the richness of French cuisine. You eat very well! There are numerous options for food, salty, and sweet. In France, I feel in food paradise:
In fact, I wanted to make a post about the most traditional or famous dish in France, just like we have feijoada, for example. But I could not choose only one meal. I searched the internet too and nothing.
It was at this point that I fell into a story where I said that French gastronomy, including cooking and drinking, had been considered an intangible heritage of humanity.
So imagine, if not even UNESCO succeeded, I would not dare to classify a single dish as the most traditional of France. For this reason, I decided to make a post with the foremost French dishes, the ones that everyone should taste at least once in a lifetime.
About French gastronomy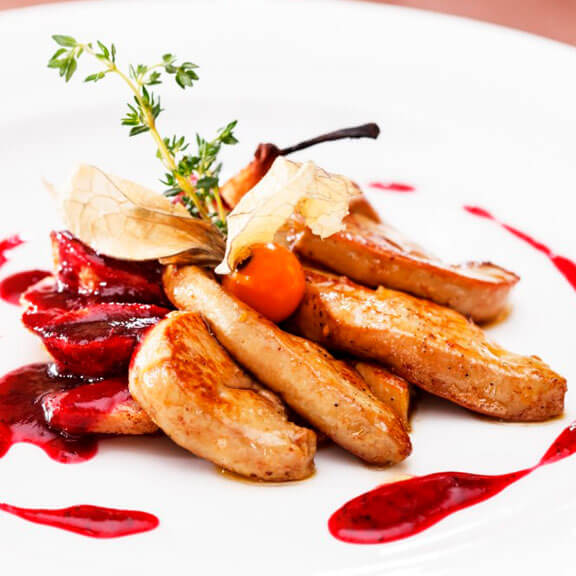 Much of the French cuisine came from medieval times. King Louis XIV began to be afraid that international cuisine would ruin local cuisine because of the heavy traffic of soldiers across Europe, as with them came food from elsewhere. The king, therefore, decreed that it was forbidden to eat imported ingredients or dishes. Due to this new rule, France has become one of the most prolific countries when it comes to gastronomy.
Although France is not a big country like the USA or Brazil, it can stand out for the variety of its cuisine and quantity of products used. The country is divided into 22 regions, each with its own particular cuisine.
Besides, French gastronomy includes not only cooking and beverages, but also the materials used, presentation form, and rituals surrounding the whole. For the French, French cuisine is not just about eating well, it is a social practice to celebrate the moments of life. What would be for us a simple dinner, is, for them, a reunion between family or friends. They go beyond the main course.
How is the French dinner
Usually, a typical french dinner consists of several stages, all accompanied by a drink – wine or champagne – and a lot of conversation. Oh, and there's more! This "ritual" is not just for special days. It is an almost daily habit of the French. The dinner steps are: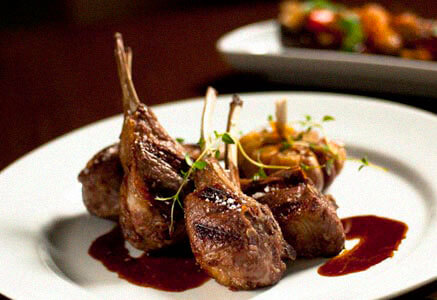 Appetizer
Starters
Main course
Cheeses
Salad
Dessert
Digestive
Coffee or tea
Ps .: When I arrived in Paris, I found it different to drink wine every day, but over time I realized that it is reasonable, and no one will drink all to get drunk. Only here did the expression "drink socially" make more sense lol.
What are the typical foods from each French region?
In addition to this "ritual" and the wide variety of cheeses, wines, meats, and sweets, there is another detail about French gastronomy. Each region of France has its own cuisine. This is because the regions have their own cultures, influences, and different climates.
For instance, Northwest cuisine uses butter, sour cream, and apples. Southeastern (Provencal) cooking prefers olive oil, vegetables, and tomatoes. Southwestern uses duck fat, liver (foie gras), mushrooms (cèpes,) and gizzards. Northeastern cuisine is reminiscent of German cuisine. It uses lard, sausages, and sauerkraut.
What French meals do you need to try?
Below you can check out some French cooking classics, easily found in Paris and all over France.
Croque madame
So Parisian, the Croque Madame, is easily found today. Virtually all Paris bistros and cafes serve the sandwich made with sliced ​​bread, Emmental cheese, ham, bechamel cream and, a fried egg. There is a second version, Croque Monsieur, served without the egg. Both can come with salad and chips.
It first appeared in 1910 on the menu of a Parisian cafe, but the origin of the word is nonetheless unknown. But, what matters is that it is an attractive meal for those wandering in Paris and willing to taste French food without spending much. Sandwiches cost about 8 euros on average.
Fois gras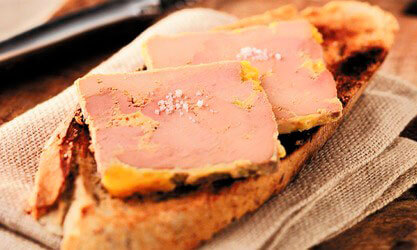 Foie gras is the goose or duck liver that has been fattened. Very present during the ending year celebrations, it is considered one of the most excellent delicacies of French cuisine. It can be served as an aperitif, accompanied by bread, or it can be an ingredient in other recipes – For example, turkey in foie gras sauce.
The origin of this French delicacy is still uncertain. Records are dating back to Christ, when Egyptians used to make wild geese, immigrated to the banks of the Nile River, and also during the Roman Era.
What is known is that only in the 16th century did foie gras become famous and begin to be seen as a superior product. The royal cooks invented a recipe for "pâté en croûte" (where the liver is wrapped in puff pastry and baked in the oven), which was served to King Louis XVI.
To me, it's like a pate. But for my husband, saying that it is an offense to the French because pâté is different for them. So if you are in France, foie gras is foie gras, and that's it! Hehe.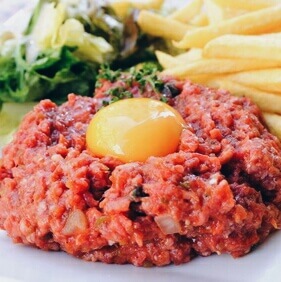 Tartare de bœuf
The tartare de boeuf or steak tartare is a dish that was born in Germany but was established in France. Some say that its origin is related to the Tartars, barbarian peoples who lived in Eastern Europe.
History tells that the dish first appeared in Central Europe, in the region where France and Germany are. At this time, raw hunts were placed under the horse's cells to soften and dry excess blood before they were consumed.
Over the years, the dish has been changing and becoming widespread. Today, it is made with raw beef, cut into pieces, with onion, parsley, black pepper, salt, eggs, and olive oil. Usually comes with chips and salad.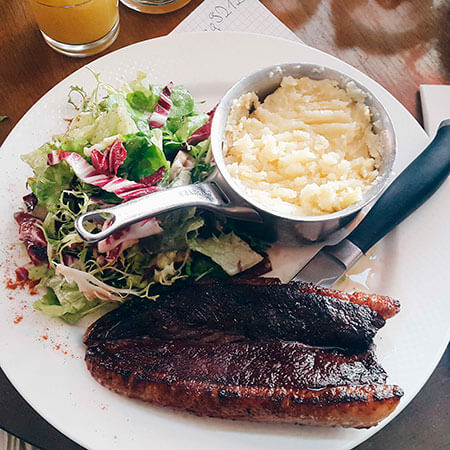 Pato
As I mentioned before, King Louis XIV forced people to consume only local produce, including fresh fruits, fish, meat, and poultry. Besides, there was another factor that contributed to the popularization of the duck: the flesh. Yes, meat was a luxury item, consumed by the nobility or, for the poorest, on holiday days.
Many peasants have never even seen meat on their plates, and many periods have been starved. Therefore, wild animals such as the duck could be expected to be targeted for starvation.
There are some easy-to-find food options in Paris's restaurants to try duck. Starting with Magret de canard, fried duck breast, served with salad and mashed potatoes – sometimes my favorite! Another ubiquitous dish on the restaurant menu is Confit de canard, duck drumstick cooked slowly in its own fat, accompanied by potatoes. The third suggestion is Parmentier de canard, mashed potato with duck meat preserved in fat and shredded (reminiscent of our hidden meat).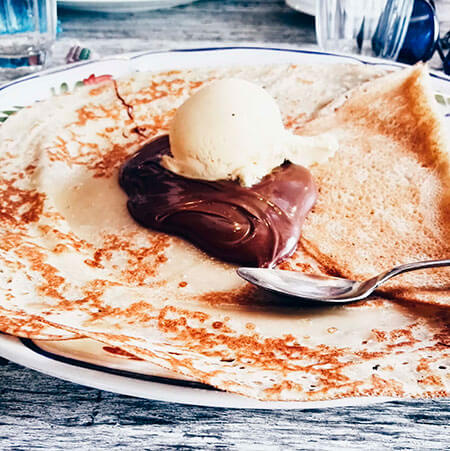 Crepe
Crepe is a very thin pancake batter with sweet or salty filling. Its origin is ancient – the first record was made in the first century by the Roman gastronomist Apicius, author of the recipe Recorder.
Since then, crepes have always been present in many regions of Europe, made with various types of grains: rice, wheat, corn, etc.
For salty crepes, the most common is pasta made with buckwheat and sweets made with wheat flour. The fillings can be the most varied, and one that I like a lot is with Nutella and vanilla ice cream. Wonderful!
♦ Tip: For the best crepe in Paris, head to the Breizh Café creperie in the Marais and order a handcrafted cider to go with it. 109 rue Vieille du Temple, 75003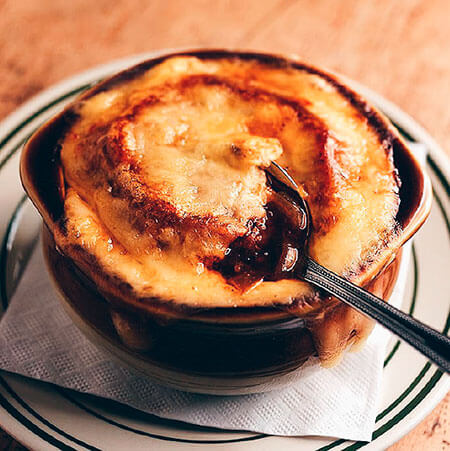 Sopa de cebola
French onion soup is prepared with slim slices of onion, white wine, flour, slices of toasted bread and grated and grated cheese.
Most historians believe that she was born in the Lyon region of the south-east of the country. But the incremental and au gratin version of the soup is undoubtedly Parisian.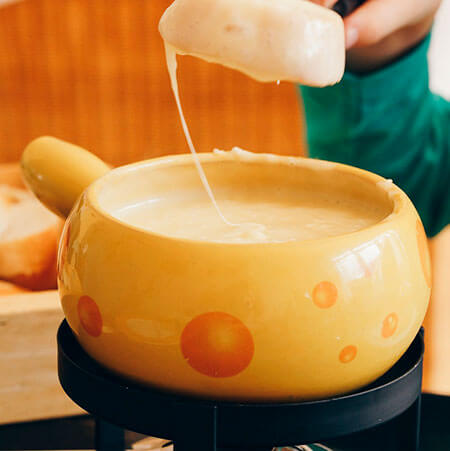 Fondue
The region of origin of the fondue is not entirely sure. Researchers believe it was on the France-Switzerland border in the Alps region. However, the oldest recipe is found in a cookbook written in Zurich in 1699.
The fondue is believed to have been created when the peasants took the peels of Gruyère and Emmental cheeses. Then they placed them in a pan of wine to melt and eat with bread. Over the years, the variations came. Today, this delight can be cooked with meat, cheese, or chocolate. It is an excellent choice for cold days.
Escargots
A chic and controversial dish, snails have been consumed by humans for much longer than imagined, as evidenced by archaeological finds in northern Africa and Europe.
In France, escargots were stocked in convents for consumption during times of scarcity during the Middle Ages. There are also reports that French, Spanish, and Portuguese sailors took trips to be consumed as "fresh meat."
Usually served as an appetizer or entree, escargot is a cooked snail and served with a butter and garlic sauce. It is so classic of French cuisine that there are proper cooking utensils and select cutlery to taste it.
A curiosity: escargot was used in magical preparations related to male potency and fertility in Umbanda rituals in Africa and Brazil.
I must confess I haven't tried it yet because of its appearance, but it's on the list of things to do living in Paris. 🙂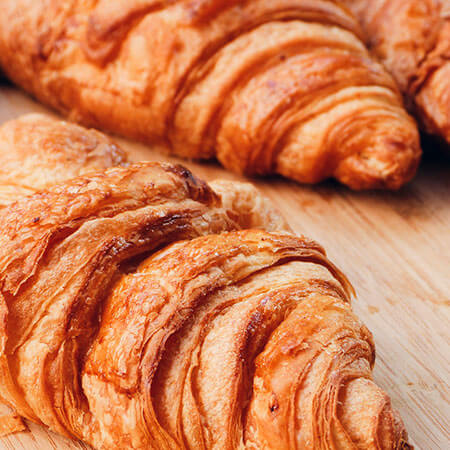 Croissant
Not quite a dish, but as good as it is. I LOVE and would eat croissant every day if it wasn't so fat lol – made with butter-rich puff pastry.
Today he can not be missed with an excellent petit déjeuner (French breakfast). It is the croissant that comforts me when I am dying to eat a slice of bread with melted cheese like in São Paulo.
A good croissant should look like a crescent moon with a crispy crust and a beautiful golden color. The tips should be detached from the middle, and the crumb should be aerated, and show the right consistency.
Tip: If you want to taste the best croissant of 2019, head to a boulangerie in the Butte aux Cailles area. This is where Laurent Duchêne, the baker responsible for the award-winning croissant, works. 2, rue Wurtz, 75013 Paris
French pastries
In addition to the typical dishes, there are a plethora of delicious desserts. I will just list some French sweets that I consider to be the most famous. In the blog, there is another post with just the classic French pastries to eat in Paris. 😉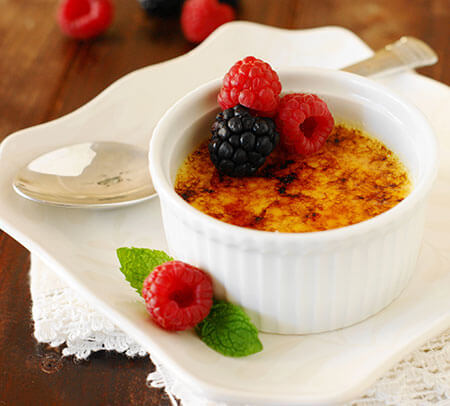 ♦ Macaron – round cookie, crispy on the outside and soft on the inside.
♦ Mille-feuilles (Thousand Sheets) – a dessert made with puff pastry and vanilla cream.
♦ Tarte Tatin – Crispy crust pie and caramelized apples.
♦ Crème Brûlée – cream made with sour cream and a burnt sugar cone.
♦ Mousse au chocolat – chocolate whipped with cream and egg whites.
And you, what do you like most about French cuisine? Tell me! 🙂
À biêntôt!