Paris goes far beyond historical monuments, the Eiffel Tower, glamor, and luxury brands. Over the years, it not only developed but also grew geographically. Some regions that were once severely regarded today are areas frequented by tourists and locals, people who seek places that escape common sense and that hipsters love.
A great example is the neighborhood of Belleville, which for many years has been synonymous with refuge for immigrants and the working class. Situated in the northeast, today, Belleville is a multicultural, hype, and lively side of Paris.
Today's post is to show you how interesting it can be to get out of central Paris to explore a mega delight region. There are many things you can do in Belleville, and I will list everything below.
BELLEVILLE'S NEIGHBORHOOD
As I commented, Belleville was once dismissed as being the home of immigrants – mainly Chinese and Africans – and workers seeking cheap rents. It was also in this neighborhood that Édith Piaf was born, a singer internationally recognized for her talent in chanson's French style.
Today, the district located between the 19th and 20th arrondissements is increasingly appearing on the Parisian scene due to its originality and charm. It is stemming from the mix of cultures, gastronomic diversity, and street art that makes the neighborhood an art gallery in the open.
Things to do in Belleville
Parc de Belleville
Created in 1988, Belleville Park is not one of the largest. Still, it is lovely and with a beautiful view, about 30 meters high. It has a green area with over 1,200 trees and shrubs, benches and climbing wall for children.
It is a peaceful place, perfect for those who want to relax, have a picnic in Paris or simply get away from the tourist crowds. Oh, one crucial piece of information: the park has free wifi.
Next to Parc de Belleville is Moncoeur Belleville, a café, bar, and restaurant with a terrace and a beautiful view of the city. Situated on the hilltop, it offers a varied menu and, from time to time, live music. The right place for a drink at the end of the day.
Address: 1 Rue des Envierges, 75020 Paris
Street art
The main point is Rue Dénoyez, a small street with graffiti on both sides.
However, I recommend taking a leisurely stroll around the neighborhood, as there is so much to see in narrow streets that we don't even realize. Every ride I make there, I discover something new, as charming as it is.
Some streets are exciting to stop by. The corner of Rue de l'Elysée Ménilmontant and Rue Julien Lacroix. The hidden Rue Laurence Savart has beautiful graffiti of a painted jaguar. Place Fréhel on Rue de Belleville, the small Rue de Savies, with various drawings and kittens across the street. Rue du Retrait, which houses real works of art, and Rue Oberkampf to see Le M.U.R, a wall that in 2007 became the official space for temporary street art.
Next to the Charbon Café, Le M.U.R. became a kind of art gallery of urban art. Besides, it is an association of artists that has a partnership with the city hall.
Père Lachaise Cemetery
Yes! I know it sounds kind of gothic, but visiting cemeteries here in Paris is more common than you might think. At 44 hectares, Père Lachaise is the largest cemetery in Paris and one of the most visited in the world. The main reason is the famous people who were buried there, such as Jim Morrison, Allan Kardec, Oscar Wilde, and Édith Piaf.
Address: 16 Rue du Repos, 75020 Paris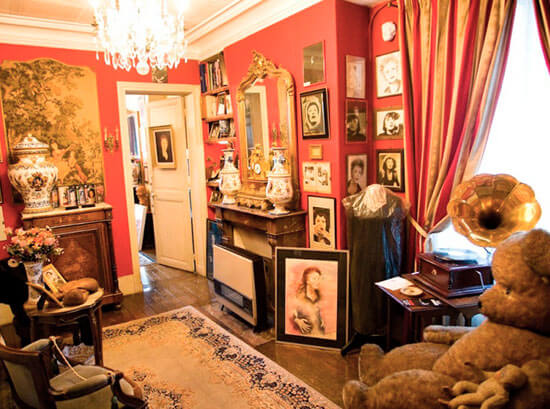 Musée Édith Piaf
You may not know her by name, but you probably have heard some music from this singer who is an icon of French music. Among the most famous songs is La vie en rose, Non, je ne regrette rien and La foule (I love this one).
The French singer was born and lived for years in the Belleville region. Today, what once was Édith Piaf's apartment holds little gems of her career, such as photos, posters, personal effects, and audiovisual records of the singer.
To know the small museum is necessary to make an appointment because the visits are guided by Bernard Marchois, a personal friend of the singer. Admission is free, and the telephone to schedule the tour is +33 (0) 1 43 55 52 72.
Addrees: 5 Rue Crespin du Gast, 75011
♦ TIP: You can also see where Édith Piaf was born and lived with her parents. But it does not animate much, because it is only the facade and the door from which, one day, was her house. [72 Rue de Belleville]
Art galleries
In addition to urban art, Belleville houses several hidden art galleries in secret places.
These include Loft 19, located on a private street called Villa Marcel Lods. La Maudite and the Bugada & Cargnel gallery, which showcases works by new artists and also serves as an extension to the Center Pompidou exhibitions.
RESTAURANTS IN BELLEVILLE
Le Baratin – An authentic bistro with a menu that changes according to what is found on the market. Situated on a quiet street just outside Rue de Belleville, it is always full of customers. Small and cozy, this restaurant offers a menu featuring French dishes, a relaxed atmosphere, and attentive English-speaking staff. [3 Rue Jouye Rouve, 75020]
Le Samsara – Family owned restaurant serving Indian and Pakistani delicacies. The dishes are full of flavors, with generous portions at an affordable price. The menu also offers vegetarian options. [3 Rue du Jourdain
75020]
Les Potaches – Fairly priced French food restaurant with excellent service – the waiters are super friendly. The average price ranges from € 11 – € 25, and the dorade royale tartare is divine. [126 Rue Oberkampf, 75011]
O' Fish & Chips – Ideal for those who are in the mood for a fat meal and a typical London dish. As the name implies, the specialty of the restaurant is fish & chips – which is nothing more than a fish fingers, fried and accompanied by chips. Just LOVE it !! [110 Rue Oberkampf, 75011]
Restaurant Le Jourdain – It is a small seafood restaurant with fresh produce and a continually changing menu. The place also offers an excellent wine list to accompany the different dishes. A suggestion: book early to secure a table, as the area is usually full. [101 Rue des Couronnes, 75020]
COFFEES AND BARS IN BELLEVILLE
Aux Folies – Not one of the prettiest and most sophisticated, however, it is quite famous and has cheap beer. Initially, the bar was part of the Folies-Belleville, a café-theater that ran from the late 19th century until 1947. It was frequented by Édith Piaf (she even performed there) and Maurice Chevalier. [8 Rue de Belleville, 75020]
Mama Shelter – The bar at this boutique hotel is all hip and fashionable among locals. I already mentioned him in the post about rooftop bars in Paris. Still, I write about it again because it is really worth it and is in the area, on the outskirts of the Père Lachaise cemetery. So just go there! [109 Rue de Bagnolet, 75020]
Le Barbouquin – A cafe/restaurant at the end of Rue Dénoyez, decorated with books and antique furniture, that makes you feel at home. A cozy atmosphere great for drinking something or even for lunch, as the dishes are delicious and not expensive. [1 Rue Denoyez | Rue Ramponeau, 75020]
So, are there any other tips to share? Post suggestion? Tell me in the comments.
Bisous!