Visiting Paris is already a dream, but imagine having the Eiffel Tower as a view from your hotel window? Sensational isn't it !? Especially for couples planning a very romantic trip to the City of Light. I've already written a post with a shortlist of romantic hotels in Paris. So now, I decided to write a super search for hotels in Paris that are well located and overlooking our darling "Lady of Iron."
I sought options that fit both couples, families, and/or groups of friends, but especially for those who want to spend their honeymoon in Paris. Such a critical moment deserves at least one night with the Eiffel Tower and a lot of pampering.
Before starting with the list of hotels in Paris, I say that they are not the cheapest rates. These are usually hotels located in a functional area and with a privileged view. If the budget is short, my suggestion is to take a night at one of the options below. For the remaining days, book one of the cheap hotels in Paris listed here on the blog.
Paris hotels with a view of the Eiffel Tower
I have prepared a list of four hotels that have a privileged view of Paris and rooms with a view of the Eiffel Tower. =)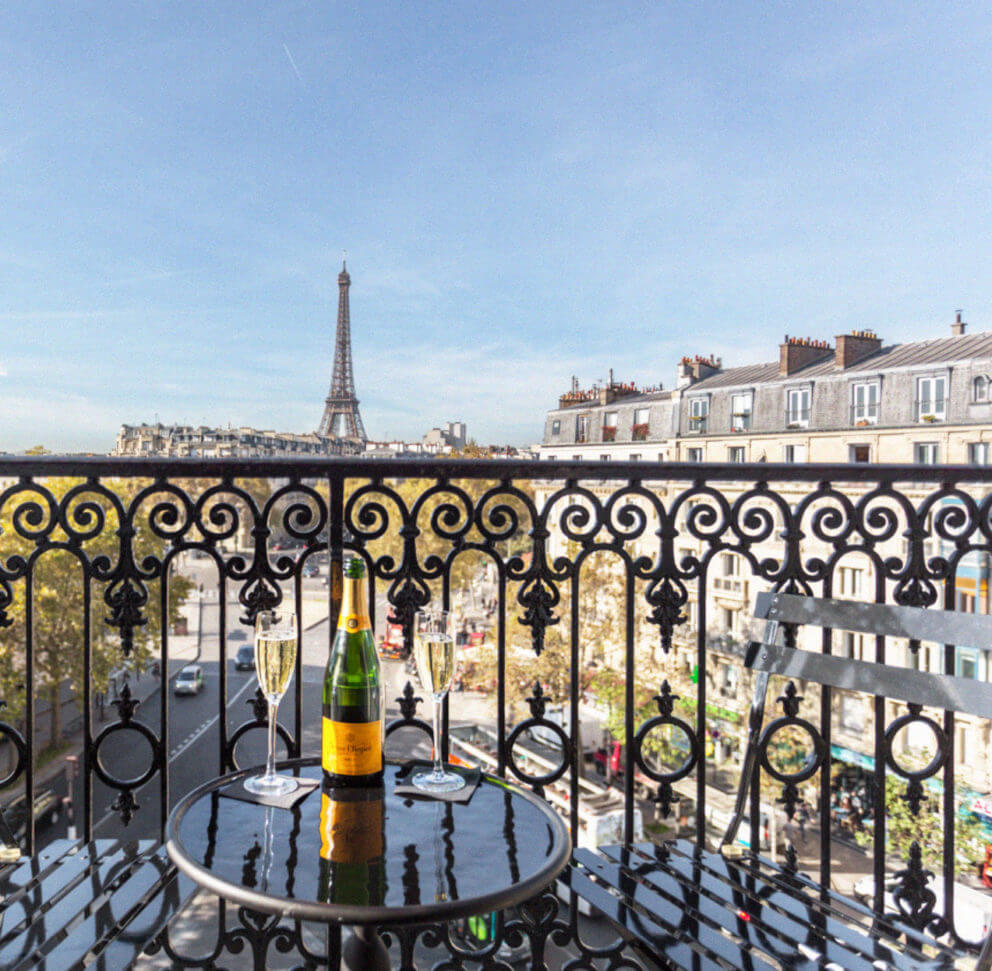 (daily rates from 189 €)
Situated on the outskirts of the Hôtel des Invalides monument, this boutique hotel has 40 rooms, each one with a view of the Eiffel Tower. That's right: ALL!
Its décor also draws attention by mixing contemporary elements with inspirations from eighteenth-century literary halls – the time of the countess and hence the origin of the hotel name.
Guests can enjoy a hammam, Café La Comtesse, weight room, free wifi, among other services.
◊ Tip: Booking through Booking, you do not need to prepay, and you can cancel for free. ?
Address: 29, Avenue de Tourville, 75007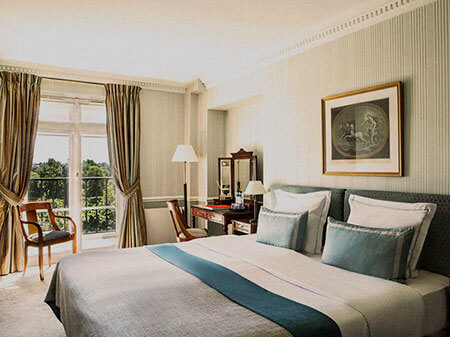 (rates starting from 299 €)
This hotel is part of the Paris hotel chain "Esprit de France." It is superbly situated, close to the beautiful Tuileries garden and the classic Musée du Louvre.
Some rooms have a direct view of the Eiffel Tower and a balcony for you to enjoy. It is especially lovely at night, with the tower all lit up and flashing. Rooms are also equipped with basic amenities. You will enjoy a TV and hairdryer, as well as air conditioning, a Nespresso coffee machine and a bathtub (which I LOVE after a full day of sightseeing).
Address: 218, rue de Rivoli, 75001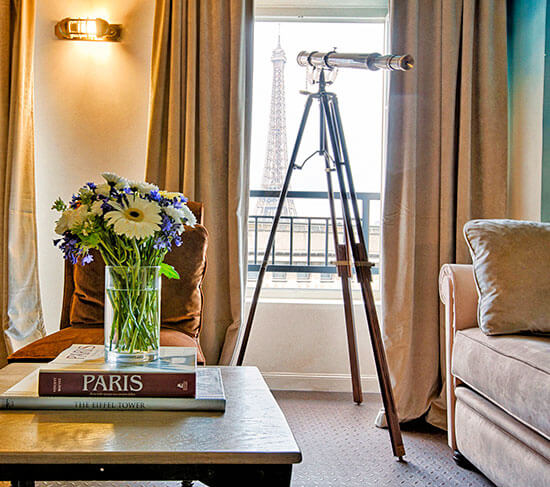 (daily from 280 €)
This hotel got my attention because of its view and its concern for the environment and local agriculture. It was even recognized with the European Ecolabel label.
The hotel has a more classic décor and has only 17 rooms. So to see the Tower, book the Eiffel Suite, which is on the sixth floor and is very spacious, with 30 m2 and capacity for up to four people.
Address: 35 rue Benjamin Franklin, 75016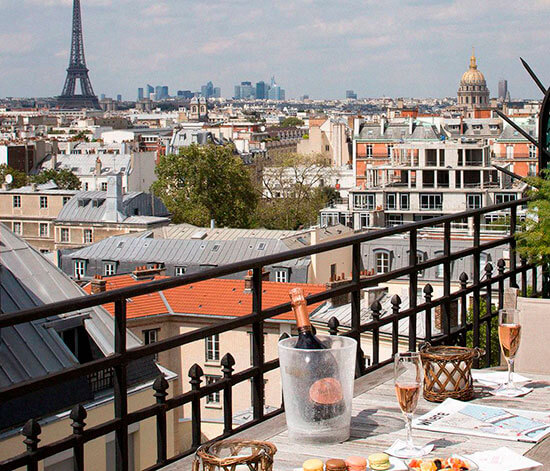 (rates starting from 287 €)
Situated between the neighborhoods of Montparnasse and Saint-Germain-des-Prés, Le Littré offers five rooms with a beautiful view of the Eiffel Tower and others with city views.
A curiosity of this hotel, which today mainly hosts tourists, is that it already received US Air Force soldiers in the '50s and '60s, and was also a meeting point for diplomats of that time.
In addition to the great location (close to sights, shops, bars, and restaurants), the hotel offers a sauna, 24-hour front desk, outdoor cafe – great for sunny days – slippers and bathrobes in the rooms, as well as many other amenities.
Oh, just like my first hotel suggestion when booking through Booking, you don't have to pay in advance, and you can cancel for free, even on the eve of your arrival.
Address: 9 Rue Littré, 75006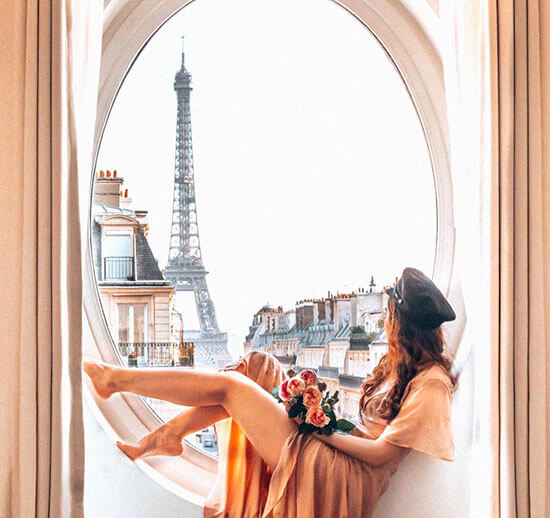 (daily from 247 €)
The darling of the Instagrammers, this hotel is hit by an oval-shaped window that frames the Eiffel Tower as if it were a beautiful painting. Not to mention that the whole modern decoration, designed by François Champsaur, is also a grace.
The Le Metropolitan's pool is elegant, rather big compared to the pool of other hotels. And to relax, massage services and a hammam are offered.
Address: 10 Place de Mexico, 75116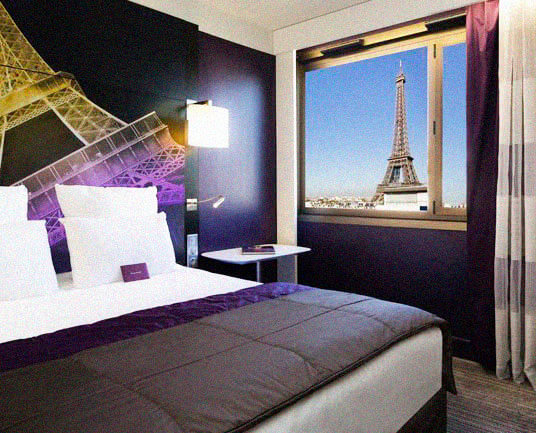 (rates starting from 165 €)
A well-known hotel chain, Accor Hotels has one of its hotels in Paris located in an area that allows a different view.
With a relatively low price compared to the others, Mercure Paris is close to the Bir Hakeim metro station, meaning you walk to the tower. It is trendy for business travelers. Still, nothing prevents you from staying in the Privilege Room and admiring the window tower.
It is prevalent for business travelers. Still, nothing prevents you from staying in the Privilege Room and admiring the window tower.
Among the advantages of this hotel, pets are allowed (additional price), and the rooms are equipped with iPhone and iPad docking. Check-in is from 9am, and front desk clerks speak Portuguese, which gives you reassurance in case of emergency, right? ?
Address: 20 rue Jean Rey, 75015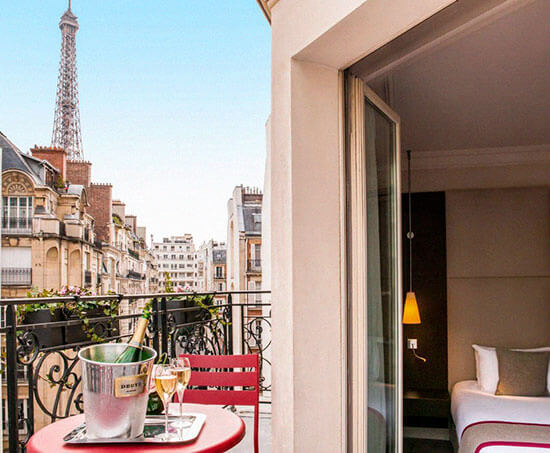 (rates starting from 265 €)
A boutique hotel that I recommend to both couples and families, as there are large rooms for up to four people with connecting doors. In this option, two bedrooms connect through an internal door, making life easier for families with children, especially.
However, the main point of Derby Alma is its Exécutive Terrasse suite, which overlooks the Eiffel Tower. Their Queen or King size beds are great, you have Hermès products, and a smartphone is available to the customer (free of charge). Among other small details, this makes your stay a pleasant experience.
These are just some hotels in Paris that have a privileged location and which makes for an excellent experience for the next tourists is the City of Light.