Tickets bought, time to think about hosting. The purpose of this post is to help you find the best London hotel options. In the capital of England, there is something to please everyone and whatever their interests.
One of the cultural capitals of the world, London is full of exciting things to see and do. With numerous museums, galleries, and entertainment options. Each region has its attractions.
Check out the affordable hotels in London
It is essential to choose well where to stay in London to make the most of your trip. I had the opportunity to live in this fantastic city, and my suggestion is not to stay in a very remote neighborhood. If you stay between zone 1 and 2, it is perfect, as they are regions close to the city center, where are the main tourist places. Moreover, going beyond these two areas, public transport costs more.
As it may seem like a lot to think about, I have made a selection of well-located London hotels. At the end of the post, some tips can help you when looking for a hotel. 😉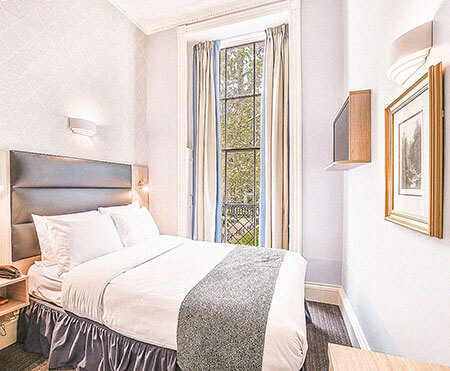 (from £ 108)
Situated near St. Pancras International Train Station, The Judd Hotel is on my list of super-well-located London hotels. Easy for those arriving in the city by train, it is accessible by several subway lines. Not to mention it is in the Camden Town neighborhood – a must-stop for the first time in Queen's Land.
For guests, there is breakfast included, 24-hour front desk, family rooms, in-room tea and coffee making facilities and essential services.
Address: 46 Cartwright Garden, Camden, London, WC1H 9EL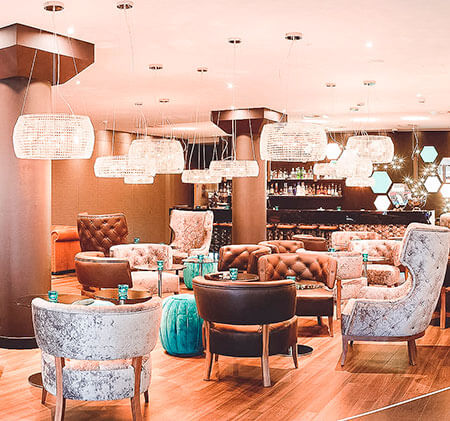 (from £ 114)
With a 9.0 rating on Booking, Motel One London is a design hotel set in a safe area of ​​London. It is close to two London sights and tube stations.
It features modern décor, a drink bar after a day of sightseeing, tea and coffee making facilities in all rooms, a 24-hour front desk, lift, and other amenities.
Address: 24-26 Minories, City of London, London, EC3N 1BQ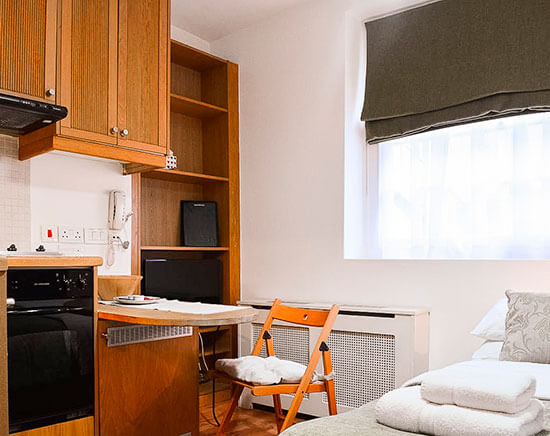 (from £92)
Established in the heart of London, in a super hip area, this apartment has everything you need to be comfortable. It even has a small garden and elementary kitchen items.
Besides being well located, another plus point of this accommodation is the free cancellation option and does not require a prepayment.
Address: 192 North Gower St, Camden, London, NW1 2LY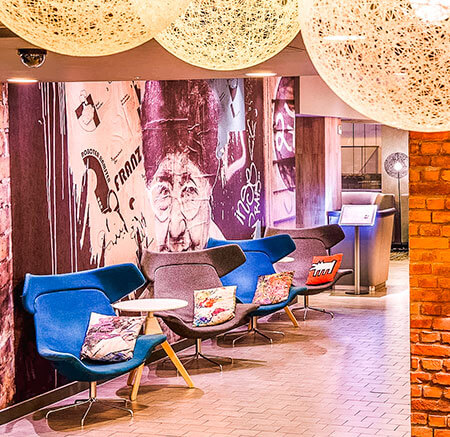 (from £82)
If you are a fan of a cooler footprint and love street art, the Shoreditch neighborhood is perfect. A little further from the central area, the region became the point of Londoners.
In addition to street art, there are several open markets with independent producers and traders, ranging from fashion to food.
The hotel in question has a modern décor to match the area, as well as other amenities of the ibis hotel chains, such as rooms equipped with essentials for a good night's sleep, free wifi, breakfast (paid service), bar, among others.
Address: 5 Commercial Street, Tower Hamlets, London, E1 6BF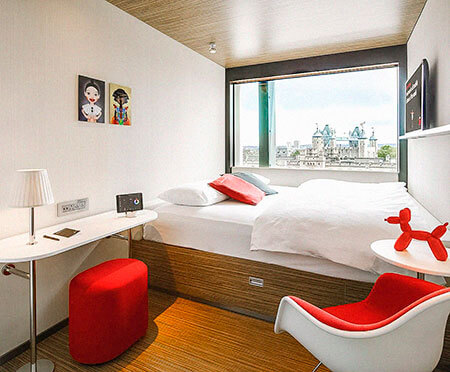 (from £99)
A four-star hotel, close to one of London's sights: the Tower of London, where you can see the Crown Jewelry Exhibition. Even the Tower is possible through the window of some rooms.
Among the advantages of this hotel are fast and free wifi, iPad to control the entire room (heating, for example), a safe, minibar – with complimentary water, lift, bar, among others.
Tip: If you are in this area, I recommend having a typical English breakfast at Coppa Club restaurant. Delicious! 😉
Address: 40 trinity square, City of London, London, EC3N 4DJ
⇒ What to eat in London: 7 typical dishes you need to taste!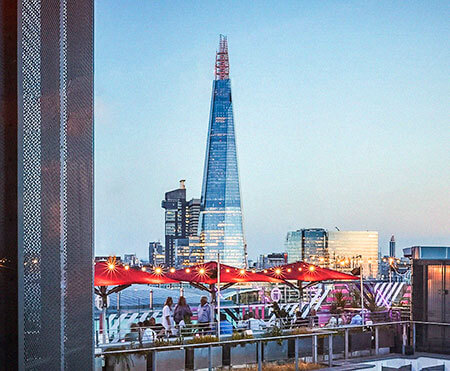 (from £127)
Part of the Hilton Hotels chain, DoubleTree is an excellent bargain. It has bright and spacious rooms with large windows, iMac monitor for more straightforward room and large TV for superiors, tea, and coffee making facilities and more.
The hotel also offers guests a weight room, a restaurant, room service, facilities for guests with reduced mobility and a rooftop bar to end the day with a few drinks.
Address: 7 Pepys Street, City of London, London, EC3N 4AF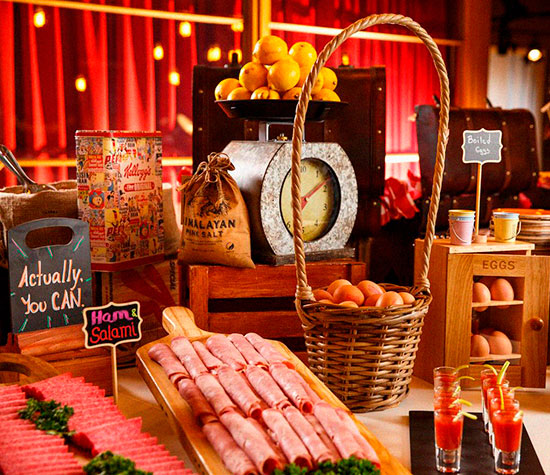 (from £127)
A photogenic mega for "Instagram" photos, this ibis Styles hotel has a fresh décor. Rooms are simpler than public areas, but also small decor details, plus free wifi and other perks.
Some other good points: Breakfast is included in the daily rate, there is the option of free cancellation and no prepayment for some rooms.
The hotel is close to London's oldest market – Borough Market – which is a culinary paradise. If you choose this option, do like Londoners and set aside a day to have lunch in this market. But watch out for the day as it is closed on Sundays.
Address: 47 Southwark Bridge Road, London Bridge, Southwark, London, SE1 9HH
(from £119)
Another lodging located in the heart of London. The Leonardo Royal hotel has, in addition to the comfortable rooms with free wifi, swimming pool, fitness area, bar and restaurant, spa for a relaxed, among other advantages.
It is also adapted for people with reduced mobility. Please note that some of the booking options include breakfast and allow free cancellation if done in advance.
Address: 10 Godliman Street, City of London, London, EC4V 5AJ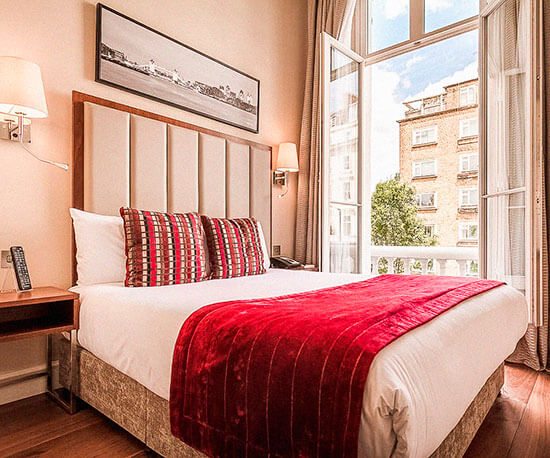 (from £118)
With a 24-hour front desk, The Belgrava is close to subway and train stations. It is rated "fabulous" (rating 8.7) on Booking and offers a highly praised breakfast by guests.
The rooms are well equipped and soundproofed – which is excellent! Sleep listening to the next-door neighbor, nobody deserves it!
Address: 80-86 Belgrave Road, Westminster, London, SW1V 2BJ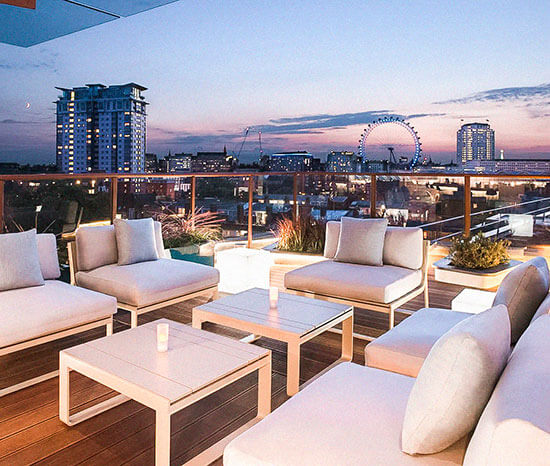 (from £129)
Strength of the H10 hotel is the region where it is situated and its neighbors. The English icon Big Ben and the London Eye Ferris wheel are just a few. But that is not all.
The hotel also has a rooftop bar with a privileged view of London, room service, not to mention the essentials for a comfortable stay.
Address: 284 To 302 Waterloo Road, Southwark, London, SE1 8RQ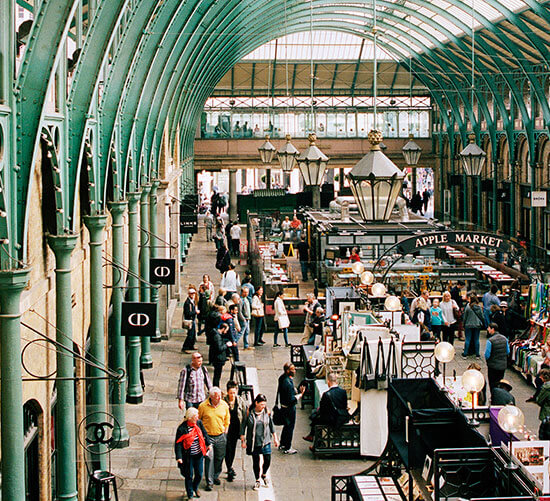 (from £85)
Staying at Z Hotel, you will be close to St. Paul's Cathedral and Covent Garden Market (one of my favorite regions in London). That is, you will be in the heart of the capital of England, and you can visit various sights just by walking. For example, to reach the National Gallery, it is approximately a 7-minute walk.
Like other hotels already mentioned, it also has 24-hour reception, rooms adapted to receive families or people with mobility.
Address: 31-32 Bedford Street, Westminster, London, WC2E 9ED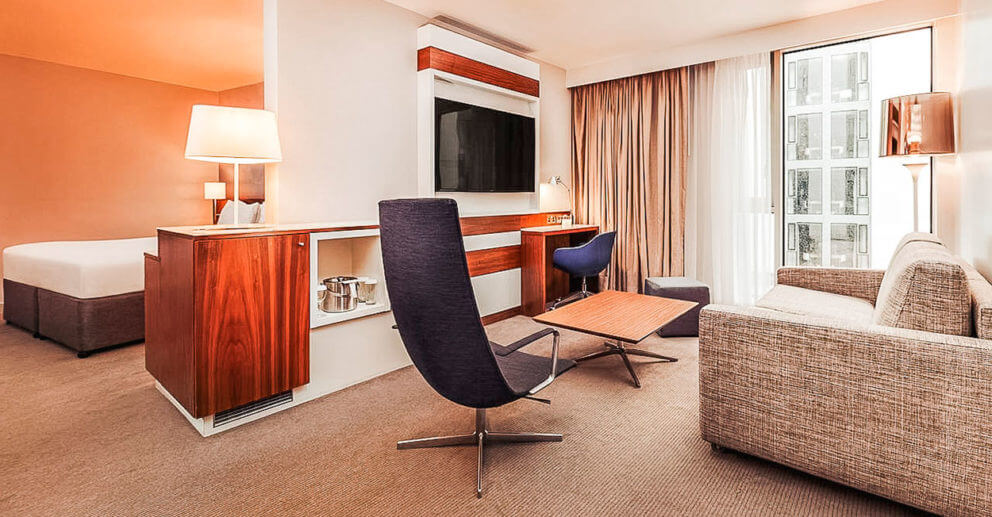 How to use Booking to search for hotels in London?
Not excited about any of the options mentioned? No problem! I give you some tips for searching on search engines like Booking.
In addition to entering primary travel information, you can create filters that help you remove options that are not what you want. Below are some of the primary filters I usually use.
⇒ Budget: To choose the price range closest to your budget.
⇒ Category: if you prefer a three or four-star hotel, for example.
⇒ Property Type: Although Booking is known for being a hotel booking site, it is not just a hotel. There are options for lodging in an aparthotel, hostel, guesthouses, or even only booking Airbnb style.
⇒ Review score: A filter according to the ratings of those who have already tested the site. I usually filter to see only hosts rated above 8.
⇒ District: Always filter by "favorite guest areas" as they are more central and cost-effective areas generally. If I already have an idea of ​​a neighborhood I would like to stay in, I put that too.
These are the filters that I use most, but there are still places of interest, based on city sights; convenience; booking conditions and several others.
If you choose to stay in these hotels or can recommend one, come back here and share what your experience was like. I will love to know! 😉