One of my favorite things about Barcelona is the city's vibe, with its many tapas bars and cold beer. Tapas are small portions for snacking while sipping a cañya (Catalan beer). Remember the snacks from Brazil, but served in smaller quantities.
Finding bars like this is the most natural thing in Barcelona. If you want, you can spend the night hopping from bar to bar, tasting different tapas, drinks and enjoying the music of various styles. In some regions, just walk a few meters or cross the street; you already have another bar waiting for you.
Selection of bars in Barcelona for tapas
I wrote a shortlist of my favorite tapas bars in Barcelona. If you also have a favorite bar, let me know with a comment I will include it in. 😉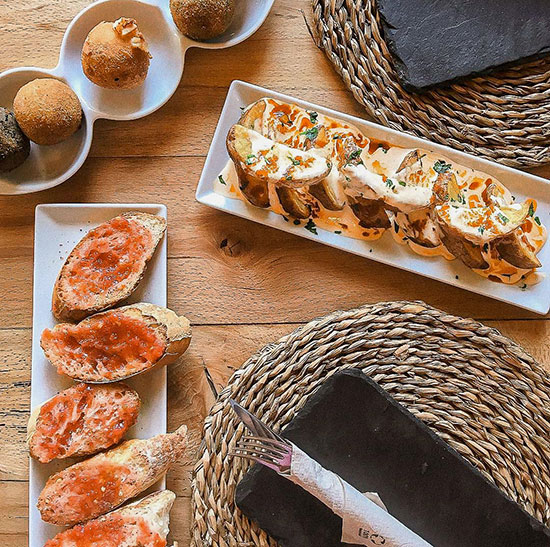 A high modern tapas bar and a great drink with friends.
One plus point of Catacroquet is its invitingly priced menu. Tickets start at € 2.6 and dishes between € 6 and € 9 on average.
Adress: Carrer dels Almogàvers, 211 08018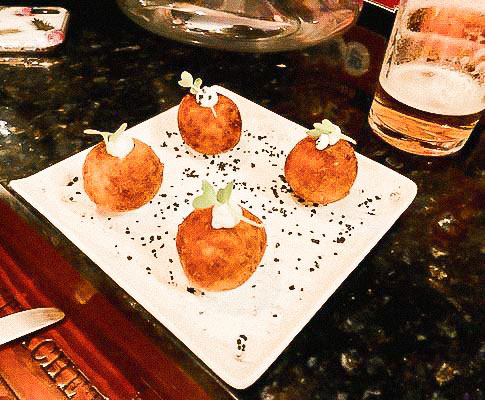 With a funny name, three little pigs in Portuguese, it's a more rustic-style tapas bar – the menu is written in chalk on the top of a wall.
Although it seems like a single place, it is crowded. I advise you to make a reservation through the internet (it may be through the Eltenedor, from the TripAdvisor group) to secure a table and taste the delicious tapas of the place. My tip is jambon (ham) and the pork croquettes.
Ah, one crucial thing. In this bar, instead of tapas, they use plates. #tips
Adress: Rambla del Poblenou, 165 – 08018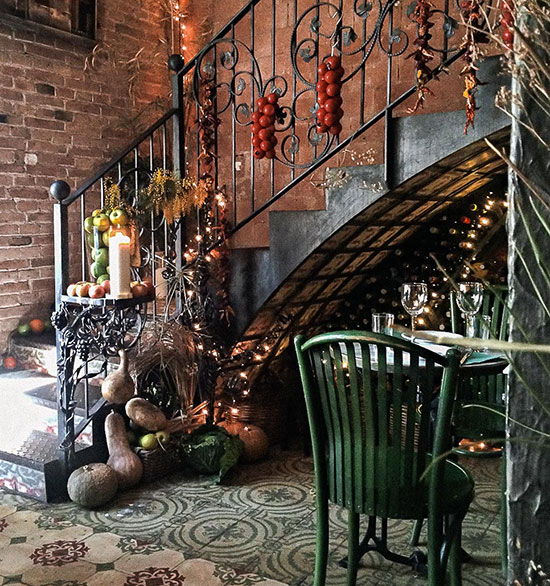 Can Recasens
Situated on the Rambla, this all-picturesque bar serves delicious tapas with a wide range of cheese, Iberian hams, and wines. Also, there are options for those who want to dine.
But attention, for dinner, you have to adapt to the Spanish times that usually eat later because of the restaurant part only at 21h. If you only want tapas, the bar is open from 17h.
Adress: Rambla del Poblenou 102 – 08005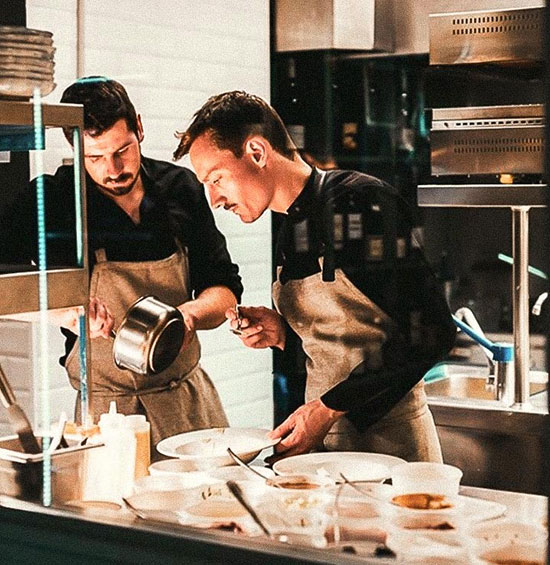 A mix of two cultures: French and Spanish. This is the purpose of the Ginette bar and restaurant.
In addition to a menu with dishes, there are several tapas options, all inspired by French cuisine and created by a French chef.
Duck croquetas are my favorite, accompanied by a gin and tonic. For those who enjoy, in addition to contemporary decor, has a baby-foot table. Just challenge friends! 😉
Adress: Carrer del Rec Comtal, 12 – 08003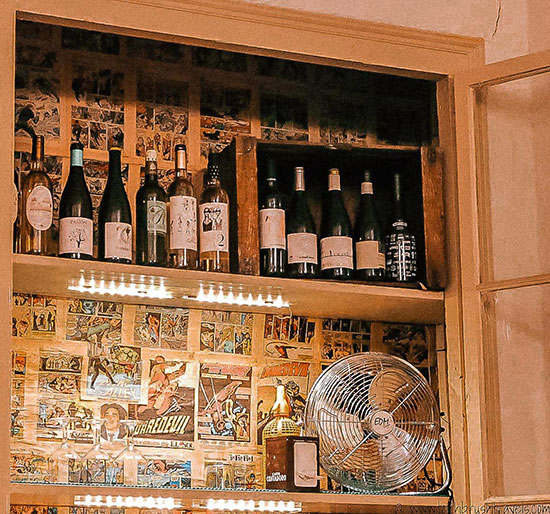 El 58
Located in central Barcelona, ​​it is a bar with various types of tapas and salads, as well as an excellent wine list. The desserts are also delicious.
My suggestions here are classic wild patatas, grilled octopus, and tataki tuna. One detail is that the place usually queues, so it is good to arrive early.
Adress: Rambla Poblenou 58 – 08005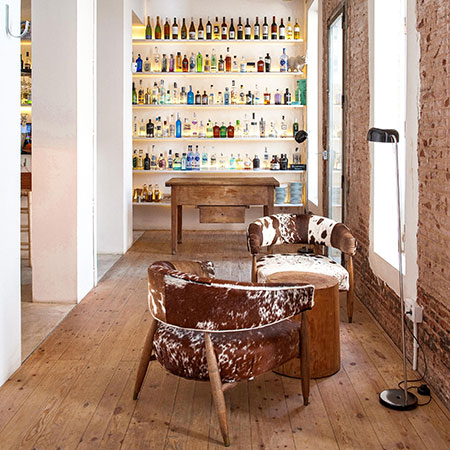 In addition to tapas, this bar serves excellent cocktails. The place is mixing modern elements with rustic, creating a beachy vibe.
You will find lots of light shades, leather chairs, cacti, and even a hammock on the outside. Ah, if it's sunny, try to stay on the terrace.
Adress: Carrer Major de Sarrià, 115 – 08017
Bestial Restaurant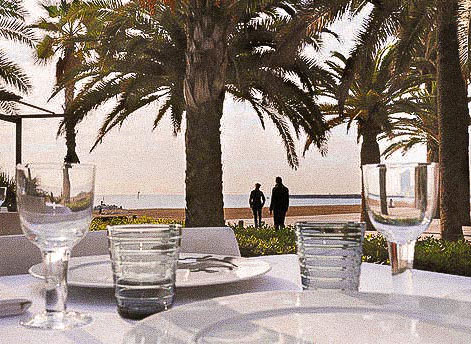 If you like a place with a good view, Bestial is a Mediterranean restaurant overlooking the sea. Delicious!
In addition to dining options, tapas can be shared. Tapas prices are a little above average, but having a prime location is understandable and fair. I recommend the squid a la Andalusian.
Adress: C/ Ramón Trias Fargas, 2 08005 Barcelona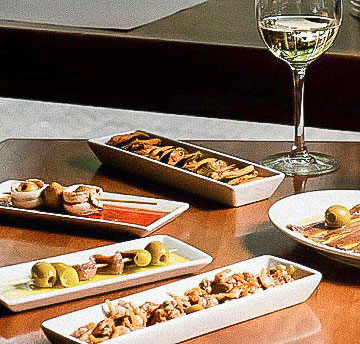 4 Latas
Another tapas bar with a beautiful terrace, suitable for sunny and hot days. The bar has a relaxed atmosphere and is frequented by a young and attractive crowd. You can either have a snack on the tapas or have a full meal.
Adress: Carrer de Muntaner, 211 – 08036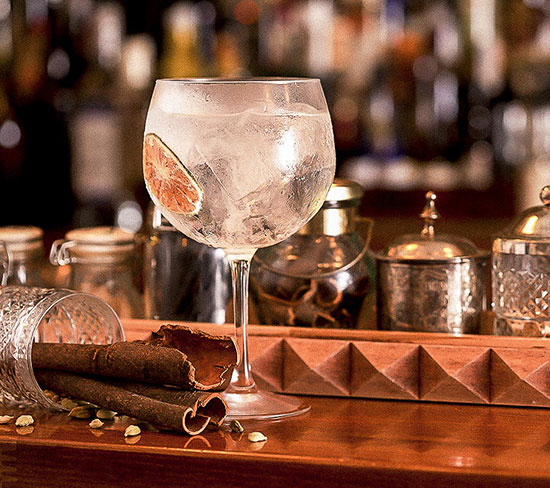 Bobby Gin
The name already gives a clue of what you will find in this bar, fantastic gin cocktails!
I love gin, and when I go to Barcelona, I don't miss the opportunity to try the drink on different drinks.
Bobby Gin knows how to make excellent and beautiful cocktails, not just with gin but with other drinks.
Adress: Carrer de Francisco Giner, 47 – 08012
La Pepita
La Pepita is open daily until 1am, and is yet another tapas bar that bombs locals. It has a menu with great tapas, fine wines, and cavas (sparkling Spanish), and friendly service. It's also a small place with few seats, so it's good to get there early if you want to sit down.
Adress: Carrer de Còrsega, 343 – 08037
Top Tapas to eat in Barcelona
Not sure what to order in a tapas bar? Start with the most popular ones you will find in every bar. I have listed some below:
◊ Patatas bravas: these are braised potatoes. They are diced and fried, served with dressing on top, spicy or not.
◊ Croquetas: Croquetas that can be made with various types of meat, or even in vegan versions.
◊ Calamares: sliced squid, breaded, and fried.
◊ Pan amb Tomaquet: bread with homemade tomato sauce. It sounds simple, but I assure you it is tasty and worth a try.
◊ Jamón: a dish with various types of Iberian ham. Something very classic from Spain. Generally speaking, Spanish hams are divine.
Know any other tapas bars in Barcelona? Share it in the comments! 😉