If you are organizing a Eurotrip, I advise including Barcelona in your tour. I assure you you will not regret it. "Cool, Rafa! But what to do in Barcelona? "First, I say that there are many things to see and do. Ideally, book at least three days to see the main tourist sites, day, and nightlife. And if you have more days off, the tip is to go round to see the beautiful beaches around Barcelona.
I love Paris and London, but Barcelona also has a special place in my heart. To me, the city has excellent energy, not to mention the impressive buildings designed by Gaudí.
WHAT TO DO IN BARCELONA IN 3 DAYS
Before talking about the places to visit, it is worth mentioning that Barcelona is the capital of Catalonia, so the inhabitants speak Spanish and Catalan. However, as it is a tourist town, you can easily communicate in English.
Many of the places to visit were designed by Gaudi. For those who do not know him, Antoní Gaudí was a modern architect for the time. In his works, he enjoyed working with ceramics, stained glass, wrought iron, and woodwork.
Now let's get down to business: what to do in Barcelona. Also, in the end, I will give you tips on where to eat and drink, as well as hosting suggestions and extra tips.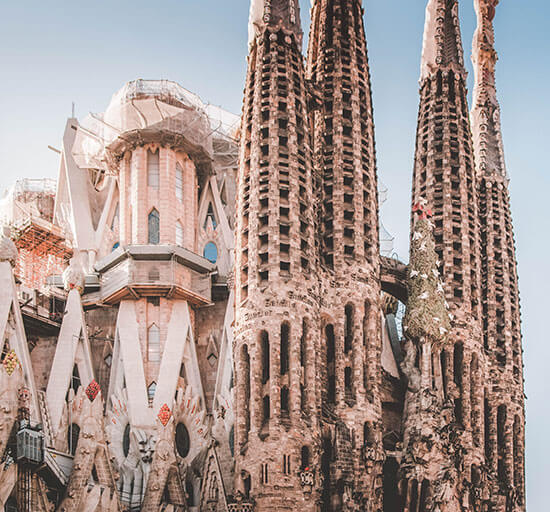 I would say that the Sagrada Familia Cathedral is the Eiffel Tower because it is the central tourist spot in Barcelona, ​​even though it is not finished yet.
Construction began in 1882, but the following year Gaudí took over the project and changed the entire style of the Cathedral, making it a work of art, both internally and externally.
Although the work is expected to end in the early 2020s, it has already been recognized by UNESCO. It impresses with the richness of detail, the colors, the various tall towers, and all of its style.
My first time in Barcelona, ​​I ended up not entering the cathedral. Still, my second time, I decided to go in and only thought of one thing: "I should have visited before." Oh really! It's gorgeous inside!
I recommend getting an audio guide to understand better. And to avoid queues, I advise buying the ticket in advance, over the internet. It can be on the official website or by GetYourGuide, where you have some combo options with other attractions.
Address: Carrer de Mallorca, 401, 08013 Barcelona
Tickets: from 15€
A little further from the city center, on a hill in Barcelona, ​​it is another Gaudi project. It was custom made by Eusebi Güell to be a "condominium" of luxury homes.
The Spanish architect knew very well how to turn nature and modern buildings into complementary elements.
In Park Güell, you can see where Gaudí lived for years. The house became a mini-museum with collections and personal effects of this modernist architect.
Address: Carrer d'Olot, s/n Barcelona
Tickets: 7,50€
CASA BATLÓ
Casa Batló, which was once a building like any other, underwent a mega transformation. Gaudí was responsible for the project and redesigned both the facade and the interior of the building.
Through a guided tour with audio and video, you will discover the history and all the details of this property.
In about an hour's visit, you will understand why the fireplace room has inspirations from the deep and realize the techniques that were used to make the most of natural light, for example. Not to mention, you risk being enchanted by the rooftop terrace and its view of Barcelona.
To avoid queues, I suggest buying the ticket over the internet. It may be on the official website or on the GetYourGuide website.
Address: Passeig de Gràcia, 43, 08007 Barcelona, ​​Spain
Tickets: 24,50 €
PALAU DE LA MÚSICA
One of the places I liked the most in Barcelona was the Palau da Música Catalana – not among the most visited places by tourists. It is a music auditorium that usually works, with shows and shows, and allows guided tours. The visits last about one hour and are made in English, Spanish, French or Italian.
⇒ Tip: Try to buy a ticket in advance on the Palau de la Música Catalana official website. I found the box office of the place a bit confusing…
Address: C / Palau de la Música, 4-6, 08003 Barcelona
Tickets: from 20 €
Seeing the renovation of his partner Batló's building, Roger Segimon de Milà was delighted and chose Gaudí to be responsible for the design of his building. Not far from Batló's property, Casa Milà, also known as a quarry, may not draw as much attention from the outside, but inside is impressive. What's more, at night, the rooftop of the house turns into a lively bar with live music. A delight on summer days!
Address: Provence, 261-265, 08008 Barcelona
Tickets: from 22 €
Barcelona neighborhoods
In addition to the central region of the capital of Catalonia, two neighborhoods are unavoidable: Vila de Gràcia and the Gothic Quarter. Starting with Gràcia, it is a residential neighborhood and a bit off the tourist route. However, it is perfect to feel like a local.
In this area, you will find many bars with tables outside, local brand shops, and cute buildings. In August, there is a street party where the locals decorate the streets and are super cute.
I don't know why, but Vila de Gràcia reminded me of Vila Madalena in Sao Paulo. Perhaps it is because of this mix of old and modern and because it is lively and at the same time, quiet. Anyway, I just loved this area!
The second must-see is the Gothic Quarter. A much more touristy place, even for being in a central region and near famous places like La Rambla. It is an old part of Barcelona that emerged in the Medieval era.
The best here is to walk by the narrow streets. Be sure always to look up and down to see details and traces left by the Romans. For example, on Calle del Call, you will find remnants of an ancient Roman wall.
PARC DE LA CITADEULLA
One of Barcelona's largest parks, it was by far the only one in the city. Built for the 1888 Universal Exposition, it was inspired by gardens in England, France, and Italy. Its highlight is the large fountain installed in the small lake.
There are various activities you can do in the park. Such as renting a boat and strolling the lake or biking. It is also good to have a picnic and rest your legs to the sound of birds.
Address: Passeig de Picasso, 21, 08003 Barcelona
BARCELONA MARKETS
Basically, they are open markets with stalls selling everything. A reference in Brazil, I would say the Mercadão de São Paulo. Visiting places like this is an excellent opportunity to know the customs and cuisine of a place.
Although La Boqueria is the best-known market, there are several others in the same style. What I like most is the Santa Caterina Market, also located in the central region.
It has more beautiful architecture (in my opinion hehe), bars, and restaurants with tables outside on the sidewalk. Not to mention that it is less touristy, which facilitates the walk through the market corridors, unlike La Boqueria.
La Boqueria: La Rambla, 91, 08001
Santa Caterina Market: Av. De Francesc Cambó, 16, 08003
BARCELONA BEACHES
The most famous is Barceloneta Beach, and the most crowded as well. If you want to enjoy a beach day in Barcelona, ​​with fewer tourists and more locals, my suggestion is Platja del Bogatell.
If you have time, the best option is to go back to a beach next door. In addition to being less crowded, the water is usually cleaner. Two suggestions: Costa Brava beach or Castelldefels beach.
Oh, don't be surprised to see women doing topless or even peladões on specific beaches. It is something widespread and natural for the Spanish.
WHERE TO EAT AND DRINK IN BARCELONA
Before giving suggestions on where to eat, I need to comment on typical food. Be sure to eat: paella, bocadillo de jamon (sandwich with Iberian ham), churros, and, of course, tapas (small portions of food for pinching) accompanied by a cañya (beer in Catalan) or gin tonic, or even a sangria. I would say they are classic and should be part of your "what to do in Barcelona" list.
◊ Martinez Restaurant: Located on the hill of Montjuic, it is the best place to taste good paella and "cava" sangria – like Spain's champagne. My suggestion is to go at lunch to enjoy the beautiful view of Barcelona's harbor.
The place is trendy, so it is valid to book in advance through the restaurant's own website. [Ctra. by Miramar, 38, 08038 Barcelona]
◊ Bar Numero Nueve: If you want a cocktail bar with ambient music, this is the place. Their gin and tonic are delicious! Because it is frequented by locals and tourists, it usually gets crowded. If so, the tip is to walk around, as it is an animated area full of bars. [Carrer de la Vidrieria, 9, 08003 Barcelona]
◊ Ginette BCN: French restaurant and bar for tapas. That's right! It is a typical French restaurant, including the chef and partners, which offers classic tapas French cuisine. My favorite there is the "duck croquettes" entree.
I also suggest making a reservation in advance through the El Eltenedor website – a little discount. [Carrer del Rec Comtal, 12, 08003 Barcelona]
◊ Churrería Laietana: the name says it all, place to taste churros. You can find churros anywhere, but I liked that address. [Via Laietana, 46, 08003 Barcelona]
WHERE TO STAY IN BARCELONA
Although it has a subway and bus, my recommendation is to stay in the central area. Most tours will be done in these areas and on foot. I have selected some hosting options to help you:
Royal Passeig de Gracia: With a minimalist décor and all the essential amenities for a pleasant stay, it is ideal for couples. This hotel is super well located and stuck with the subway. Another plus point of it is the ability to book in advance and cancel for free.
Generator Hostel Barcelona: The cheapest option is this international hostel network. Daily rates from 40 euros per person in a shared room. In addition to the affordable price, the decor and bar are attractive.
Sweet Inn – Fort Pienc: Great for those who are going in groups of up to seven people. It has three bedrooms, a living room with a sofa bed, a bathroom, and all the essential items of a home.
Well, that's it! I think you can see that there is a lot to do in Barcelona and that three days is actually short. Anyway, I hope I helped with your tour.
If you want more tips from Barcelona or if you have something to add, write to me in the comments.