Looking for information on where to stay in Paris? This post is for you! In this article, I will talk about the neighborhoods of Paris, the characteristics of each region, and districts that I find most interesting when booking a hotel room or an Airbnb apartment.
Before you begin, you must understand how the city is divided. This will ease your search for hosting. The neighborhoods of Paris are called arrondissement. There are twenty neighborhoods, and you identify them by looking at the end of the address code (which would be the zip code). For example, Paris 1 (or 75001) is the 1st arrondissement.
Or if you're on the street, just look for some street name sign. Always have a number indicating the neighborhood you are in. It's straightforward and easy!
⇒ Being a big word, we can reduce arrondissement and say 2ème, for example.
Map of Paris Neighborhoods
If you look more closely, you will notice that the plan of Paris neighborhoods is shaped like escargot. The areas' distribution begins with the 1st arrondissement in the center of the map and the others scattered, forming a spiral/snail.
Rive Gauche x Rive Droite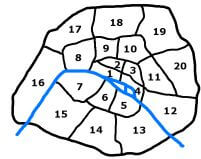 As the Seine runs through all of Paris, Parisians tend to orient themselves according to the river bank. Being rive droite to the right side and rive gauche to the left side of the Seine.
Initially, this division was something much more social and cultural than geographical. Rive Droite was considered the most popular region of Paris where the workers lived. In Rive Gauche were found intellectuals and nobles of the time, particularly in the 5th and 6th arrondissement.
Over time, this social divide has changed, but the terms have been retained and are still used to localize or simply to classify one's style as "rive gauche."
Neighborhoods of each region:
⇒ Rive Droite: 1, 2, 3, 4, 8, 9, 10, 11, 12, 16, 17, 18, 19 e 20
⇒ Rive Gauche: 5, 6, 7, 13, 14 e 15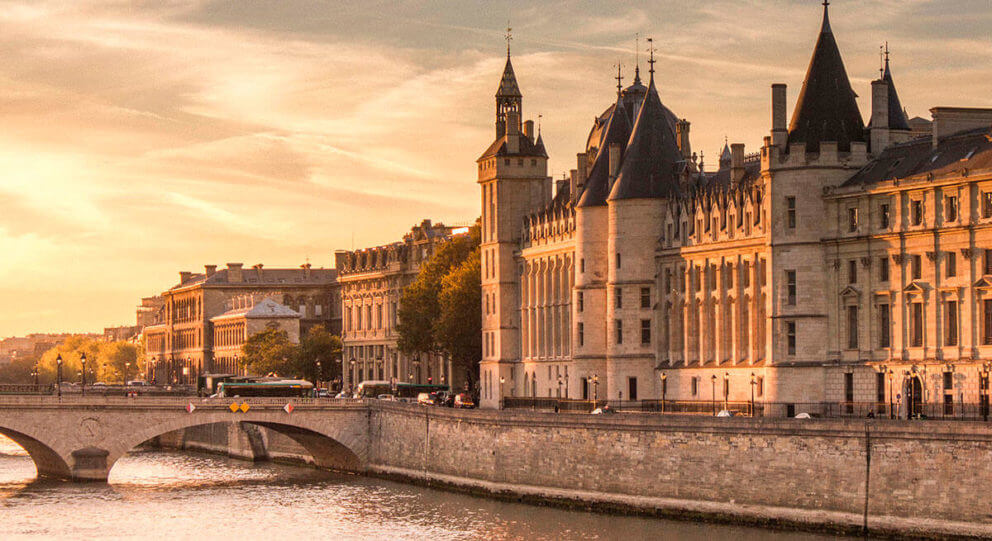 Find out what each neighborhood in the French capital looks like
Now that you understand how areas are organized, I'll tell you about their characteristics. Calmly, soon I reveal the best neighborhoods to stay in Paris. 😉
CENTRAL NEIGHBORHOODS
In the central area of ​​Paris are the following arrondissements: 1, 2, 4, 5, 6, 7, 8 and the south of 9. In general, these are pleasant and busiest neighborhoods, as it is in this region where there are many tourist spots.
The 1st arrondissement is the region of the Louvre Museum and the Palais Royal. It also takes part in L'Île de la Cité, where is Sainte-Chapelle. In 4th is the super cool Le Marais district with its many restaurants and bars. A great place to stay as it is in a central area with easy access to public transportation.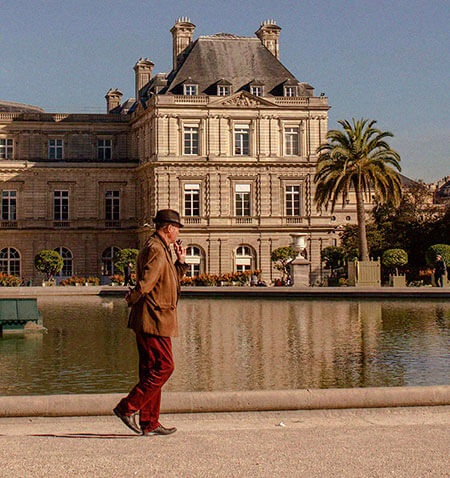 The 5th is the Quartier Latin, the region of intellectuals and home to the famous Sorbonne University. A very touristy area with good restaurants and many hotel options.
Next to the Quartier Latin is the 6th, with Saint-Germain-dés-Prés and the delightful Luxembourg Garden. It is considered a more chic region, as is the 7th arrondissement, where is the Eiffel Tower. These are areas much sought after by intellectuals and artists.
At 8 is the Champs-Élysées avenue and the Arc de Triomphe. Finally, 9 is where the Opera House is and a shopper's paradise, with Galeries Lafayette, Printemps, Zara, H&M and several other stores.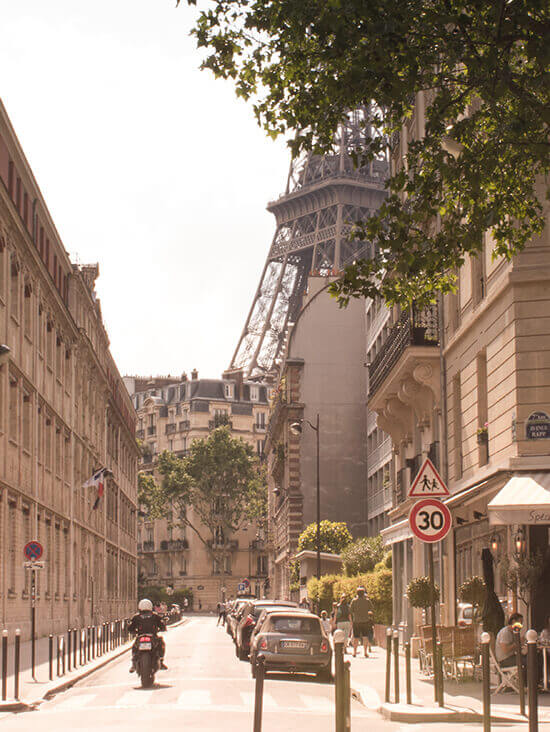 NOBLES NEIGHBORHOODS
Neighborhoods 7, 8, and 16 are nobler, with higher-income people. These are places where businessmen, investors, aristocratic people, and heirs will choose to live. At 7 you have the Eiffel Tower as I mentioned before and 16, the Trocadéro region, is considered a cosmopolitan place.
Similarly, neighborhoods 5 and 6 are prime neighborhoods of Paris and more intellectual. This is because there are many artists, celebrities, and intellectuals living in these areas. The western region of the 17th, a little further from the center, is considered an elitist part as well.
COOLEST NEIGHBORHOODS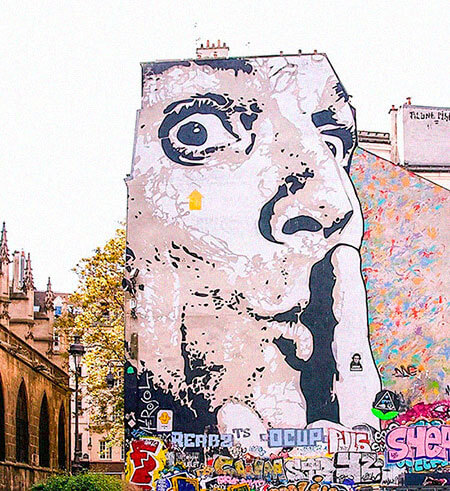 The coolest neighborhoods were the most popular and the most affordable. These are neighborhoods that are gaining more attention, mainly by young people – hype and hipster – who are looking for fun off the tourist route.
In the region of Le Marais and Haut Marais (3rd and 4th), you will find a very diverse population, many art galleries, bars, and restaurants. In the Canal Saint-Martin area, between the 10th and 19th, is Buttes-Chaumont Park and a canal that, during the summer, is packed with Parisians enjoying the day with friends.
The Belleville region (19 and 20), years ago, was reputed to be an immigrant neighborhood and a dangerous place. However, nowadays it is attracting Parisians and those tourists who want to escape the cliché places.
There is a lot of street art in this region, which almost makes it an open-air art gallery. Still has the areas of République (10) and Bastille (between 11 and 12) which are very funky.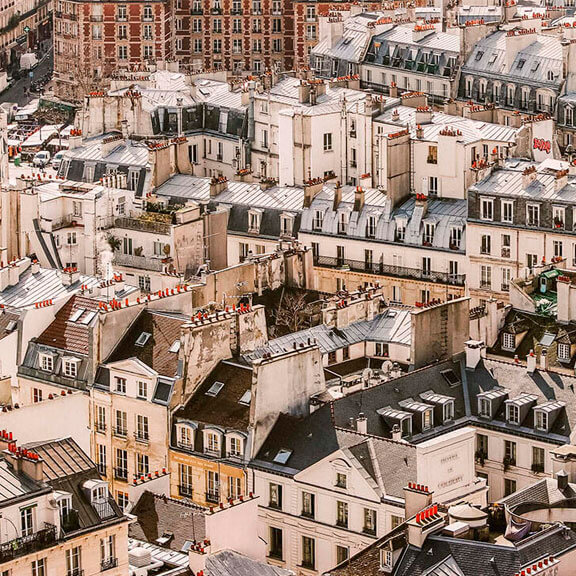 DANGEROUS PARIS NEIGHBORHOODS
Generally speaking, I do not find Paris a hazardous or violent city. So instead of talking about the most dangerous neighborhoods, I prefer to say that there are neighborhoods with a low-income population that often live in houses provided by the government.
For example, the 17th arrondissement, I don't think it's so lovely to stay in the nearest part of Porte de Saint-Ouen. However, the other side of 17ème, Batignolles region is trendy/hipster.
Most importantly, you are not so far from the center of Paris, as this is where the main sights are. And being close to public transportation, bus or subway. This saves you time and makes even more of the City of Light.
Where to stay in Paris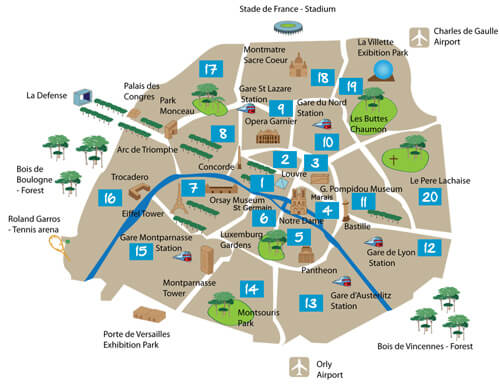 This is a bit tricky to say because each person has their own style, but I will list some neighborhoods that I find interesting for those coming to Paris. These are neighborhoods with easy access to subway stations, not so expensive, close to the sights and still have many options of coffee, bars, and restaurants:
Quartier Latin ◊ Saint-Germain-des-Près ◊ Le Marais ◊ Bastille ◊ République ◊ Madeleine
⇒ TIP: If you do not mind being a little further from the center, and want a more rural Paris, the suggestion is the Montmartre district.
Where NOT to stay in Paris
My suggestion is to avoid the neighborhoods on the outskirts of Paris ("Porte de … something"), as they are areas with older and ugly buildings. There has not been a modernization and still has the fact that I commented earlier, are more popular areas. Some regions you can avoid:
Gare du Nord ◊ Porte de La Chapelle ◊ Porte des Lilas ◊ Barbès Rochechouart ◊ Porte de Clignancourt
Also, I would avoid being out of Paris. Not necessarily because it is dangerous – on the contrary, there are suitable regions outside Paris – but because it is farther from the city center, where the main tourist sites are. You will be dependent on public transport and will spend more time commuting.
Tip for choosing where to stay in Paris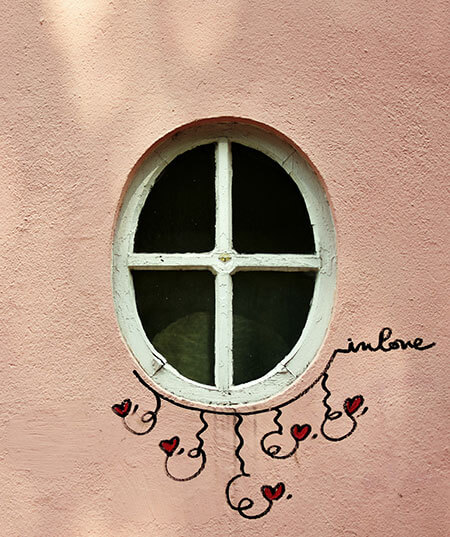 Although I live in Paris, I still don't know too much about the streets of the French capital and its surroundings. So it's a bit complicated for me when they ask me "I'm staying at hotel X which is on Y street, is that good? Or is it dangerous?" If you are thinking of staying in a region outside of the options I recommended, my suggestion is:
⇒ 1) Enter the hotel address or just google maps to get a better idea of ​​the location (is there a subway or bus stop nearby?) And to see what's around through the street view.
⇒ 2) Make a travel simulation for central Paris. You can put Notre-Dame Cathedral as a destination, for example. Will you spend more than 30 minutes to arrive? Perhaps it is the case of seeking something closer.
⇒ 3) Finally, is the region and distance ok for you? See reviews and reviews for your chosen accommodation on Booking and/or Airbnb. Nothing better than the opinion of those who have tested the place. 😉
Readers Testimonial:
Via Silvia: In 2014, I stayed at Gare Du Nord. I hated the place. I do not advise. I was not robbed thank God, but I confess, I was terrified. At the time, I opted for the price of accommodation and regretted not having researched better about the place. It was better to have spent more on hosting and to have less worry.

Ana Jana: I stayed at Marais, and it was great. Easy access by subway and bus. Lots of restaurants to visit. I was alone and felt super safe.

◊ Eva: Excellent post !!! I stayed at Square Vermouze corner with Rue Mouffetard, loved it !! The excellent infrastructure of restaurants, markets, cafes, shops, cinemas, and easy access to subway and bus! Not to mention it's charming and scenic! I recommend!! I went back to the place after a day-walk, at night, by subway or on foot quietly! May/2016

If you liked the post, share it with friends. 😉