This post is to talk about the most important thing: food! Haha, More precisely, where to have a delicious afternoon tea in Paris. I selected some tea houses that offer a typical afternoon tea and some coffees that are also good for a "gourmand" break, as the French say.
8 addresses for an afternoon tea in Paris
Below are the teahouse options I recommend testing, especially if you are exploring Paris in winter. Nothing like a cup of coffee or hot coffee to give that heated between a walk and another, is not it?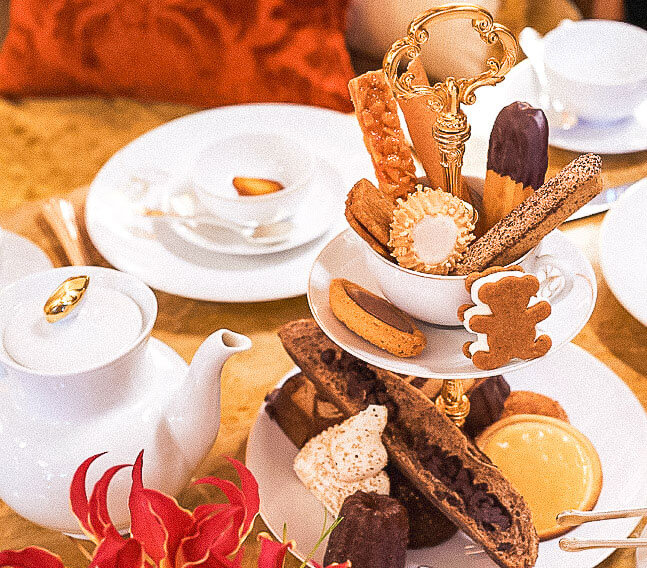 For a more refined French afternoon, tea served in an English style, the tip is Salon Proust.
Set within the facilities of the five star Ritz hotel in Vendôme square, it offers two-afternoon tea options.
Both options include small sandwiches, petits fours, cakes, various types of teas, and other non-alcoholic beverages.
The difference between "tea à la française" afternoon tea (€ 68) and "royal tea à la française" (88 €) is, the latter includes a glass of champagne or a cocktail. It is a bit more expensive.
I highly recommend booking a table in advance over the internet, on the Ritz Paris website itself.
Address: 15, Place Vendôme 75001 Paris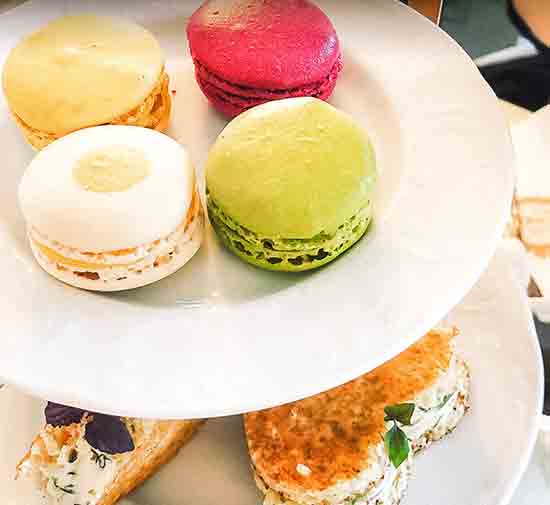 And why not an afternoon tea in a Russian cafe? The Pouchkine café, known for its sweets, has an ample space divided into four rooms: Bar Pouchkine et in Salon Catherine II on the ground floor, le Salon Pavlovsk on the first floor and Salon Madeleine on the second floor.
All rooms are decorated in a classic style with 18th and 19th-century inspiration.
Pouchkine's menu was prepared with the participation of French chef Alain Ducasse. So you can imagine that pretty much everything is delicious and beautiful. Makes you want to order everything haha
Address: 16 Place de la Madeleine, 75008 Paris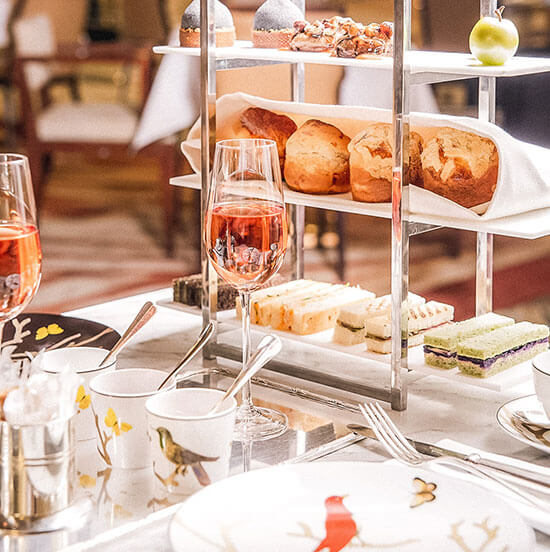 Hotel Meurice's Le Dali restaurant also offers afternoon tea served in English. There you will have three options to choose from: a classic formula that costs (65 €) and two options with champagne glass included.
If you prefer a champagne glass, it can be a glass of champagne selected by Alain Ducasse or a Veuve Clicquot brand glass.
All afternoon tea formulas include sandwiches, pastries, and cakes signed by renowned chef Cédric Grolet.
Apart from the delicious afternoon tea, I can not help but talk about the facilities of Dali. A more classic decor – from Napoleon's time – with contemporary elements. It's a luxury only! Worth knowing.
Lunch or dinner at the Dali restaurant is also a great idea! But try to book online in advance. 😉
Address: 228 rue Rivoli 75001 Paris
The Angelina tea house was founded in 1903 and is well known for its hot chocolate and a sweet made from icing brown: Mont Blanc. In fact, both are delicious (I LOVE hot chocolate), but that's not all you'll find at Angelina.
The main address is close to the Tuileries garden. It is the oldest and draws attention for its decoration in Belle Époque style, which gives a whole glamor to the place. Besides, pretty much everything is good in this place – another doom. There are several options for a tasty afternoon tea, but also for breakfast and even lunch.
If you want a vibes Paris afternoon tea, for me, the perfect place is Angelina. 😉
Tip: As it is a famous place and near the Louvre, there is usually a queue to enter, so the advice is to book in advance, right on Angelina's website.
Address: 226 Rue de Rivoli, 75001 Paris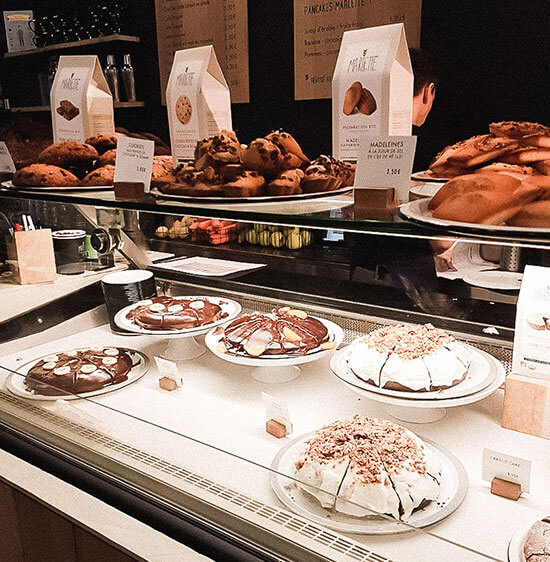 For a more modern afternoon tea, you have Café Marlette, where everything is prepared on-site. There are delicious options for those who like to eat without fault, as well as for those who don't want to lose focus (fruit salad, granola bowls).
To accompany, it has classic hot drinks and natural fruit juices – which is rare in France – so super plus.
There are four addresses in Paris, and I recommend two that can easily be entered in your itinerary. The first is inside the BHV department store, and you can stop by when exploring the Le Marais district. The second address is at 9ème, so after walking through Montmartre, you can recharge at Café Marlette on Martyrs Street. 😉
In addition to eating locally, you can buy pre-cooked flours and mixes to make your own treats.
Address 1: 3ème étage du BHV Marais, 52 rue de Rivoli, Paris 4e
Address 2: 51 rue des Martyrs, Paris 9e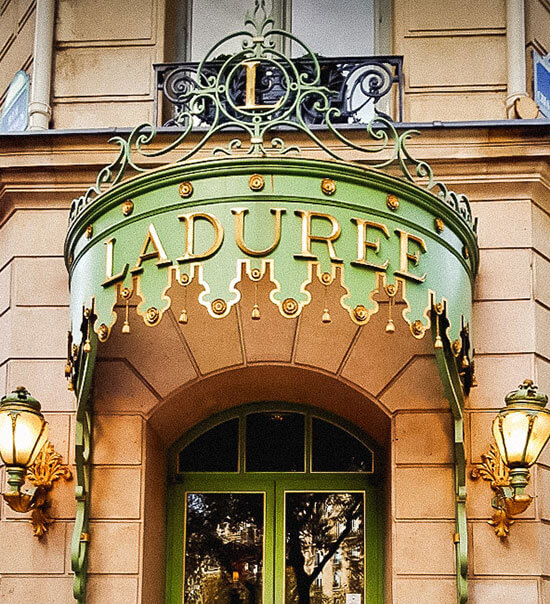 Famous for its macarons, Ladurée has one of the best-known tea houses in Paris.
In the classic style of the Napoleon III era, the Ladurée has a refined decoration and full of luxurious ornaments. There is a wide variety of afternoon tea and famous macarons, of course.
Ah, Ladurée's hot chocolate is also delicious 😉
There are several units around Paris, but the main and most charming one is on the avenue Champs-Elysées.
Address: 75 Av. Des Champs-Élysées, 75008 Paris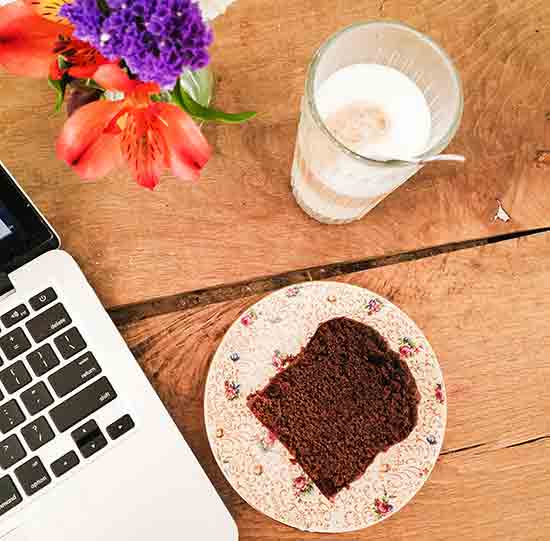 Marcelle
I already commented on this place in the post about cafes in Paris, but I think it's an excellent idea for a mid-afternoon gourmet break. They always have home-made cakes – those from grandma's house – and lots of drinks to go with.
Also, it's a more economical version compared to some of the tea houses I mentioned earlier.
Address: 22 Rue Montmartre, 75001 Paris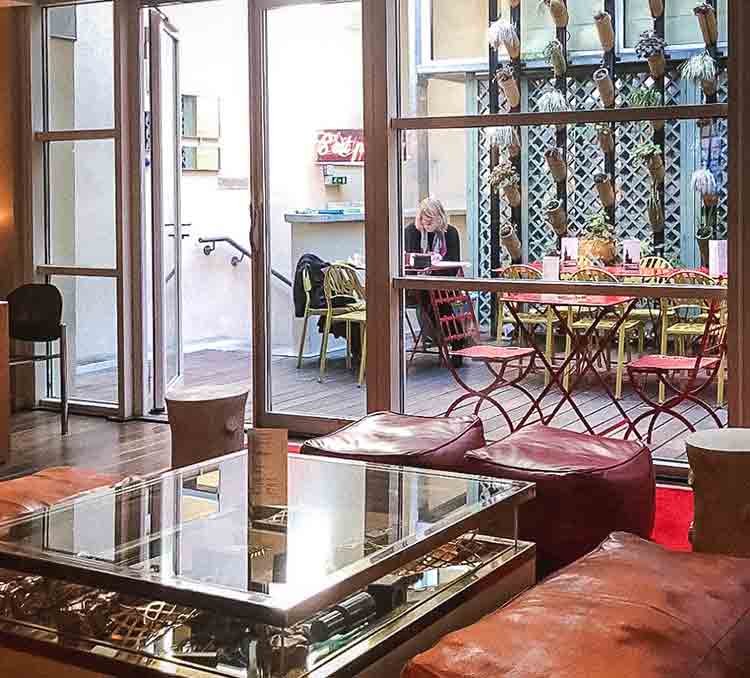 Salon du Panthéon
This address was a recommendation from my friend Aureliana, from the blog Parci Parla (it has everything about Paris with children).
From the side of a historical monument and the outskirts of the Luxembourg garden, it still goes unnoticed by most tourists, but it is a great place.
Very spacious, Salon du Panthéon has an indoor area with comfortable armchairs (you sit on the sofa) and a small garden outside great for sunny days.
Address: 3 Rue Victor Cousin, 75005 Paris
Have you heard or tried another tea house in Paris? Tell me in the comments that I will love to try it too =)