In the past, going from Paris to London was neither easy nor fast, as there is the English Channel halfway. Until a few years ago, you had no good options. You could either pay super expensive on a plane ticket – there were no low-cost flights yet. Or you could spend many hours getting there by train and ferry. Fortunately, times change, and things evolve. Today we have convenient options (plane, train, and bus) to travel. Depending on the transport mode you choose, it is possible to reach London in just an hour or so.
Now I will tell you all the options available to make a round trip from Paris to London, where you need to have a fish & chips (eat for me, please).
From Paris to London: Faster trip
Thanks to the low-cost airlines (airlines that offer low fare flights and basic services, without distinction of classes), it is possible to find cheap tickets for direct flights. The leading low-cost company from Paris to London is EasyJet, but you still have the traditional airlines like Air France and British Airways. For both, the flight duration is approximately one hour.
So flying is a great option, right ?! Calm down, it is not the best option. You will really spend a little time inside the aircraft. However, you will have the whole tedious process before boarding, including arriving early, X-ray, and immigration. Remember, England is not part of the Schengen Agreement (and is even willing to get out of Europe). Also, usually, low-cost flights depart from the city's farthest airports, so you need some time to get there. With all that, that one hour flight can become two or three hours, depending on where you are.
Important detail: When traveling with EasyJet, you can only carry one carry-on bag in the cabin, with a maximum dimension of 56 x 45 x 25 cm, including handles and wheels. If you have a purse and want to carry it with your handbag, you need to pay an extra fee. And if you have a large bag, there is the option to check, for an additional cost.
In short, traveling from Paris to London by plane can be faster and even cheaper (depending on when you buy). But I don't think it's the best option. So stay with me that I will tell you what the best mean of transport to make this trip is.
From Paris to London: Best cost-benefit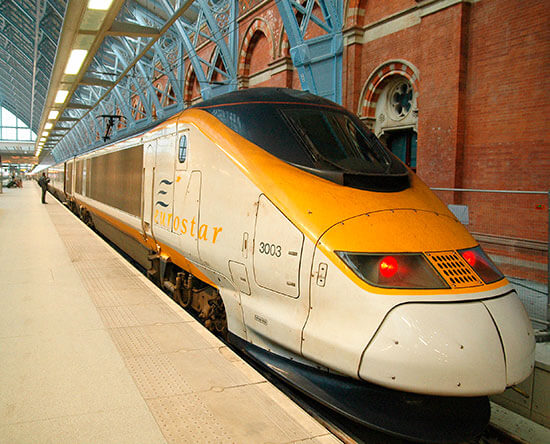 The best option, in my opinion. With the creation of the Eurotunnel, a tunnel that is submerged in the English Channel, it greatly facilitated the crossing from Paris to London. The tunnel, which opened in 1994, carries Eurostar high-speed passenger trains, freight vehicles, and international rail trains. With this beauty, the movement became more practical and faster. This is not the cheapest option, but you can get tickets from £ 39 (one way) or £ 69 (round trip) to Standard class, provided they are purchased in advance. The ticket purchase works on the same scheme as by plane, prices vary according to the date of purchase and the day of travel.
Travel time by train is 2 hours and 15 minutes (on time), leaving and arriving at central stations (In Paris, Gare du Nord – In London, St. Pancras) where you have easy access to the other regions of the two cities… In addition to being faster than the bus, it is more comfortable than the plane. Another advantage is that you do not pay extra fees for carrying larger bags and they do not have to be checked. There is space inside the wagon to accommodate the large suitcases. On my move from London to Paris, I had two large suitcases, a small carry-on bag, and my everyday purse.
Tip: Download the Eurostar app to use the QR Code when boarding. It is much more practical than printing the ticket.
From Paris to London: Cheapest travel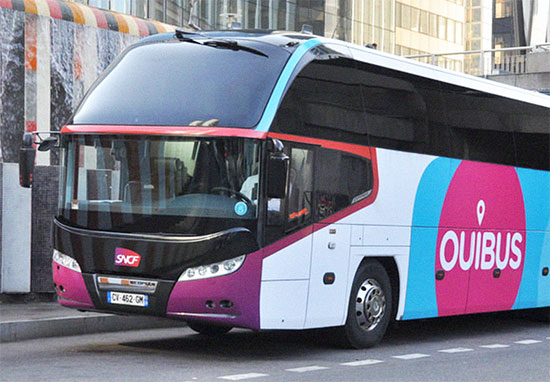 This option is only for those who are willing to have a little money-saving frog. The company Ouibus offers buses with tickets are super cheap (from 19 €), wifi, sockets and comfortable seats. However, the duration of the trip is practically a saga, between 9 and 10 hours. The journey is time-consuming because, in addition to the bus, there is immigration and ferry boat crossing. My husband had to take the Ouibus once and said it is mega tiring and even with the comfortable armchairs you can't get enough rest.
I put it here in the post just because I think it's helpful for you to know all the available options for traveling from Paris to London. However, I do not recommend it. Go by bus only if you really can't spend a little more on plane or train.
Have you had any experience traveling from Paris to London? Tell me in the comments. I will love to know! 🙂